Regional Cuisines
Food & Beverage Business Review
|
June - July 2019
India is a country of diverse cultures and religions. Its terrain too differs from place to place resulting in diversity of soils in different regions. Due to this the produce in each region differs causing a diverse range of cuisines. The regional cuisine differs from place to place and the Indian fare is so wide and varied that several preparations in one region are unknown in the other. Indian regional cuisine relies on the indigenous spices, and growth of vegetables in the local soil. The different regional cuisines like Rajasthani, Kashmiri, Mangalore, Karnataka, Kerala, et al. are rarely available in metros and several other cities. North Indian and South Indian food are the only cuisines which have become popular and they are projected as Indian cuisine not only in most restaurants in India but also abroad. Ashok Malkani, in this first part, finds out the different regional cuisines and their complex nature.
Indian cuisine is one of the world's most diverse cuisines, due to the fact that each geographical region has its own wide assortment of dishes and cooking techniques reflecting the varied demographics of the ethnically diverse Indian subcontinent. The cuisine is based on the climate of the region and religious practices. For example, Jain cuisine is not only completely vegetarian but also excludes underground vegetables such as garlic, etc. Cuisines from regions like Rajasthan, Sikkim, Malabar, Pondicherry, etc. have their own distinct taste and flavor
Yet when one visits a restaurant in metros and even tier II and III cities the dishes listed on the menu are mostly North Indian or South Indian. Even when one visits Indian restaurants abroad for some genuine Indian food one finds only North Indian or South Indian food on the menu.
There are a vast number of regional cuisines too! Why this bias towards these two cuisines and what are the other regional cuisines and what are the favorite cuisines of each region?
Anand Kumar, Executive Chef, Hilton Bangalore Embassy GolfLinks explains, "Indian cuisine has been categorized as North and South for a long time, perhaps because of the lack of knowledge on different states, regions, and places earlier. However, now there is much more awareness. Each state in India boasts of a distinct cuisine like Kashmiri, Punjabi, Rajasthani, etc. which offers a variety of tastes and flavors. In fact, many times within a state say like Karnataka you can find various cuisines like Mangalore coastal cuisine, Uttara Karnataka, etc.
Indian food is rooted in sustainability and productivity. Each region would cook food that they grew and harvested. This is why in the dairy farming communities of Punjab and North India paneer and ghee are popular. Whereas in the south there is more focus on grains like ragi etc. In its food, a lot of coconuts that is grown in abundance is also used. The influx of different invaders further influenced Indian cooking. There are strong influences of Mughal cooking in the north while Portuguese, French, etc. can be seen in the southwestern part of India.
Spiciness in Indian foods
"Foods of India are better known for its spiciness. Throughout India, be it North India or South India, spices are used generously in food. But one must not forget that every single spice used in Indian dishes carries some or the other nutritional as well as medicinal properties.
North Indian Food - Food in north India: To begin with, Kashmiri cuisines reflect strong Central Asian influences. In Kashmir, mostly all the dishes are prepared around the main course of rice found abundantly in the beautiful valley. Another delicious item cooked here is the 'Saag' that is prepared with a green leafy vegetable known as the 'Hak'. The 'Wazwan' prepare dishes which are unique to the Kashmiri culture. But on the other hand states like Punjab, Haryana and Uttar Pradesh show high consumption of chapatis as a staple food. Again, these chapatis are prepared with a variety of flours such as wheat, rice, maida, besan, etc. Besides chapatis other closely related bread baked in these regions include Tandoori, Rumali, and Naan, etc. However, in the northern region impact of Mughlai food is quite obvious.
West Indian Food: In western India, the desert cuisine is famous for its unique taste and varieties of food. Rajasthan and Gujarat are the states that represent the desert flavor of Indian food. Here an immense variety of dals and achars (pickles/ preserves) is used that simply substitutes the relative lack of fresh vegetables in these areas. In the states like Maharashtra, the food is usually a mix of both north as well as south cooking styles. Here people use both the rice and wheat with the same interest. Along the coastline of Mumbai, a wide variety of fishes is available. Some of the delicious preparations include dishes like the Bombay Prawn and Pomfret. In Goa, that is further down towards the south, one can notice Portuguese influence in the cooking style as well as in the dishes. Some of the major dishes of this region are the sweet and sour Vindaloo, duck baffled, sorpotel and egg movie, etc.
East Indian Food: In eastern India, the Bengali and Assamese styles of cooking are noticeable. The staple food of Bengalis is the yummy combination of rice and fish. Usually, the Bengalis love eating varieties of fishes. A special way of preparing the delicacy known as 'Hilsa' is by wrapping it in the pumpkin leaf and then cooking it. Another unusual ingredient that is commonly used in Bengali cooking is the 'Bamboo Shoot'. Various sweets prepared in this region, by using milk include the 'Rosogollas', 'Sandesh', 'Cham-cham' and many more.
South Indian Food: In southern India, the states make great use of spices, fishes, and coconuts, as most of them have coastal kitchens. In the foods of Tamil Nadu use of tamarind is frequently made in order to impart sourness to the dishes. It simply distinguishes Tamil Food from other cuisines. The cooking style of Andhra Pradesh is supposed to make excessive use of chilies, which is obviously to improve the taste of the dishes. In Kerala, some of the delicious dishes are the lamb stew and appams, Malabar fried prawns, Idlis, Dosas, fish molly and rice puttu. Another famous item of this region is the sweetened coconut milk. Yet another dish is Puttu, which is glutinous rice powder steamed like a pudding in a bamboo shoot."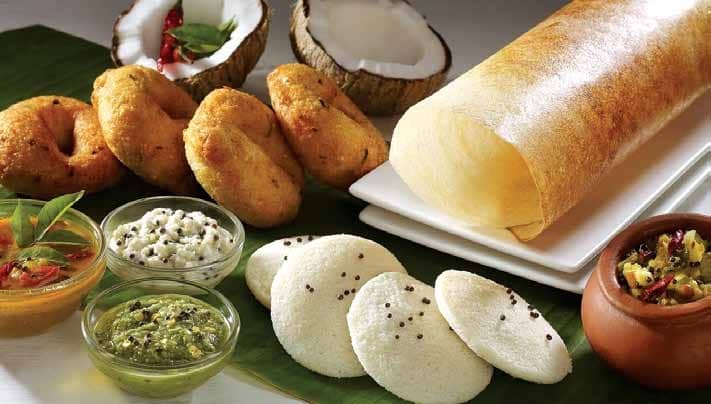 Regions popular for their foods
Sanjay T Sutare - Chef de Cuisine of Neel - Tote on the Turf - a division of "deGustibus Hospitality Pvt. Ltd. Mumbai, avers, "The country's two distinct food philosophies at the forefront, The North Indian – which was centered around Punjabi food culture with influences of northwest Frontier Cuisine and the South Indian the South of the Indian peninsula which was the Dravidian food philosophy, were the basis of early days eateries that were operating commercially. This very basic offering having lived its life, commercial chefs started tapping into the intricate flavor nuances of regional food and breaking it down to the state's, cultures, eating habit's based on religious preferences and on hyper-local, or seasonal ingredients which were earlier restricted to home food. Some of the popular regions whose cuisines have now gained prominence are:
Rajasthan – Being a desert state, it has a predominantly vegetarian section of people. The use of lentils in various forms, millets, chilies and a lot of clarified butter are its key characteristics. Further to this the princely states also indulge in a lot of hunting and game was included in the food preferences.
Sikkim & the Northeastern region: have a very different food preference. Here the weather and the topography narrow it down to very light food which has flavourful broths, momos, dried meats, and simple curries
Pondicherry: has an amazing confluence of South Indian food and French techniques and flavors. It's a unique example of foreign influence on native food.
Malabar: is the celebration of all things easily available at the coastline, seafood and coconut are the mainstays. The huge Indian coastline does bring different influences to the same ingredients making the variety of regional flavor profiles even vaster."
Kuldeep – Executive Sous Chef, Holiday Inn Chennai OMR IT Expressway, maintains, "Indian cuisine is one of the most liked Cuisine across the globe, the blend of all four regions (North, South, East, and West) brings in the cultural mélange of the states in a plate for our Guests.
North and South Indian Cuisines are more prominent because of their renowned Culinary History which makes it distinct and peculiar amongst the Indian as well as foreign nationals. The cuisines from East and West part are also equally prominent but not at par with North and South because of the peculiar taste and ingredients (like more usage of chilies and spices and even the methods of cooking) which makes them distinct from other states.
Rajasthani cuisine is rich, using more of Ghee and whole spices and they create an amazing flavor by using maithani-chilli and their unique ways of slow cooking techniques. Northeast regions like Sikkim, Manipur, etc. use more of chilies, root ginger, dried fish and pickles made out of it which makes their cuisine stand apart from others.
If these cuisines are well presented and defined in front of guests, then it will surely make a mark for itself and guests will want to relish them repeatedly."
Anil Chabukswar - Executive Chef, Grand Mercure Mysuru, declares, "India is a vast country with varied tastes and cuisines that vary from region to region. Each region is known for its own unique flavors and will vary according to its weather conditions. At Grand Mercure Mysore, we ensure that guests enjoy a perfect amalgamation of regional as well as international flavors that will enhance their overall dining experience. The North-Eastern region of India has rice as their staple food, their hand-fermented food and beverages are also consumed on a large scale. On the other hand, the Southern region of India is partial to coconut and rice with milk and pepper being widely used. In the Northern belt from Rajasthan to Gujarat gram flour, ghee and pickles are immensely popular."
Flavours of different regions
Saurabh Singh - Executive Chef, Four Points by Sheraton, Kochi, is more elaborate as he describes the flavors of different regions thus:
Rajasthani cuisine was influenced by both the war-like lifestyles of its inhabitants and the availability of ingredients in this arid region. Food that could last for several days and could be eaten without heating was preferred. Scarcity of water and fresh green vegetables had their effect on the cooking. It is also known for its snacks like Bikaneri Bhujia, Mirchi Bada and Pyaaj Kachori. Other famous dishes include Bajre ki roti (millet bread) and Lashun ki chutney (hot garlic paste), Mawa Kachori from Jodhpur, Alwar ka mawa, Malpauas from Pushkar and Rassgollas from Bikaner, "paniya" and "gheriya" from Mewar. Originating from the Marwar region of the state is the concept Marwari Bhojnalaya, or vegetarian restaurants, today found in any part of India, which offers vegetarian food of the Marwari people.
You can read up to 3 premium stories before you subscribe to Magzter GOLD
Log in, if you are already a subscriber
Get unlimited access to thousands of curated premium stories, newspapers and 5,000+ magazines
READ THE ENTIRE ISSUE
June - July 2019