The Most Powerful Person In Silicon Valley
Fast Company
|
February 2019
Billionaire Masayoshi Son has a vision for an AI-powered utopia where machines control how we live—and he's spending hundreds of billions of dollars to realize it. Are you ready to live in Masa World?
It's a bright September morning in San Carlos, California, and Masayoshi Son, chairman of SoftBank, is throwing me off schedule. I'd come, as he had, to meet with the people he's tapped to run the Vision Fund, his $100 billion bet on the future of, well, everything. After almost four decades of building SoftBank into a telecom conglomerate, Son, an inveterate dealmaker, launched this unprecedented venture two years ago to back startups that he believes are driving a new wave of digital upheaval. He has staked everything on its success—his company, his reputation, his fortune. We'd both arrived with the same basic question: Where is this massive vehicle heading? But because I wasn't the one footing the 12-figure allowance, I understood that I'd be the one to wait.
In the hubbub of Son's visit, my 9 a.m. meeting gets rescheduled multiple times until it's set for 4:30 p.m. When I finally arrive at the Vision Fund's offices, just off California's Highway 101, I'm struck by how mundane they are. Son is known for big, showy statements. He reportedly paid $117 million for a home in Woodside in 2013, the highest price ever in the U.S. This glass and concrete building, on the other hand, could be found in any part of suburban America.
The room where I wait is spartan. There is an empty desk in one corner, and a conference table with a fake wood veneer. I try to read the pale gray scribbles on a whiteboard, hoping they might shed light on what happens in this place, but the surface has been too well scrubbed. The interior glass walls of the conference room have been lined with a white, papery substance that turns anyone on the other side into apparitions.
Finally, Rajeev Misra, CEO of the entity overseeing the Vision Fund, rushes into the room, smiling broadly and apologizing profusely. Misra, who has flown in from London for these meetings, looks exhausted but jacked up, as if he's gotten a shot of adrenaline. Son has this effect on people. It is an exceptionally busy day at the Vision Fund. Not only is the big boss in from Tokyo, but unbeknownst to me, the team is preparing to announce billions of dollars in new investments: a $1 billion round for Oyo, the Indian hospitality startup; $800 million split evenly between Compass and OpenDoor, two real estate disrupters; $100 million for Loggi, a Brazilian delivery startup. It also would lead a $3 billion round in Chinese startup ByteDance, which makes several popular news and entertainment apps, including TikTok. At the same time, Son and his partners are in the midst of launching a second $100 billion fund, with plans already underway to raise an additional $45 billion investment from Crown Prince Mohammed bin Salman of Saudi Arabia—the Vision Fund's primary backer. Neither Misra nor I knew it then, but this relationship would soon get complicated.
"So what do you want to know?" Misra says, clapping his hands loudly. "You want the road map? I'll start from 10,000 feet. . . ."
On the surface, the story of the Vision Fund is about money. How could it not be? The numbers are eye-popping. The Vision Fund's minimum investment in startups is $100 million, and in just over two years since its October 2016 debut, it's committed more than $70 billion. Son, 61 years old, will also back companies he likes via SoftBank itself or other means: He's put some $20 billion—and counting—into Uber and WeWork through a combination of financial instruments. (Son's machinations have always been highly complex and it's not worth getting lost in the minutiae; regardless of the means, the deals are at his behest.) His big-money bets agitate the venture capitalists who have long inhabited the dry stretch of lowlands between San Francisco and San Jose, a place where any fund over $1 billion was head-turning as recently as three years ago. Turns out, nobody likes competing with a bottomless-pocketed behemoth. "Have you seen the movie Ghostbusters? It's like the Stay Puft Marshmallow Man tramping around," one VC tells me before I visit SoftBank. Then he asks me to ask Misra the question everyone in town wants to know: Who is Son investing in next?
Underneath, though, lies a more complex story. Computers, Son believes, will run the planet more intelligently than humans can. Futurist Ray Kurzweil coined the term "the singularity" to describe the moment when computers take over—and he predicts it will be here by 2040. The Vision Fund could move up this date. And Son is pouring unprecedented amounts of capital into the people and companies employing artificial intelligence and machine learning to optimize every industry that affects our lives—from real estate to food to transportation.
When Son first detailed his vision, during an investor presentation in 2010—slides depicted chips implanted in brains, cloned animals, and a human hand giving a robotic one a valentine—there were plenty of scoffs. Many see this machine-driven future as frightening, or even dystopian. But Son believes that robots will make us healthier and happier.
He has long told people, "I have a 300-year plan," and that declaration is not just the fantastic ambition of a billionaire. He has the means to pursue these dreams, and they're starting to become very real. He is one of the few people with the power to make decisions that could have global consequences for the future of technology and society for decades, if not centuries. As Facebook and Google have demonstrated, machines take on the attributes of their makers. Algorithms, software, and networks all have biases, and Son likes to bet on founders who remind him of himself, or at least share his ideals. Son's values, then, will become our own, dictating the direction of this machine-powered world.
So where is this massive vehicle heading?
Our story begins with a dinner Son hosted one summer night in 2016 at his nine-acre estate in Woodside. The table was set in the garden so the guests could enjoy the crisp summer air of a northern California evening, as well as the breathtaking hilltop views of San Francisco horse country.
Among the attendees was Simon Segars, who had no idea when he sat down to eat that this would be one of the most important events of his life. Segars, CEO of chip designer Arm, had imagined that he might win some new business from Son—perhaps SoftBank would agree to put Arm's chips in the cell phones it sells through its telecommunications businesses. He didn't fully appreciate at that moment that one of his dining companions, Ron Fisher, has been one of Son's trusted consiglieri for more than 30 years and is almost always present when Son is considering a major deal. "We started talking about AI and all these future-looking technologies," Segars recalls, and Son grew visibly animated. They discussed how Arm's technology could be used to turn anything—tables, chairs, refrigerators, cars, doors, keys—into a wired object. Son pressed Segars: If money were no constraint, how many devices could his technology create? As the leader of a publicly traded company, Segars had never been asked to think this way before. "I remember Simon's eyes getting very wide," Fisher recalls.
A few days later, Segars was at his desk when a call came from Tokyo: It was Son, who said he needed to see him and Arm chairman Stuart Chambers right away. Chambers was on vacation, on a yacht off the Turkish coast, but Son didn't want to wait. He sent a private jet to fetch Segars and persuaded Chambers to dock his boat in the Eastern Mediterranean.
The day unfolded like a scene from a James Bond movie: Segars landed at a small airstrip near the village of Marmaris, Turkey, where two security men picked him up and whisked him to an empty restaurant overlooking the marina. (Son had arranged to have it cleared of other customers.) "It was surreal," Segars says.
Son got right to it: He wanted Arm and was willing to pay for it. In a deal that would astound Wall Street for its speed and audacity, SoftBank offered $32 billion for the company, 43% more than its market value at the time. Son negotiated and closed the deal in two weeks. A photo of that trip to Turkey shows Son standing by the port of Marmaris, boats bobbing on the sea behind him. He is smiling, as though he knows how big this moment is.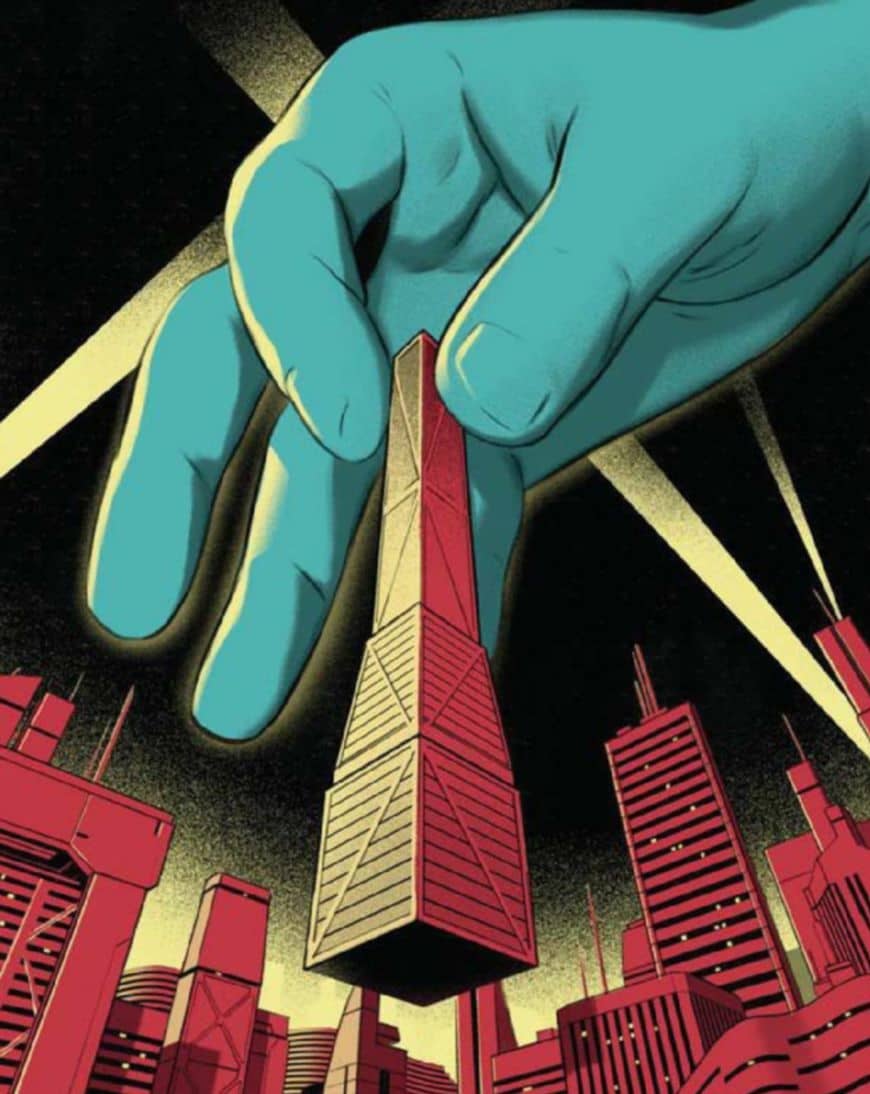 To pursue his sweeping vision of interconnecting everyday objects to create intelligent machines, Son would need more money. So he created the Vision Fund. The first investor was the Saudi Arabian Public Investment Fund, with a $45 billion commitment that October. It's hard to overemphasize the significance of the Saudis coming in at this stage. The entire global venture capital industry invested just over $70 billion annually, so the idea of a single $100 billion fund seemed fantastical. The move conveyed such confidence in Son's vision and ability to execute on it that it quickly attracted other investors, such as Apple, Foxconn, and Qualcomm. By the following May, the fund had secured $93 billion. As Son explained at the time, he needed this much capital
because "the next stage of the Information Revolution is underway, and building the businesses that will make this possible will require unprecedented large-scale, long-term investment." Now he was ready to start what Bloomberg has called "an all-out blitz on the heart of Silicon Valley."
You can read up to 3 premium stories before you subscribe to Magzter GOLD
Log in, if you are already a subscriber
Get unlimited access to thousands of curated premium stories, newspapers and 5,000+ magazines
READ THE ENTIRE ISSUE
February 2019