Herd Mentality
Fast Company|October 2019
Bumble CEO Whitney Wolfe Herd wants nothing less than to create a female internet, but first she has to get a lot more women (and men) to see things her way. Misogynists welcome.
"We're not one of our Competitors that's just trying to hook people up," says Whitney Wolfe Herd, the 30-year-old CEO of Bumble, the online dating platform where women have to initiate potential interest. "We're trying to say, 'Let's change thousands of years of behavior. Globally.' Do you see why this is so challenging?"
It's an early afternoon in late May, and Wolfe Herd is in the posh ski village of Deer Valley, Utah, for Bumble's annual retreat. A light snow falls outside despite the fact that it's almost summer, and Wolfe Herd—slim, blond, and dressed in skinny jeans and furlined ankle boots—gives off an après-ski vibe. Although she's prone to bouts of angst— at one point during her state of the company address to Bumble's employees, she admits, "I have terrible anxiety. I have it right now. I kind of feel like I'm going to faint"—she's chill when discussing Bumble and her ambitions.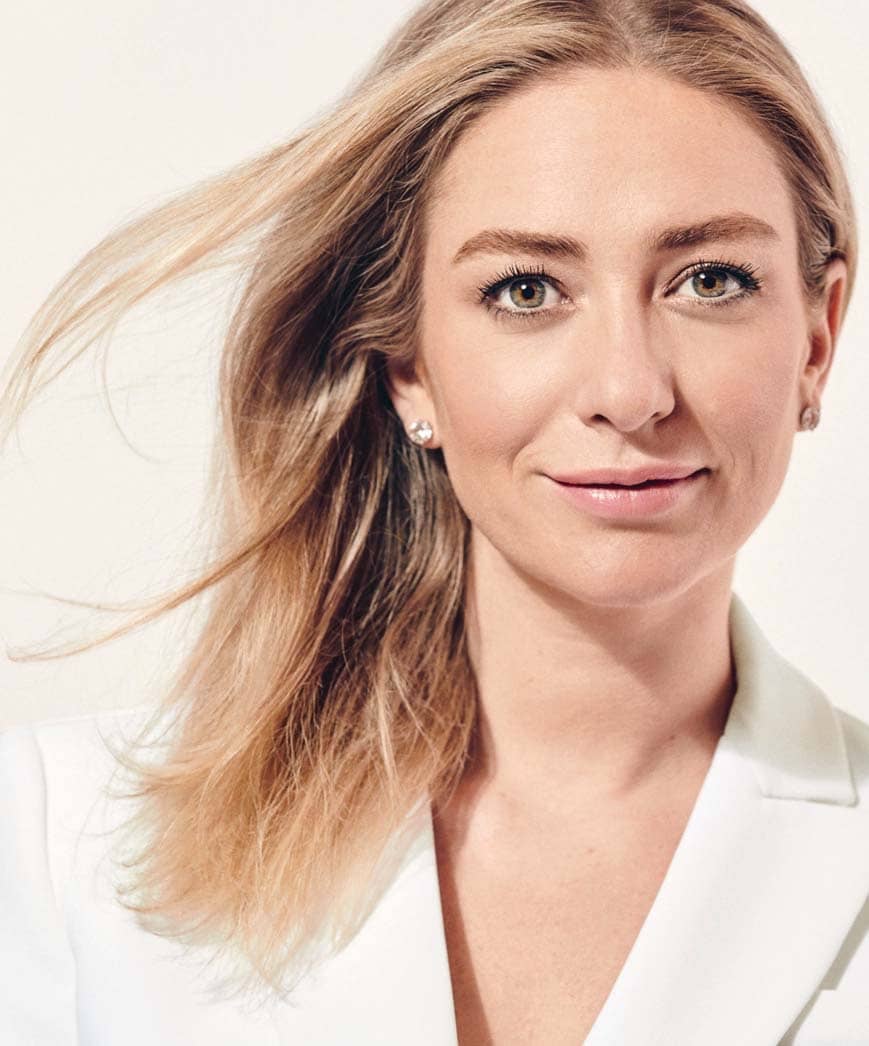 Wolfe Herd, who founded Bumble in 2014, is fueled by a utopian vision of social justice, where women feel empowered to make the first move in all areas of their lives, and it drives virtually every decision at the company. It influences her hiring: 82% of the employees are female, along with almost all of the executive leadership. It affects product: The company has made big bets on nondating extensions to help women find friends (BFF) and professionally network (Bizz). It informs its policies: Last year, shortly after the mass shooting in Parkland, Florida, Wolfe Herd banned images that contained guns, even though it led to threats against her own safety. It affects how she deploys her resources, from commissioning a 2019 Super Bowl ad starring Serena Williams to persuading the tennis great to back her Bumble Fund, which invests in a new generation of female-led tech companies. It also spills into political advocacy: Wolfe Herd initiated and successfully lobbied for a Texas bill that makes sending unwanted nude images (i.e., dick pics) illegal in Texas. The law passed in June, the same month Bumble rolled out an AI-powered filter that can remove lewd photos before users see them. "When there are women's issues that create a lopsided problem in the world [in terms of equality]," she says, "we're going to lean into that."
At one point, Wolfe Herd tells me that she wants to build a "female internet," a provocative counterpoint to the Brotopia that built the (male) internet. At a time when tech platforms are finally being scrutinized for exploiting user data, sowing and rewarding discord, and failing to care for the people who use their services, Bumble's proactive approach—warning users about salacious content, removing Facebook as a login requirement, advocating for causes before they're politically popular—raises the question of whether having more women running big tech could produce the kind of egalitarian digital commons Wolfe Herd envisions.
In 2012, Wolfe Herd helped cofound Tinder, the dating app that pioneered swiping photos to indicate interest, but she left in 2014, after an acrimonious breakup with one of the cofounders, Justin Mateen. She filed a sexual harassment and discrimination suit, which was settled.
Tinder had a large head start on Bumble, and as Wolfe Herd is discovering, there may just be more people who want an easy-to-use dating app than want to topple the patriarchy. That's why this year's company retreat is much more of a working one than the celebratory atmosphere that characterized 2018's event. Wolfe Herd admits onstage to her team that she's frustrated that Bumble's early "gangbuster growth" has "mellowed out." One breakout session is devoted to the issue of women not "voting"—Bumble's term for swiping—as much as they used to. For all of Bumble's empowerment talk, a lot of women believe that making the first move is just too much work, and they would prefer to open up their dating app and see a bunch of requests.
Although Bumble claims more than 66 million users in 150 countries and reportedly anticipates $300 million in 2019 revenue (from a variety of in-app "boosts," such as seeing everyone who right-swiped you and rematching with expired connections), Wolfe Herd tells employees that in the next year or so, Bumble needs to establish its international business, "double domestic," and prove that BFF and Bizz are viable brand extensions. All while fending off Tinder (and its parent company, Match Group) as well as newer apps such as Hinge and Facebook Dating. Bumble is private, but shared with Fast Company that 2018 revenue (minus value-added tax) was $162 million, and the company is profitable. There are rumors that it is eyeing a public offering or accepting a significant capital infusion from a private-equity firm.
You can read up to 3 premium stories before you subscribe to Magzter GOLD
Log in, if you are already a subscriber
Get unlimited access to thousands of curated premium stories and 5,000+ magazines
READ THE ENTIRE ISSUE
October 2019