Facebook's Quadruple Play
Fast Company
|
October - November 2020
The tech juggernaut is weaving together its four mega apps –Instagram, Whatsapp, Messenger, and Facebook itself– at the very moment watchdogs and regulators are closing in. No big deal: only democracy hangs in the balance
STAN CHUDNOVSKY DOESN'T REMEMBER WHEN CEO MARK ZUCKERBERG AND OTHER TOP FACEBOOK EXECUTIVES BEGAN TALKING ABOUT TREATING THE COMPANY'S PORTFOLIO OF SERVICES MORE LIKE, WELL, A PORTFOLIO. THE CURRENT VP FOR FACEBOOK'S MESSENGER SERVICE SIMPLY RECALLS THAT THE COMPANY'S ORIGINAL TENDENCY TO KEEP FACEBOOK, MESSENGER, Instagram, and WhatsApp pretty much separate started to feel increasingly unwieldy as user numbers for each surged well past the billion mark. Instead of continuing to silo off each app, execs concluded that "we can serve people better if the experiences we are building are a little bit more interconnected," Chudnovsky says. "That truth [had] been ringing in our ears for a long time. What was never obvious is how would we exactly go about it, and how would we prioritize it."
To kick-start the process, Zuckerberg did what he often does: He posted about it on Facebook. On March 6, 2019, he shared a 3,219-word manifesto titled "A Privacy-Focused Vision for Social Networking." He drew a contrast between social networking's "town squares"—the largely public meeting areas offered by Facebook and Instagram feeds—and its more intimate "living rooms," as exemplified by private group chats and messages exchanged through Messenger or WhatsApp.
"Today we already see that private messaging, ephemeral stories, and small groups are by far the fastest growing areas of online communication," Zuckerberg wrote. He detailed a wildly ambitious, years-long plan to move Facebook's portfolio of services aggressively in that direction—and all together. Facebook, Instagram, WhatsApp, and Messenger would follow a unified strategy to get there.
While Zuckerberg, whom Facebook did not make available for this story, often makes proclamations about Facebook's future, real life doesn't always cooperate. In 2014, for example, he boldly predicted that user-generated video would dominate the site within five years. It's now been six years, and our News Feeds are still driven by text. However, it's easy to understand why he would be looking beyond the vast (and still vastly profitable) town squares he presides over. And it's not just because the more private apps are gaining in popularity.
Though private messaging has problems of its own—Whats App and Messenger have both placed limits on message forwarding to slow the spread of misinformation—much of the controversy that dogs Facebook stems from its publicness. The fact that any disinformation, hoaxes, and hateful rhetoric shared on the site can be disseminated to millions of people in an instant has made the company a target for politicians and watchdogs. Even some Facebook employees— historically, true believers in the company they work for—have pushed back, tweeting their discontent and staging a virtual walkout in June.
The spotlight has only grown hotter for Zuckerberg since he published his post, as 2020's grinding real-world turmoil—including the COVID-19 pandemic, protests sparked by the police killing of George Floyd, and threats to the U.S. presidential election's integrity—flowed onto Facebook and then back into the real world. The company's handling of the chaos drew its own opposition, especially its refusal to suppress a post in which President Donald Trump warned that "when the looting starts, the shooting starts." Nervous about their association with the social network, 1,200 brands paused their Facebook advertising— at least for the month of July—as part of a move called Stop Hate for Profit. The company's revenues took a negligible hit.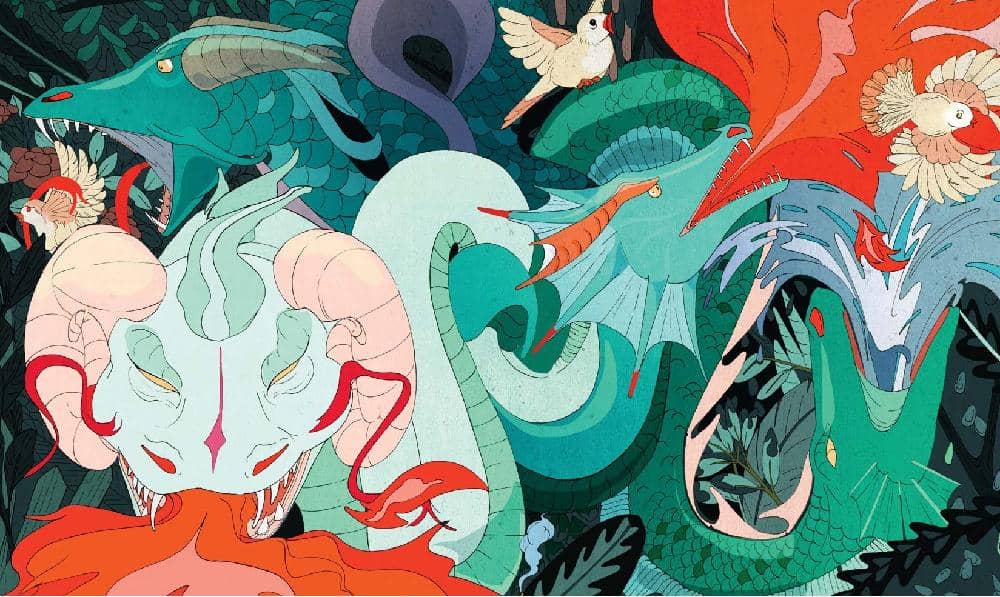 CONCERN ABOUT FACEBOOK'S POWER ISN'T NEW, BUT the push to do something about it has grown and intensified. Two months after Zuckerberg disclosed his new vision for the company, his Harvard classmate and Facebook cofounder Chris Hughes published an incendiary op-ed in The New York Times, titled "It's Time to Break Up Facebook." This past July, Rep. David Cicilline (D-RI) grilled Zuckerberg at the U.S. House Judiciary Antitrust Subcommittee hearings, saying, "Your platform is so big, even with the right policies in place, you can't contain deadly content. Frankly, I believe it strikes at the very heart of American democracy." Shoshanna Zuboff, author of The Age of Surveillance Capitalism, says that "there is increasing mobilization within the society at the grassroots, the sense that [tech giants], which we once thought of as the solution, have now become the problem. In my view, it's this shifting sense of public malaise, of public fear, that has finally mobilized lawmakers."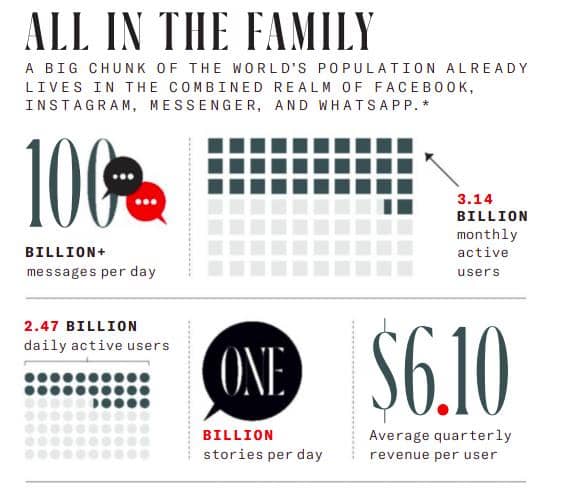 There's no way to square this kind of take with Facebook's self-image. VP of product and social good Naomi Gleit, one of the longest-tenured employees after Zuckerberg, still laments "the gap between what people think that our intentions are and what our intentions are." But the fact remains that Facebook is combining its apps into one even bigger, formidable network at the same time that many are questioning whether it should exist at all in its current form.
Indeed, Facebook's massive reengineering effort coincides with several external threats at once: to its size, its primary revenue source (targeted advertising), and its liability protections for what's published on the platform. All of which makes this an unprecedented moment for the company, and—since this is Facebook we're talking about—society itself.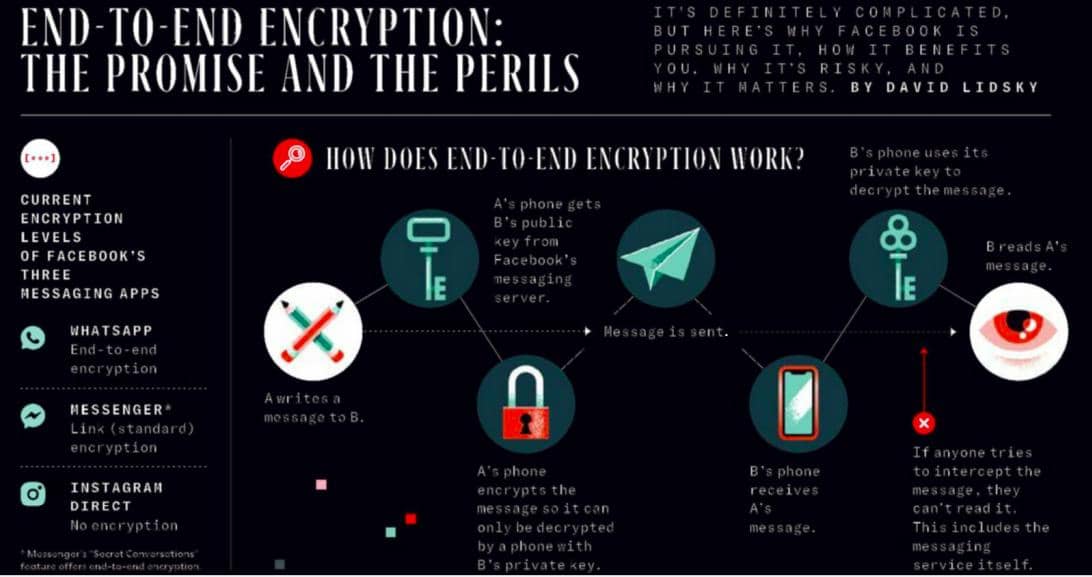 WHY IT'S CONTROVERSIAL
1 IT ABSOLVES A PLATFORM FROM RESPONSABILITY
Because Facebook can't read the communications being sent, it may be relieved of its current burden of content moderation.
2 GOVERNMENTS HATE IT
Officials complain that end-toend encryption creates a "safe space" for criminals and have demanded a "back door" to access end-to-end encrypted messages.
3 IT SHIELDS BAD BEHAVIOR
During recent elections in Brazil, Nigeria, and India, WhatsApp enabled the spread of disinformation and misinformation, largely unbeknownst to the public.
WHY IT'S ATTRACTIVE TO TECH COMPANIES
1 IT MAKES THEIR SERVICES MORE APPEALING
Users like the idea of their messages being secure, especially if they don't have to do anything extra to get the privacy benefit.
2 IT REDUCES TRANSPARENCY OBLIGATIONS
In the second half of 2019, governments around the world made 140,875 data requests of Facebook, and the company cooperated at least partially with 74.4% of them. Without access to messages, the company won't have to be accountable.
You can read up to 3 premium stories before you subscribe to Magzter GOLD
Log in, if you are already a subscriber
Get unlimited access to thousands of curated premium stories, newspapers and 5,000+ magazines
READ THE ENTIRE ISSUE
October - November 2020