Producing Cowboy-Style Workhorses Naturally
Farmer's Weekly
|
October 30, 2020
Pierre and Carine Kleinhans breed horses capable of patrolling large areas of land with minimal inputs, much like the animals used by cowboys in the American Wild West. The couple spoke to Glenneis Kriel on their farm near Touws River in the Western Cape about their operation.
The past few years have seen a slump in South Africa's horse market due to drought conditions in many parts of the country. This has pushed up feeding costs, in turn driving down demand and resulting in many horses, even top stud animals, selling at slaughter prices.
However, Pierre and Carine Kleinhans, owners of a horse-breeding operation on the farm Draaiberg, near Touws River in the Western Cape, saw the situation as an opportunity to rethink their business strategy.
"We love our horses and realised it was only a matter of time before the market recovered. It also made sense to hold onto the genetic material, rather than rebuilding stock from scratch once conditions normalised," says Pierre.
In an effort to reduce production costs, they skipped the breeding season twice during the drought to maintain their herd size at about 17 mares and one stallion. The couple's operation, Buckaroo Saloon, breeds rugged, cowboy-style workhorses.
"The demand for workhorses is likely to increase, due to the escalation in fuel prices, making it cheaper to patrol farms on horseback," says Pierre. "Horses have the added advantage of being able to cross areas inaccessible to vehicles."
BREEDING STRATEGY
The Kleinhanses' breeding philosophy is rooted in the notion of the relationship between cowboys and their horses in the Wild West of the old US.
"For many cowboys, a horse was not only a work and transport animal, but also a close companion, which is why temperament is such an important breeding goal for us," says Carine. "At the same time, little veterinary aid was available back then, so a horse had to be naturally resilient to survive."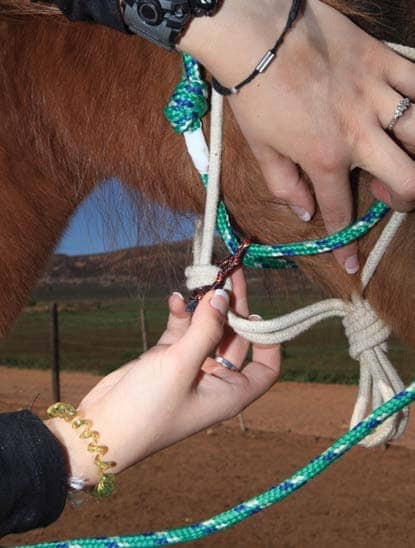 She says that the pampering and stabling of horses have created an exaggerated idea of what it costs to keep one, resulting in many people deciding against doing so. Being bred and raised for hardiness, Buckaroo horses seldom, if ever, require a veterinarian. In addition, the horses are kept outside, which eliminates stabling costs.
Carine estimates that it costs them about R1 000 a month to keep a single horse.
RESCUE HORSES
The couple's horse production journey began in 2010, when Carine started rescuing and restoring neglected horses back to health while living in Port Nolloth in the Namaqualand. Pierre, in the meantime, was focused primarily on his career in security, which involved, over the years, working in the army, the police services and lastly, in Iraq.
You can read up to 3 premium stories before you subscribe to Magzter GOLD
Log in, if you are already a subscriber
Get unlimited access to thousands of curated premium stories, newspapers and 5,000+ magazines
READ THE ENTIRE ISSUE
October 30, 2020