NEW IRRIGATION SYSTEMS: making do with less
With dwindling water supplies and a greater emphasis on efficient use of resources, irrigation technology is evolving to make do with less. While the initial capital costs of the latest equipment and software may be high, its increased efficiency, higher yield and reduced water usage cannot be beaten. Lindi Botha spoke to experts about the latest advances in irrigation.
Irrigation supports 25% to 30% of national agricultural production in South Africa. Although irrigated agriculture uses 62% of the available water resources in South Africa, the importance of this sector for the economy and food security is undisputed.
Reducing hectares under irrigation is therefore not the answer to water shortages. What is needed is more efficient use of the water that is available.
To this end, innovations in the field have included low-flow drip irrigation, draglines and micro sprinklers, all of which have succeeded at growing crops optimally while using less water.
As the new decade dawns, even greater improvements are coming into play. Felix Reinders, programme manager at the Agricultural Research Council's Department of Agricultural Engineering, notes that new and emerging technologies or solutions in irrigation can be grouped into three main categories: augmenting and improving water supply; improving water productivity; and managing irrigation systems more efficiently.
•  Augmenting and  improving water supply.
This includes irrigation systems that make use of solar and wind power; software that controls water productivity, from dam water release to root zone application; and integrated water administration systems that deliver water on demand through canal networks and rivers.
•  Improving water productivity.
Innovations here include pivot drip systems that combine the efficiency of surface drip irrigation with the flexibility and cost-effectiveness of mechanised irrigation systems, and integrated sensors to monitor soil and plants. Through wireless communication, the sensors help algorithms to better control and manage the irrigation systems.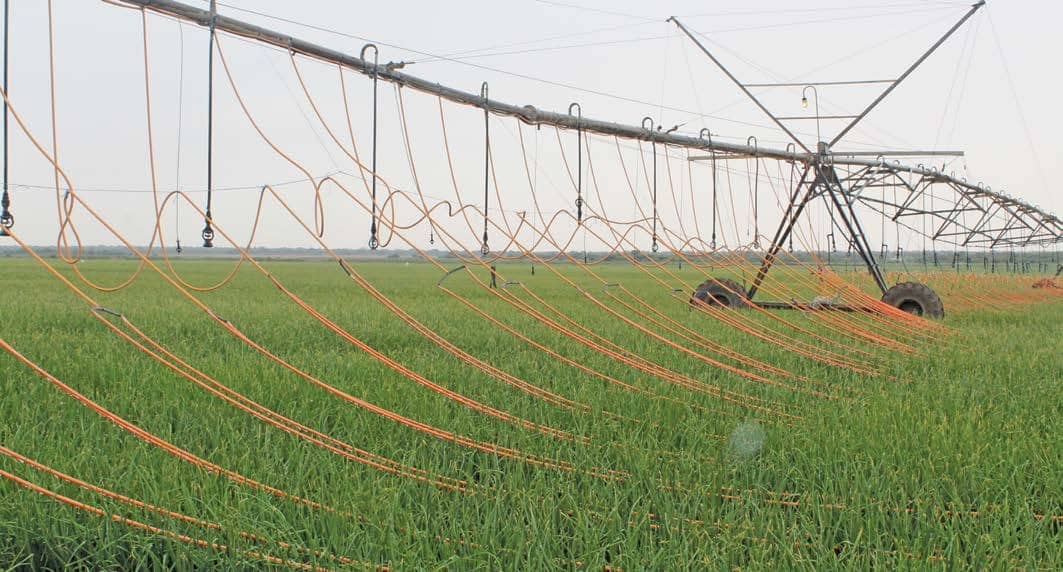 Another technology that has advanced is micro-irrigation.
Currently, it constitutes only 6% of irrigated land in South Africa, but its use continues to grow, notes Reinders.
Other innovations include ultralow-flow (0,4â""/ha) compensated drip lines; low-flow spray or micro-sprinkler irrigation; and the use of drones to establish where to apply specific quantities of water to the crop.
•  Managing  water demand  and maintaining  irrigation systems  more efficiently. 
This includes employing a wetting front detector for precision water application; smart irrigation technology for improving watering efficiency; technology that uses ultrasonic sound to clean drip pipes for improved efficiency; and improving operation and maintenance of irrigation systems through farmland geographic information systems.
EFFICIENT IRRIGATION
You can read upto 3 premium stories before you subscribe to Magzter GOLD
Log-in, if you are already a subscriber
Get unlimited access to thousands of curated premium stories and 5,000+ magazines
READ THE ENTIRE ISSUE
March 27, 2020