Manure Fertiliser: Proceed With Caution
Farmer's Weekly|November 29, 2019
Livestock manure is a popular form of fertiliser, particularly when budgets do not allow for commercial fertiliser. But Dr Gerhardus Nortjé, a senior lecturer at Unisa, says that because manure varies in its composition and nutrient density, farmers should take care not to over-apply it and risk damaging their crops. Lindi Botha reports.
Manure can be an effective supplementary organic fertiliser if handled and used correctly. It can, however, be very harmful if applied in excessive quantities.
Dr. Gerhardus Nortjé, a senior lecturer at the Department of Environmental Sciences at the University of South Africa (Unisa), notes that all manures are not equal. The mineral nutrient content of manure obtained from different animals differs widely in terms of both concentration and ratios between nutrient elements.
"Chicken manure, for example, generally has much higher concentrations of nitrogen (N), phosphorus (P) and potassium (K) than ordinary cattle kraal manure. It's more than two times higher in N, three times higher in P, and more than one-and-a-half times higher than K. Caution should, therefore, be exercised when applying it." Even manure obtained from the same type of livestock can differ drastically in nutrient content.
"The age of the animal is important; young cattle use more P when growing and thus excrete little P. The diet of the animal also plays a role. Dairy cattle that are fed high levels of P excrete most of it, making their manure high in P concentration.
"Sheep manure from an arid area like the Karoo was found to contain high levels of soluble salts, and applications of large quantities of salt to the soil caused detrimental levels of salinity in deciduous fruit orchards. The same was found for goat manure in northern Limpopo. Chicken manure also has higher salinity than cattle kraal manure."
Nortjé stresses that with all these differences, it is essential to obtain a nutrient element analysis of the manure before it is used.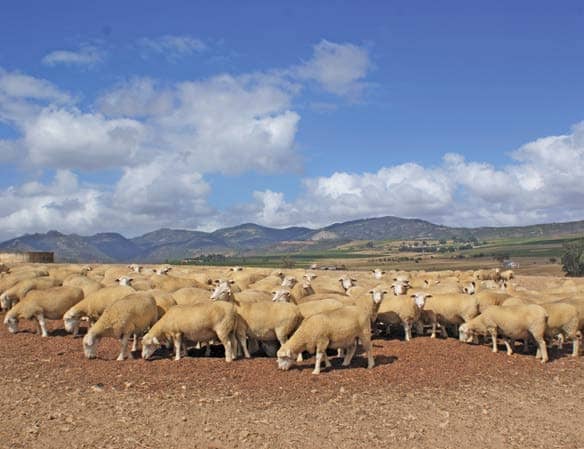 APPLICATION
Due to the low nutrient element concentrations of manure, it is typically applied in tons per hectare, rather than hundreds of kilograms per hectare, as in the case of chemical fertilizer. According to Nortjé, 10t of cattle kraal manure will, on average, contain as much N, P and K as 300kg LAN (28% N), 300kg single super phosphate (8,3% P) and 200kg potassium chloride (50% K).
You can read upto 3 premium stories before you subscribe to Magzter GOLD
Log-in, if you are already a subscriber
Get unlimited access to thousands of curated premium stories and 5,000+ magazines
READ THE ENTIRE ISSUE
November 29, 2019