How To Plan For Variable Maize Planting Conditions
The increasing unpredictability of rainfall has made it difficult for farmers in the summer-cropping areas to follow long-held production timelines. Sabrina Dean visited Pierre van Eeden on his northern Free State farm to find out how he has adapted in order to optimise maize production in the face of ever-changing climatic conditions
Over the past five years, production conditions on Pierre van Eeden's farm, Heuninglaagte, near Edenville in the Free State, have been different every single year.
This has necessitated constant changes in production practices, including planting time, planting method and soil preparation.
A short planting window and limited capacity have added to the difficulties, forcing him to change his tillage practices three times over the past five years.
"At the start of this cycle, my practice was to disc, then wait for rain. The plan was to rip in late October and try to start planting by around 10 November.
"In 2018, though, there was no time to disc. So I adapted my ripper and just went in."
In the 2018/2019 season, Van Eeden again changed his approach in his efforts to achieve sustainable production. After years of research into no-till, and deciding it was not the ideal option for his operation, he decided to try strip tillage as a means to expand capacity. He invested in an implement in November.
"With this implement, I can disc, rip and prepare my seedbed all in one go, but it's a completely new technique for me, not something tried and tested."
HEUNINGLAAGTE
Van Eeden runs a mixed farming operation comprising sheep, cattle and dryland cropping on his 1 800ha farm. The cropping component, mostly maize and sunflower, makes up about 60% of the business.
He says there is some synergy between the livestock and cropping components as he uses residue from the maize crop, in particular, as grazing. However, he follows a balanced approach to planning and also considers sunflower an important crop in his operation, despite its having less feed value for the livestock.
The area where he farms does not have high-potential dryland croplands, but he says that his long-term average maize yield of approximately 4t/ ha makes his Wesley/Avalon soil lands better than marginal.
He establishes a maize density of 18 000 plants/ha on lands with higher potential soil, and between 13 000 and 14 000 plants/ ha on poorer quality lands.
In the past, Van Eeden explains, the optimal window in his region stretched from around 15 November to 15 December. In more recent years, he has experienced a much shorter, later planting window from around 10 to 20 December.
VAN EEDEN USED STRIP TILLAGE TO HELP EXPAND CAPACITY
"I can't make my plans three to five months in advance anymore. I can't even say I'm planning to plant next week. Instead of a month to plant, I now have only about 10 days to get my crop in the ground."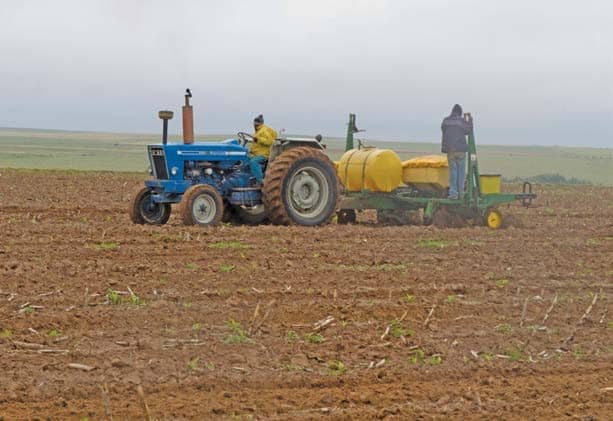 Apart from its other challenges, this has also caused capacity problems.
"My staff and equipment all function under stress. I have to push my people and implements into the red."
One simple example of how he has adapted over the years is the way in which he stores inputs.
You can read upto 3 premium stories before you subscribe to Magzter GOLD
Log-in, if you are already a subscriber
Get unlimited access to thousands of curated premium stories and 5,000+ magazines
READ THE ENTIRE ISSUE
January 17, 2020