Growth mediums for greenhouse production
Farmer's Weekly|February 28, 2020
Greenhouse farming is an intensive, high-yielding operation. Using the correct growth medium forms the basis of the operation, and mistakes in this area can cost a farmer dearly, according to producers and experts. Lindi Botha looks at which mediums work best for different crops.
Greenhouse farming presents a lucrative opportunity for hands-on farmers with an eye for detail. Quicker turnaround means a shorter time before return on investment, despite higher input costs. On the other hand, greenhouse farming is an exact science: what you put in can make or break the operation.
In most farming operations, the soil or growing medium requires more attention than any other aspect. Tunnel farmers have a number of options, from coir peat to newer innovations such as perlite.
Whichever growing medium is selected, it should be of high quality and sourced from a reputable supplier.
STERILISED
"You're setting yourself up for failure by using inferior products, or those that haven't been sterilised properly," cautions Mbali Nwoko, the owner of Green Terrace, which cultivates peppers in greenhouses in Johannesburg.
She opts for a growth medium comprising sawdust and coir peat.
"I have several suppliers I rely on whom I can trust to deliver clean products. You can't just use any old sawdust; it has to be sterilised properly to ensure there are no pathogens or chemicals that can harm the crops.
"The peat needs to have the correct pH levels and the salt content mustn't be too high or it'll burn the roots of the plants."
BENEFITS OF COIR PEAT
Nwoko explains that the plants can be sterilised in the plastic bags they are grown in; there is no need to empty the bags, clean the contents, and repack everything.
"I put a spore kill product through the irrigation system, so it saves a lot of time and labour. I then simply plant the next crop directly back into the sterilised coir peat."
She adds that a growth medium is far more efficient than soil for crop production.
"You have complete control of what goes into the plant. The crops grow faster because you're controlling the whole environment and how many nutrients the plant gets. You can get between 90% and 100% of your expected yield because of this. None of the nutrients that are added to the growth medium are wasted; everything is absorbed.
"This isn't the case with soil, which has its own mineral composition that can interfere with the nutrients you add.
"There's also the added benefit of less weeding. So you save on labour."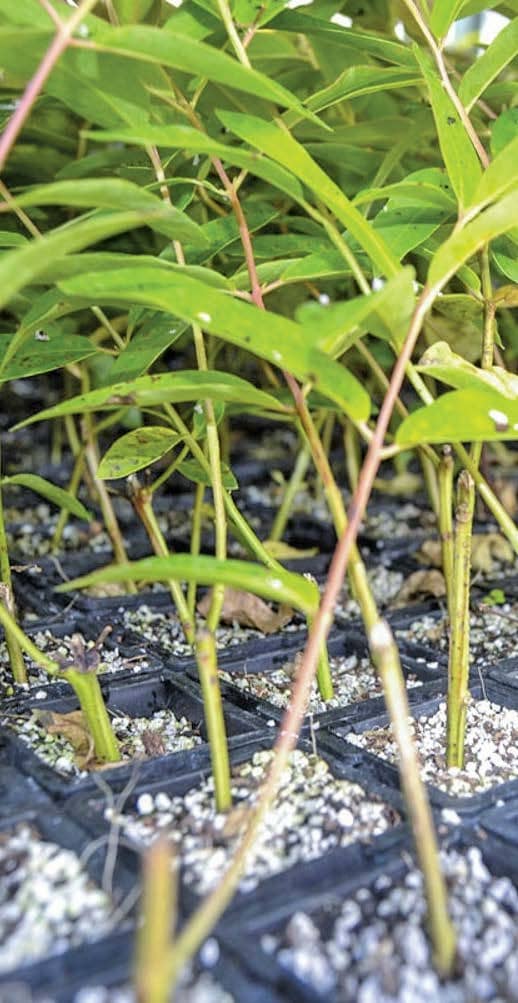 THE RIGHT MEDIUM
Every crop has its own unique needs, and with the variety of growth mediums on the market, farmers need to balance cost and efficiency.
You can read up to 3 premium stories before you subscribe to Magzter GOLD
Log in, if you are already a subscriber
Get unlimited access to thousands of curated premium stories and 5,000+ magazines
READ THE ENTIRE ISSUE
February 28, 2020