From Humble Beginnings To Cream Of The Crop
Over almost three decades, Foundation Farm in KwaZulu-Natal has evolved from a small dairy operation to winner of the Agricultural Research Council's 2019 Master Dairyman of the Year. The farm's founders, Alan and Frances Webster, hope that their success story will motivate aspiring and existing farmers to persevere with their agricultural vision.
Alan and Frances Webster arrived in the Weenen area of KwaZulu-Natal (KZN) in late 1990, ready to take their first steps towards becoming commercial dairy farmers. The young couple had long been scrimping and saving towards achieving this goal during Alan's time as a farm manager and Frances's sojourn as a lecturer at a teacher training college in Mpumalanga's Nelspruit area. Yet even these savings were insufficient, which meant that the Websters had to ask for a private loan to cover the costs of getting their dairy farm off the ground.
THEY STARTED BY SELLING 500ML BOTTLES OF MILK AT WEENEN'S BUS RANK
Frances recalls that banks were not interested in loaning her and Alan any money, as the couple did not have an official credit history. Undeterred, they pressed ahead, spending the money they had saved to buy 37ha of irrigated pastures in the Weenen area, and purchased a nuclear herd of 20 Jersey cows.
During Farmer's Weekly's interview with the Websters, it quickly becomes apparent that they are not recounting their story to boast about their successes. Rather, they hope that their efforts to overcome challenges through passion, patience, hard work and determination will inspire other aspiring farmers to never give up on their dreams.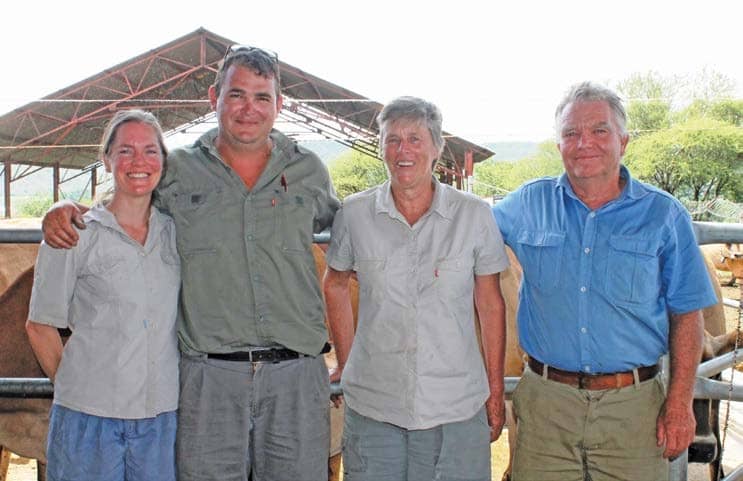 BELIEVING IN THEMSELVES
"Before we arrived here, and for some time thereafter, there were many naysayers who told us that dairy farming wouldn't work in Weenen; that our operation was too small to be economically viable; and that our lack of experience and knowledge of dairy farming would disadvantage us. Milk-buying companies weren't prepared to send trucks out to our small dairy farm in Weenen," says Frances.
But there was no turning back at this late stage; they had already bought the land and the small dairy herd. The couple recall that for the first five years, they operated in "survival mode"; they used a tiny four-point milking parlour to produce about 250ℓ" of milk a day. Alan, Frances and some of the five farmworkers whom they could afford to employ at that time, manually filled 500ml bottles with milk, and sold these daily to customers at Weenen's bus rank, in the local traditional authority areas, and to hawkers.
While Frances mainly managed the dairy operation, Alan's primary responsibility was the milk deliveries and sales.
"[Operating in this way was] risky, because I was dealing in cash at that time, and I was once robbed at gunpoint," he recalls. "But we were able to stay afloat and even slowly grow our Jersey herd, and hence our milk production.
"An added advantage of living in Weenen was that much of the local agricultural land had already been subdivided into relatively small parcels for fresh produce production. Sometimes a piece of land came up for sale and we were able to buy it. This helped us to gradually grow our grazing, herd and overall business."
You can read upto 3 premium stories before you subscribe to Magzter GOLD
Log-in, if you are already a subscriber
Get unlimited access to thousands of curated premium stories and 5,000+ magazines
READ THE ENTIRE ISSUE
January 17, 2020