Farming Sector Under Siege By Criminals
Farmer's Weekly
|
September 18, 2020
We're offering this story for free to read so that you can stay updated on the COVID-19 outbreak
The COVID-19 pandemic and resultant national lockdown in South Africa have produced a plethora of negative socio-economic consequences. Amongst these is a wave of crime against the country's farmers. Lloyd Phillips reports on this phenomenon and on how government's consistent failures have made a difficult problem significantly worse.
It is the middle of a typically cold winter in the farming areas surrounding Ficksburg in the Free State. Elsabe Botha (name changed), one of many local farmers, has had a particularly tough month: between theft and nine separate incidents of arson on her property in July 2020 alone, she calculates that she has lost 100ha of her mature maize crops.
But this is only one example of numerous similar crimes suffered by South African farmers in recent months. According to those in the know, the escalation of these property-related crimes on farms this year has largely been driven by the mounting negative socio-economic effects of the country's COVID-19 national lockdown.
The leaders of various organised agriculture bodies generally share the perception that in the highly restrictive early days of the lockdown, which started on 26 March, there was a noticeable decline in reports of rural crime. This is widely attributed to strongly enforced control on the movement of people in an effort to curb the spread of the disease.
However, as the lockdown became less restrictive in the second half of the year, business closures, job losses, the weakened economy, and widespread COVID-19 infections within the police and army all helped create conditions ripe for a dramatic escalation of both opportunistic and subsistence crimes.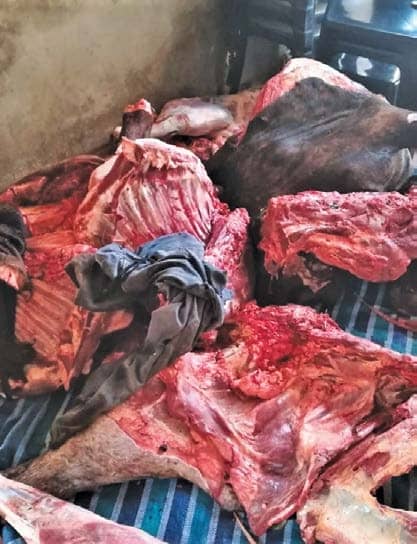 WIDE RANGE OF CRIME
Dr Jane Buys, safety risk analyst with Free State Agriculture, says that by mid-August, well over 1 000 economic crimes had been committed on farms in the province during the lockdown. In addition to maize theft and arson, Buys has recorded reports of the theft of livestock and other crops; house break-ins and robberies; motor vehicle thefts; the theft of farm tools, implements and infrastructure; illegal hunting; and malicious damage to property.
According to an extract from Buys's research, six farmers reported that during March and April they had lost between 10% and 50% of their maize crops due to theft. The majority of farmers surveyed perceived that maize theft had been committed in an organised manner by groups of people. For financial reasons, amongst others, few farmers employ security guards to protect their croplands.
Two months after the implementation of the lockdown, Tommie Esterhuyse, chairperson of Agri SA's Centre of Excellence for Rural Safety, publicly expressed his great concern at the sudden escalation in farm attacks, farm murders and economic crimes on farms countrywide. Farmers' nerves, he said, were "on a knife's edge" due to the surge in crime against farm dwellers and property.
In late June, he said: "The country currently finds itself in one of the most difficult economic situations, with the agriculture sector having to contend with an agriculture friendly government and policy uncertainty. Uncertainty and escalating rural crimes are not conducive to creating an environment in which agriculture can perform and contribute towards economic development and growth."
Agri SA cautioned the tense farming community to "act responsibly" and not take the law into its own hands, but rather to "hold the police accountable for performing their constitutional duty to protect all citizens".
You can read up to 3 premium stories before you subscribe to Magzter GOLD
Log in, if you are already a subscriber
Get unlimited access to thousands of curated premium stories, newspapers and 5,000+ magazines
READ THE ENTIRE ISSUE
September 18, 2020