Riverbanks: An Important Aspect Of Veld Management
"Heavy summer rain is a common occurrence in the north-eastern part of the Free State where I farm. You are almost assured of a flood at least once a year. In this event there is always the possibility that those who have not stabilised their riverbanks, will have problems with erosion. The resultant soil losses are rarely quantified."
This is according to Mike Nicolau, a Beefmaster stud breeder from the farm Brakvlei in the Roadside area near Vrede. He says there is only one way to truly combat erosion, and that is to cover riverbanks with vegetation that will stabilize the soil.
The value of reeds
"Reeds on the riverbanks are effective because livestock generally don't eat it. As reeds form dense bushes, it creates an effective buffer against floodwater. The roots also form a dense mat beneath the soil surface, further stabilizing the soil.
"At the start of the growing season, the young reeds are a very palatable feed source for especially cattle, so it is important to adapt your veld management to accommodate this. Utilize your river camps later in summer, when the reed stalks are thicker," he says.
Mike also lets breeding birds complete their breeding season in the reeds before he puts cattle in those camps. This means he mainly utilizes the river camps in late autumn and winter. He does his best to ensure the cattle do not disrupt the breeding birds.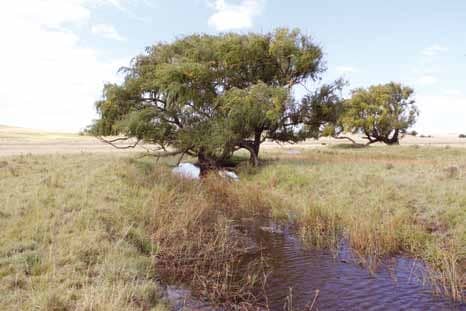 Stabilising drinking spots
According to Mike, another way to combat erosion is to reinforce the areas used by livestock as drinking spots by building stone steps, with a platform that extends over the water. This prevents the animals from treading paths that can lead to further erosion.
Continue Reading with Magzter GOLD
Log-in, if you are already a subscriber
Get unlimited access to thousands of curated premium stories and 5,000+ magazines
READ THE ENTIRE ISSUE
November 2019