Potato tuber corky cracks caused by multiple Rhizoctonia species
FarmBiz|July 2020
Potato (Solanum tuberosum L.) is the most consumed and economically important vegetable crop in the world.
Nutritionally, potato is ideal for human consumption and provides a balanced source of starch, high-quality proteins, vitamins, trace elements and dietary fibre. This makes it an ideal crop to feed many communities and ensure food security.
To increase potato production, research is focused on disease control, soil health, good farm management practices, seed quality and breeding of high-yielding varieties. However, the potato crop, as with many other agricultural crops, is susceptible to devastation by various diseases. Potato diseases reduce the yield and quality of fresh produce and therefore pose a threat to food security.
Potato tuber blemishes constitute a persistent quality problem in the production of potato and contribute to major economic losses in South Africa and globally. They can cause severe yield losses, rejection of seed batches, downgrading of potatoes on the market, or rejection of potatoes for processing.
The demand for washed potatoes by South African consumers highlights the problem of blemished tubers. It is important for farmers to optimise their disease management strategies to avoid yield losses and downgrading of tubers in the fresh produce market in South Africa.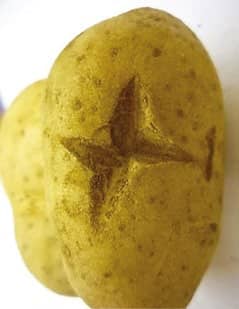 Origin of tuber blemishes
Tuber blemishes can be a result of known causes (typical blemishes), which are manageable; or unknown causes (atypical blemishes), which are difficult to manage. Fungal and bacterial pathogens causing typical tuber blemishes include Rhizoctonia solani, Colletotrichum coccodes, Spongospora subterranea f. sp. subterranea, Helminthosporium solani, Fusarium species and Streptomyces species. These pathogens cause various symptoms on potato tubers, including black scurf, black dot, powdery scab, silver scurf, dry rot and common scab.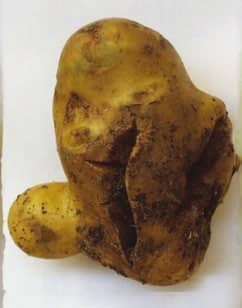 Tuber blemishes can also be caused by viruses and nematodes. In contrast, atypical blemishes have unknown causes, often with contradictory reports on the causal agent, and are thus difficult to manage. Atypical blemishes include corky cracks, star-like corky lesions, corky spots or 'rhizoscab' and 'elephant hide' (Figure 1).
You can read up to 3 premium stories before you subscribe to Magzter GOLD
Log in, if you are already a subscriber
Get unlimited access to thousands of curated premium stories and 5,000+ magazines
READ THE ENTIRE ISSUE
July 2020