Cultivating Walnuts: The Rotondo Story
The cultivation of walnuts in South Africa got off to a rocky start. That was until the Industrial Development Corporation (IDC) took the lead through a trial and error project, known today as Rotondo Walnuts. Rotondo is the only farm in South Africa to grow and export walnuts to China, the Middle East, and Europe.
Currently, China and the United States (US) are the world's leading producers of walnuts. Europeans are known for their love of nuts, especially the walnut, which is particularly rich in omega-3 fatty acids. Among other things, it is also a superfood that can lower blood pressure and cholesterol, help manage type 2 diabetes, reduce the risk of some cancers, promote a healthy gut and decrease inflammation.
Nutty origins
The walnut tree has an interesting history. It is the oldest tree food known to man, dating back to 7 000 BC. Its ancient Roman name, Juglans regia, means 'Jupiter's royal acorn'.
The Juglandaceae family, to which the walnut tree belongs, consists of various species, such as the English walnut (J. regia), which originated in Persia, and the black walnut (J. hindsii), which originated in eastern North America. Walnut trees are deciduous and can grow up to 15m tall. They are not endemic to South Africa.
When settlers from the British Isles and Europe came to South Africa in the 1800s, they brought the English walnut with them. However, walnut production never really took off. In the 1970s the Agricultural Research Council imported several cultivars for walnut production trials in South Africa. Unfortunately, most of the material was lost.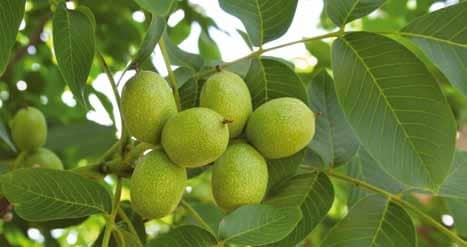 Commercial production
Thanks to an IDC feasibility study for commercial walnut production in 1997, South African walnut production took off in 2000.
Essential hydrological, soil and climate studies identified suitable areas in which to establish a commercial project. These studies resulted in the establishment of Rotondo Walnuts near Aliwal North, as the first commercial farm.
You can read upto 3 premium stories before you subscribe to Magzter GOLD
Log-in, if you are already a subscriber
Get unlimited access to thousands of curated premium stories and 5,000+ magazines
READ THE ENTIRE ISSUE
November 2019