Conservation Agriculture Reduces Erosion And Improves Production
FarmBiz|June 2020
Soil erosion is a natural process, but the rate of soil erosion presently taking place – mainly due to anthropogenic influence – is not sustainable. When travelling through South Africa, we see soil eroded by water as acceptable and natural.
Soil erosion is a catastrophe
The topsoil is the most fertile and active of the soil horizons. Approximately 80% of the feeder roots occur in the topsoil. Soil is a living organism containing more microorganisms in a teaspoon of topsoil than there are people on earth.
The roles of these micro-organisms are wide and varied, including the supply of nutrients to the plant through the different nutrient cycles. These include symbiotic relationships, such as with mycorrhiza, which play a vital role in supplying nutrients and water to the plant.
The mycorrhiza hyphae (roots) are extensive, with a measured length of 2 to 20m per gram of soil. The hyphae are extensive and occupy all parts of the soil, play a vital role in gathering water and nutrients for the plant, help stabilise the soil, and reduce soil erosion. If topsoil is lost, this function, among many others, is drastically reduced.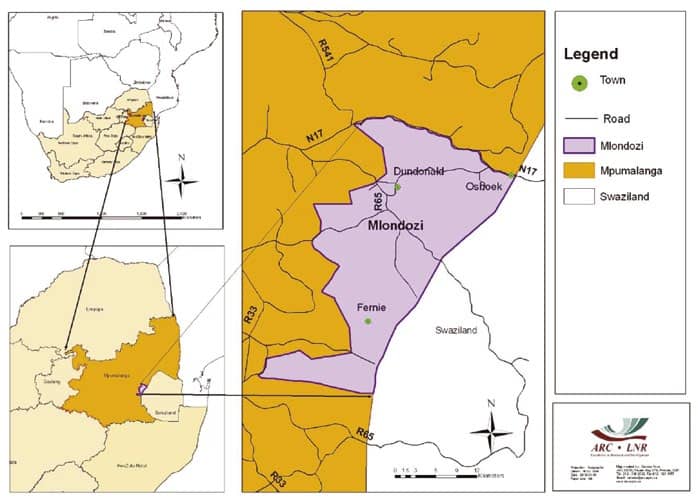 Mlondozi LandCare project
The Agricultural Research Council's Institute for Soil, Climate and Water (ARCISCW) initiated the Mlondozi LandCare project with the goal of demonstrating sound land management practices by involving local communities who would contribute to sustainable and profitable agricultural production in the Mlondozi district. The district is situated in the eastern Highveld of Mpumalanga, bordering Swaziland (Figure 1).
LandCare is a community-based programme with the overall goal of optimising productivity through the sustainable use of natural resources, resulting in greater food security, job creation and better quality of life for all. This is achieved through the community taking ownership of the project.
The dominant parent material in the district is granite, which occurs throughout southern Mpumalanga and KwaZulu-Natal. The dominant soils found in Mlondozi belong to the Clovelly and Magwa soil forms. The soils reflect the influence of the two dominant soil-forming factors, namely climate and geology.
You can read up to 3 premium stories before you subscribe to Magzter GOLD
Log in, if you are already a subscriber
Get unlimited access to thousands of curated premium stories and 5,000+ magazines
READ THE ENTIRE ISSUE
June 2020