A Solid Strategy Against Rising Input Costs
FarmBizMay 2020
Had it not been for out-of-the-ordinary conditions that made his onions very sought after and expensive in 2000, he probably would not have owned his Soutpansberg farm today.
There were heavy rains that year, causing major floods that washed away most of the onion plantings in Limpopo. He planted 24ha of onions that year, and once the flood subsided, only 4ha remained, remembers Louis van der Walt of the farm Spitskop near Vivo.
With much less onions available on the markets, prices shot up and he was able to generate between R38 and R42 per bag – truly a lot of money at the time! If all of his onions had washed away, he would have had to stop farming, says Louis. This gave him a much-needed kickstart and today he farms with several crops and an excellent beef herd on some 6 700ha of land.
Brick by brick
Louis grew up on a cattle farm near Maasstroom in Limpopo and after matriculating he and his brother Peet started a business in Dendron where they manufactured cement bricks together with another partner. In 1991 the partner bought their shares from them. They jointly received R20 000 and a Nuffield tractor.
The two brothers then rented land at Bylsteel and began growing potatoes under irrigation. Louis was then called up by the defence force to complete his national service and Peet moved to Pontdrif after the water used for irrigation at Bylsteel started presenting problems.
After his army training, Louis also went to Pontdrif, but the farming business simply could not accommodate another partner. As a result he started working at a mine in the area before renting the farm Spitskop from the well-known tea grower, Sapico, in 1995. He initially planted peppers, tomatoes and butternuts and in 1989, bought the farm.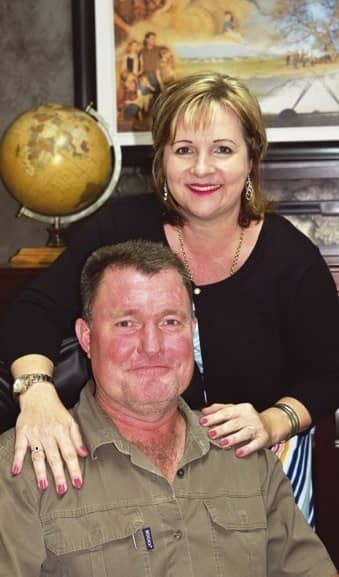 Enter the potato
After the floods of 2000, Louis began planting potatoes together with the onions in August that year. He also started planting potatoes with a partner in the Tom Burke area of Limpopo. Today the Spitskop farm boasts 380ha under potatoes, 170ha under citrus and 24ha under tomatoes.
The citrus is planted mainly on the land where onions were once grown. In 2019 he stopped planting onions because of the input costs that rose steadily to the point where it hampered profitability. At the same time, more and more farmers started planting onions and the market price simply could not keep up with the increase in input costs, Louis explains.
In addition, new technology has made it possible to keep onions in cold storage and then market it during times when farmers of other areas were traditionally marketing their potatoes. This puts further pressure on the market price of onions. In his experience one makes a good profit with onions once every five years. In the other years the farmer merely breaks even or records a loss.
Benefits of planting citrus
At one point he planted 90ha of onions every year, but over time he started planting citrus trees on the onion fields. He has 170ha worth of space for citrus trees and plants mainly easy-peel citrus cultivars, lemons, grapefruit and late Valencia's.
You can read up to 3 premium stories before you subscribe to Magzter GOLD
Log in, if you are already a subscriber
Get unlimited access to thousands of curated premium stories, newspapers and 5,000+ magazines
READ THE ENTIRE ISSUE
May 2020