Jon Taffer
THE HOSPITALITY LEGEND AND BRASH, IMPOSING STAR OF THE HIT SHOW
On his hit Spike TV show, Bar Rescue, where Taffer parachutes into entrepreneurs' struggling bars to turn them around in three days, he is a looming, at times obnoxious presence—a man whose eyes bug out as he berates incompetent owners and employees. "I watched you pick up raw chicken all night with your hands and then touch cooked food!" he yells, grabbing and throwing a handful of tortilla chips for emphasis as the guilty party trembles before him.
Onstage at conferences, where Taffer, 64, gives keynotes about how to take control of a business, he yells during much of his presentation. Even his new book's title screams from the cover: Don't Bullsh*t Yourself!: Crush the Excuses That Are Holding You Back.
But therein lies the paradox of Jon Taffer. Having spent parts of two days following him around—to his office for meetings with a small group of longtime employees, eating expensive Wagyu beef on the Vegas Strip, flying to a distillery where he's developing his own line of whiskey, driving around with his personal L.A. limo driver, meeting his Hollywood producer and his publicist—I never once saw him yell. (Though he does curse like a sailor.) Nor does anyone around him seem to be braced for an obscenity laced outburst.
So finally, I just ask. "You seem like a nice person," I say. "Can you explain to me where all the yelling comes from?"
Taffer goes quiet while he thinks. We are hurtling through the cold air at 30,000 feet in his tan-on-brown corporate jet—a twin-engine, 1999 Hawker 800, with a custom leather interior modeled after that of a Bentley motorcar. For the past two days, he's had a quick answer for everything. But this one stops him.
"I don't know where the yelling came from," he says at last. "I don't really yell in my personal life. Honestly, Bar Rescue is such a bizarre environment because there's a clock ticking. Not counting the construction, I have three days to save somebody's life. It creates this level of frustration that's pretty abnormal. If I don't get him or her to listen to me right now, I'm a dead man. So I talk very loud to make sure he or she does listen to me. Because I know what it's going to take to make this person a success."
He takes a sip of his ever-present diet soda. Out the window, there is smoke evident in the atmosphere from a series of western wildfires. It bends the morning light and creates an eerie glow.
"See, everybody says they know everything about success. There are a million self-help books out there. But after 155 bar rescues, I know more about failure than any businessperson you will ever meet. I have experienced failure that is inconceivable, people who are so foolish, so far in debt. And I see it week after week after week. After 155 bar rescues, I have found a common denominator of failure. And it's so freaking simple: The common denominator of failure is excuses.
"Whenever I ask someone, 'Why is your bar failing?' I get a million excuses. They say it's Trump. They say it's the euro. It's construction on my street. It's wintertime. It's this. It's that. They never say they're failing because of themselves. Not once has someone ever looked up at me and said, 'I'm failing because of me.'"
Taffer himself could have easily made excuses. His early life furnished him with plenty of reasons to justify a lifetime of failure or mediocrity. And perhaps that's why he's devoted so much effort to his latest push—an ambitious plan to move beyond bars and nightclubs, and establish himself as a more all-purpose self-help guru, a one-man crusader for America's fledgling entrepreneurs. But as 155 often contentious, messy, and flabbergasting bar rescues have taught him, getting people to listen isn't always easy.
"If I can make them own their failure, I can get them to own success," he says. "If they don't own the failure, they will never get there."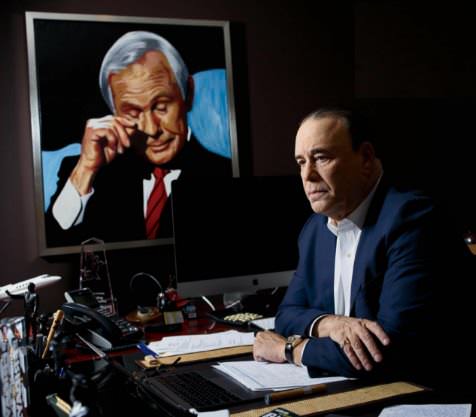 JON TAFFER BEGAN his life as Jonathan Peter Cass. His early years were not always kind.
When he was 2 years old, on Christmas Eve, Taffer's 34-year-old father died suddenly of a heart attack, throwing his family into disarray. Taffer and his older brother went to live in a large apartment in Westchester, New York, with his mother, Yvette, and her parents.
Taffer's grandfather was an entrepreneur named Saul Suslock. Born in Brooklyn to Jewish immigrants, Suslock was given a printing press when he was 15 years old. That gave him an idea: For a slight fee to merchants, he began to print advertising flyers and insert them into the papers his parents sold on their newspaper stand. In time, he added more stands, and then hired kids from a boys' club to leave circulars under doors in apartment buildings in Brooklyn, in the process essentially pioneering direct mail.
Eventually, Suslock's marketing firm was bought out by a Park Avenue advertising agency. There, according to Taffer, his grandfather had a hand in creating such memorable ad campaigns as "Eastern, the wings of man" and Volvo's "Seventy percent of Volvo owners are college graduates; the other 30 percent are just damn smart." (Suslock is also credited with helping to popularize the first wetting baby doll, the Betsy Wetsy.) Frequently, young Taffer would go to New York to visit his grandpa at the office. It inspired him.
"I was surrounded by these overachievers," he says. "I wanted to be the same."
You can read up to 3 premium stories before you subscribe to Magzter GOLD
Log in, if you are already a subscriber
Get unlimited access to thousands of curated premium stories, newspapers and 5,000+ magazines
READ THE ENTIRE ISSUE
March 2018