How We'll Thrive
Entrepreneur|July - August 2020
Nothing will ever be the same, we're told. The world is forever different. That may be true in some ways. We may want and create new things; we may engage with new technologies; we may be focused on new problems to solve. But let's not forget: We can flourish in this new world, just as we did in the old. There's still a bounty of possibilities, and an open sky for our ambitions. We do not need to settle for less. We can thrive. We will thrive. Here's how.
The Next Wave of Innovation
The best ideas are born from necessity—and right now, the world desperately needs good ideas. If past crises have taught us anything, it's that entrepreneurs will rise to the challenge and help create a smarter, brighter, better tomorrow on the other side of tragedy.
HAMZA MUDASSIR
BLACK SWAN EVENTS, such as global recessions and pandemics, change the trajectory of governments, economies, and businesses—altering the course of history, often for the better. The Black Death in the 1300s contributed to the dissolution of the feudal system in Europe and put us on the road to a modern employment contract. A mere three centuries later, a deep economic recession— thanks to the Hundred Years' War between England and France—helped kick-start a major innovation drive that radically improved agricultural productivity.
Fast-forward and the SARS pandemic of 2002–2004 catalyzed the meteoric growth of a then-small e-commerce company called Alibaba, helping establish it at the forefront of retail in Asia. The financial crisis of 2008 also produced its own happy side effects. Airbnb and Uber shot up in popularity across the West as the subprime crisis meant lower savings and income for the masses, forcing people to share rooms and car rides to cover for the deficit.
With COVID-19, we are only seeing the first signs of how consumers and businesses will change. Remote working, for example, is now being embraced by tech and non-tech companies alike. It's impossible to guarantee which of today's shifts will resonate tomorrow, but we know this for sure: Some of them will create longer-term digital disruption that will shape businesses for decades to come.
An entrepreneur's mission is to stay ahead of these shifts and anticipate their effects. That is where the biggest opportunities will be tomorrow. Here are three examples.
1/ Supply chains will merge to become ecosystems.
Global supply chains have long kept quality relatively constant while driving lower costs at every step. COVID-19turned this approach into a house of cards. When China slowed down to contain the pathogen's spread, it knocked out the supply for a variety of goods and services globally. This failure will be a catalyst for supply chains across the world to merge into a mesh—where manufacturing will be more spread out around the world, and businesses will use multiple, and sometimes even redundant, sources to ensure that they can survive a single point of failure. These more complex ecosystems will be powered by sophisticated digital platforms and advanced technologies such as 5G, internet of things, and blockchain. That way, costs can still be kept low while improving resilience.
Leaders should get ready for this change today. Use this lull period to start transforming your company—reimagining your business, its strategy, and its operations as digital-first. This will not only help with integrating your company in the new digital supply chain ecosystem but also make it cost- and quality-competitive. Next, start actively striking strategic partnerships with your industry peers, vendors, and key customers—across geographies—to build your own micro-ecosystem. That way, your business can become resilient now, instead of waiting for the new ecosystems to catch up.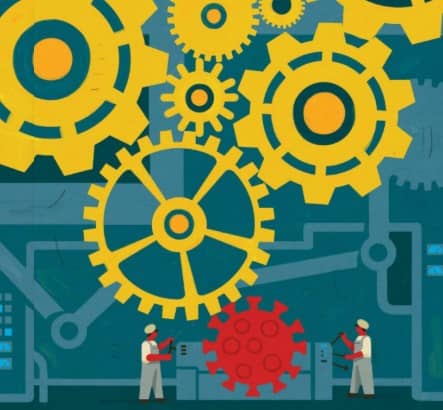 2/ Talent will be nurtured digitally.
When everyone started working from home at the beginning of this crisis, systems seemed like the most important thing. People found new ways to communicate, and they established new workflows. But once this crisis is over, many of us may never return to an office: Remote work will become the new normal. This will raise new challenges. Employee morale, productivity, and mental health will need to be treated in new ways. Digital services such as Braive and Moment Pebble can help, but astute entrepreneurs will want to be ever-mindful of this…or build the next generation of services to help.
In a work-from-home world, leaders will also need to manage talent differently. Remote-first employees tend to be more productive, but they are also typically more independent and empowered. This may make it harder for managers to prioritize key projects, review employees' performance fairly, and promote the right people. To prepare for this, start building a new management playbook for your company. Entrepreneurs can learn a lot by studying the operational models of successful remote-first companies such as GitHub and Automattic.
3/ Digital bureaucracies will become mainstream.
COVID-19 caused governments to spin into action more quickly than ever. China broke records by constructing a 645,000-square-foot hospital in just 10 days in Wuhan. South Korea drove rapid testing of more than 200,000 of its citizens and used smartphones to tag the movement of the infected. By the end of this, governments will have a new appreciation for the importance of digitization and rapid decision-making—and that, in turn, will create incredible opportunities for entrepreneurs. Licenses, approvals, and international expansion will become easier. Local companies will have to step up and fulfill their local governments' digitization needs. Vast, highly profitable opportunities will come.
This is just the start. In the meantime, we, of course, can't lose sight of the many tragedies people will suffer. The health and safety of our employees, partners, and suppliers is top priority. But once the threat is gone, we'll find that COVID- 19 has irrevocably changed the way businesses will compete over the next decade. Firms that choose to capitalize on these underlying changes will succeed—and the ones that do not will forever be disrupted.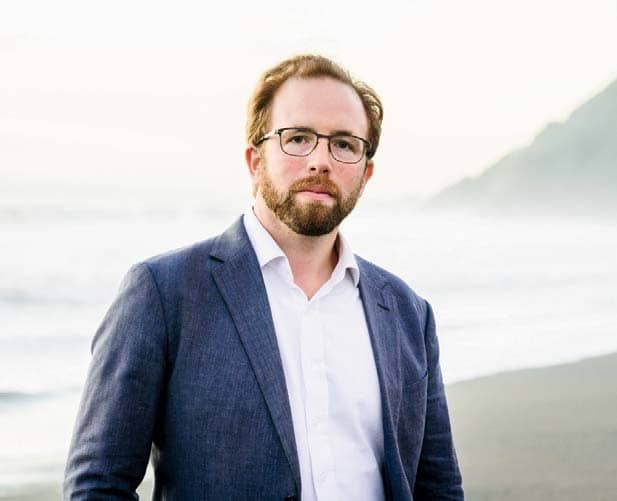 The New Startup
A new world calls for a new kind of startup. But it won't be solving entirely new problems.
by JASON FEIFER
Entrepreneurs create solutions—but with the world bogged down in problems, it's hard to know where to begin. Global investor Alexandre Lazarow has some advice: Take inspiration from companies built in the most difficult environments.
You can read up to 3 premium stories before you subscribe to Magzter GOLD
Log in, if you are already a subscriber
Get unlimited access to thousands of curated premium stories and 5,000+ magazines
READ THE ENTIRE ISSUE
July - August 2020