"As We Get Bigger, We Need to Think Smaller"
When Ben Weprin founded Graduate Hotels, he thought he'd created an eccentric brand that would never really scale. Six years later, it's raised nearly a billion dollars and is building bespoke lodging next to colleges nationwide. Now he's wondering: How much can you grow a company that's based on local charm?
Ben Weprin, CEO of the company behind Graduate Hotels, is standing tall on the unfinished rooftop of the building he has spent four years willing into existence. Once complete, this will be the only hotel on Roosevelt Island, a two-mile crust of grass and concrete that runs alongside Manhattan's eastern shore. "Every time I'm up here, I still can't believe this is happening," Weprin says. "It's unreal."
Many New Yorkers might say the same. For most of them, Roosevelt Island is little more than a curious patch of land they cross over while driving from Manhattan to Queens. A hotel there? Why? As Weprin stands on the roof, he seems to revel in the counterintuitiveness of it. Today's sky is wet and heavy, and in the distance, the Chrysler Building appears as a cold silhouette against a gray background. "Over there is the old insane asylum," he says, gesturing to what this place was once most famous for. "That's where they'll put me, eventually."
But Weprin doesn't appear to be insane. Instead, he's an entrepreneur with a keen eye for opportunity, and he's building here on Roosevelt Island for a specific reason: Cornell University has opened a new campus called Cornell Tech. That means Weprin will do what he does best. He'll build the hotel that every Cornell student will want to hang out at, and every visitor will want to stay at—not just because it's there, but because it feels like theirs.
At 41, Weprin could pass for a graduate student. He is certainly dressed the part—worn leather boots, Army-style camo socks, a plaid button-up emerging from the navy-blue collar of his quarter-zip mock-neck sweater. As his brainchild, Graduate Hotels is a chain that romanticizes the college experience. It allows alumni to relive their past and recruits to see their future. Using yearbook photos, student ID key cards, and jars full of No. 2 pencils, the hotel aims to re-create the feeling of limitless future a student experiences while rooting at the homecoming game or partnering up with a study buddy whose pheromones imply more than academics.
"We're focused less on demographics than on psychographics," says Weprin later on, over a cup of coffee. "It's all about that state of mind you have when you're in college."
If it sounds like a small idea—well, it's not. Since its launch in 2014, Graduate Hotels has grown to 22 properties, with three more scheduled to open this month, followed by five more throughout 2020. All of them sit either on or adjacent to the campus they serve. Initially, the brand took aim at secondary and tertiary markets, where campus life dominated the local economy. "I thought this would be a cute little seven-to-10-hotel portfolio in a few college towns," says David Rochefort, Graduate's president. "We'd have a little fun and sell it off, then we'd move on to the next thing."
But that's not what happened. The first 10 hotel openings came and went, and the brand kept growing. This year, in addition to New York City, Graduate will open in big markets such as Tucson and Dallas. The question is: How big can a niche idea really get?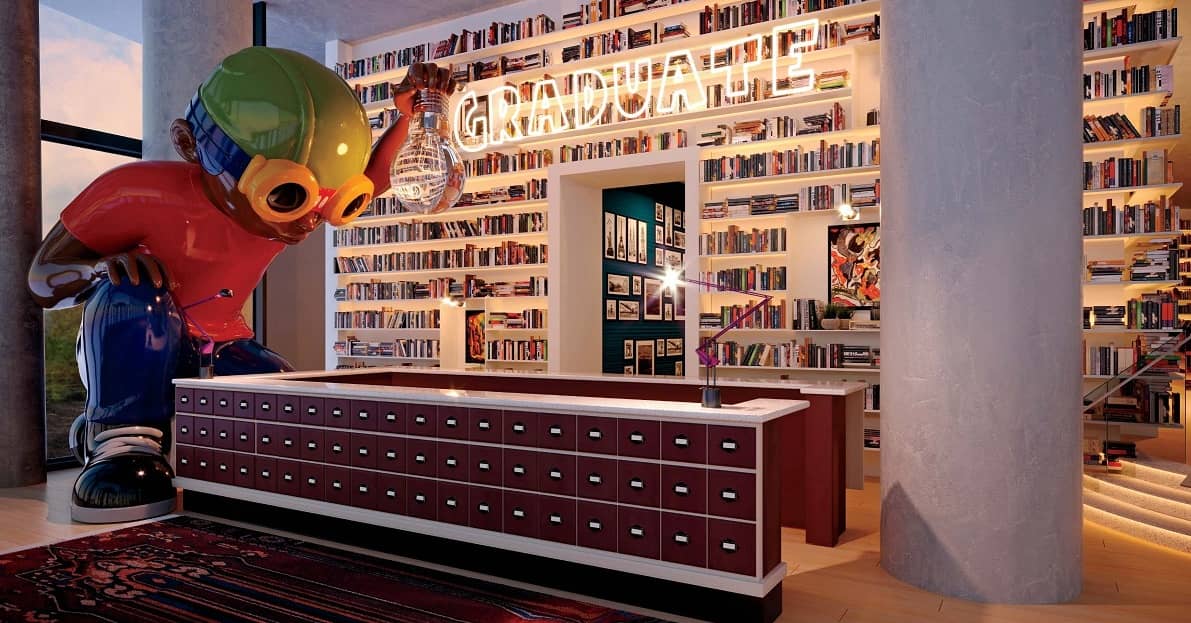 As a teenage shoe salesman in Dayton, Weprin learned how to close deals. He attended business school at the University of Tennessee, began managing hospitality assets out of college, and then formed AJ Capital Partners—the AJ is for "adventurous journeys"—to buy his first hotel in the midst of the 2008 financial crisis.
"Literally, I was out of my mind," he says. Maybe so, maybe not— but he was also now the proud owner of the Hotel Saint-Barth Isle de France, in St. Barts. It actually did well. Soon, Weprin began adding to his portfolio properties, mostly around his home in Chicago.
One of the early acquisitions was a shuttered Days Inn near his apartment in Lincoln Park. People advised him not to buy it. They said it was too far from downtown and he'd never get weekday guests. There was a reason it closed, right? But Weprin saw the nearby zoo and DuPaul University as untapped traffic drivers. And Frank Baum had lived nearby while writing The Wizard of Oz. Surely those hyperlocal factoids could lure guests away from more traditional business centers.
In 2012, the old Days Inn reopened as Hotel Lincoln. Its success proved out Weprin's instinct, but more important, it planted the seed of what would eventually become Graduate Hotels.
While AJ Capital was building its name in Chicago, university towns were thriving. During the 20-year stretch between 1993 and 2013, four-year college enrollment increased by 43 percent, and private developers stepped in to meet the increased demand for student housing. AJ Capital wondered: Could it do the same thing for hotels?
Having launched in the tumult of a recession, AJ Capital was acutely aware that shifting market forces can wreck a portfolio. But college towns could serve as a life raft in an economic downturn. "In '08, admissions actually increased," says Rochefort. "People were going back to school for MBAs and grad programs."
Once the idea surfaced, the team moved fast. They created a target list of 50 university markets, assigned each one a grade (based on size, attainable properties, and so on), and began making acquisitions. "We wanted to have the first-mover advantage," says Weprin. "And we wanted to scale quickly to distance ourselves from the competition."
You can read upto 3 premium stories before you subscribe to Magzter GOLD
Log-in, if you are already a subscriber
Get unlimited access to thousands of curated premium stories and 5,000+ magazines
READ THE ENTIRE ISSUE
April - May 2020