The Art Of Portfolio Management
Dalal Street Investment Journal|June 22 - July 05, 2020
It's not enough to simply invest. As an investor, you will not be able to make the right gains and cut back on losses or achieve your financial goals unless and until you monitor your portfolio regularly and learn the tricks of rebalancing it to stay on top of the game
"You aim for the palace and get drowned in the sewer." So said author Mark Twain. And it's something that applies well to your investment as well. In recent times, a majority of investors looking at their portfolio would be staring at huge losses, especially if they had started investing only over the last three years. With the exception of a few sub-categories such as international, pharmaceuticals and MNCs, all the other categories of equity-dedicated funds are on an average yielding negative annualised returns in the last three-year period. Even if we extend the period of study to five years, the returns generated are not exceptional and below the bank fixed deposit rate, thus barely beating savings account rate of interest.
The real returns for many investors would be even worse than what is being reflected in the above graph as they would have been trying to time the market and chase returns. So is there any way through which investors could have improved the performance of their portfolio? Yes, the logical alternative to performance chasing and market timing is structuring a long-term asset allocation plan and then staying on that course. Many a time, sticking with an asset allocation plan is hard to do as it may require some counter institutive action. For example, it may ask you to sell performing assets and buy underperforming assets. At times like these, it calls upon your confidence to use your knowledge and stay on the chosen path.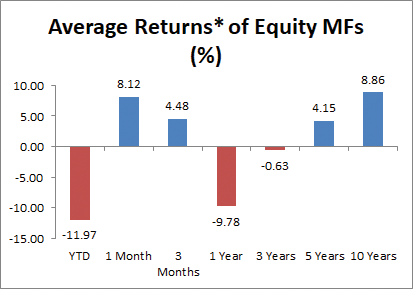 If you have done enough research and taken care to make a portfolio that suits your goals and time horizon, it will help you gain that confidence and there's very little reason to spend time trading in and out of funds. Over the years it has been witnessed that investors inflict far greater damage on their portfolios by trading too frequently than by not trading enough. The following paragraphs will walk you through some of the important aspects that you should keep in your mind while investing. Most of the successful investors set aside time for regular portfolio check-ups throughout the year to ensure that their portfolios are on the right track. Even if nothing materially significant has changed about your investments, it will give you a sense of your asset allocation.
Quarterly Portfolio Review
You cannot afford to make your portfolio and forget it. If you fail to regularly re-evaluate what you are investing in and how those investments are performing, you are skidding offthe rails as far as your goals are concerned. This is especially true in the current equity market condition. This does not mean that you should rush to change your asset allocation. Therefore, you should review your portfolio regularly, if not every month then at least every quarter. This is not an alternative to the thorough annual review. However, the purpose of this review is to spot any areas of concern that need deep investigation. The goal of the quarterly review is to check for major changes or trends within your holdings and portfolio overall. Therefore, you should revisit the following items.
Performance of the Portfolio: Check the overall return of your portfolio for the past three months. Besides, you must also check the best and worst-performing funds of your portfolio in this period. The best and worst-performing funds should be evaluated against an appropriate mutual fund category. There could be an instance that a fund might be the worst performing in your portfolio and yet be the best performer in its category. Therefore, comparing the performance of the fund against its peers will help you to see the performance of the fund with the right perspective. Besides, it is not only the returns that matter; you may have to keep it in your portfolio to maintain the required diversification. The key here is not to place too much emphasis on the gains or losses you incurred on your portfolio in a single quarter. The purpose is to keep an eye on the holdings you need to buy or sell while undertaking an annual check-up of your portfolio.
You can read up to 3 premium stories before you subscribe to Magzter GOLD
Log in, if you are already a subscriber
Get unlimited access to thousands of curated premium stories and 5,000+ magazines
READ THE ENTIRE ISSUE
June 22 - July 05, 2020