Multi-Asset Funds: Better Investment Experience
Dalal Street Investment Journal|June 08 - 21, 2020
Multi-asset allocation invests in different asset classes in different proportions to provide a well-diversified portfolio to the investors. In this article, you would gain more insights about this category and also understand what kind of investor should consider investing in them.
The incessant fall in the equity market in the first quarter of 2020 has spared no one. Hybrid funds, which are considered less volatile as a category, too saw a negative impact due to the virus pandemic. Apart from arbitrage funds, which on an average stand to gain 2.27 per cent year-till-date (YTD), all other sub-categories among hybrid funds are staring at negative returns. Among hybrid funds, aggressive hybrid and balanced hybrid are the ones that faced the maximum loss of 17.70 per cent and 15.36 per cent respectively on a YTD basis. This was followed by multi-asset allocation funds, which on a YTD basis are down by 12 per cent.
This underperformance was led by the equity part of the portfolio that nose-dived. However, despite all the advantages that a multi-asset allocation strategy carries, its performance seems to be quite disappointing. As we can see from the graph alongside, arbitrage funds have performed better than any other fund in this category in the entire timeframe. If we look at multi-asset allocation funds, they have consistently done poorly in all timeframes. So, this raises a quite obvious question about whether or not to invest in a multi-asset allocation fund. But getting deep into this issue, let us first understand the fundamentals of a multi-asset allocation strategy and how it works.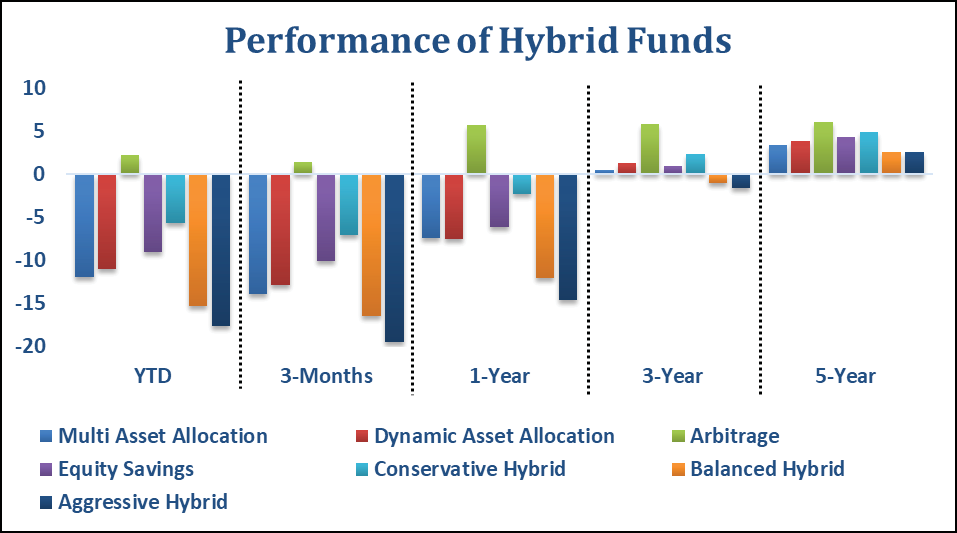 Defining Multi-Asset Allocation Funds
A multi-asset allocation fund is part of the hybrid funds' category. As per Securities and Exchange Board of India (SEBI) circular on rationalization of schemes, multi-asset allocation funds are those which invest a minimum of 10 per cent in at least three asset classes. In 1986, Gary Brinson, Randolph Hood and Gilbert Beebower (collectively known as BHB) carried out a study to explain the effects of asset allocation policy on returns of pension plans. In their study, they concluded that 93.4 per cent of the fund's average returns can be accredited to proper asset allocation.
The objective of a multi-asset allocation fund is to generate long-term capital appreciation by investing in different asset classes, allowing investors to have a well-diversified portfolio. By investing in a multi-asset allocation fund, an investor can get exposure to equity, debt, and exchange-traded commodity derivatives (ETCD), gold exchange-traded funds (ETF), real estate investment trusts and infrastructure investment trusts. Multi-asset allocation funds can be further classified into two types: risk tolerance funds and target-date funds. Risk tolerance funds are those where the asset allocation of the fund depends on the risk appetite of an investor.
For investors having a high-risk appetite, the asset allocation would be more tilted towards equity investments while for conservative investors it would be more inclined towards fixed-income investments. Target date funds are those whose asset allocation depends on investors' preferred investment horizon. Funds that are currently available are pretty much different from that of both the types mentioned above. The above types would be mainly available in a portfolio management services (PMS) product where they are more focused on individual investors.
You can read up to 3 premium stories before you subscribe to Magzter GOLD
Log in, if you are already a subscriber
Get unlimited access to thousands of curated premium stories and 5,000+ magazines
READ THE ENTIRE ISSUE
June 08 - 21, 2020