Model Fund Portfolio Unveiled
Dalal Street Investment Journal|April 13, 2020
Given the current market scenario in the wake of the pandemic, investors are concerned about how to choose the right mutual fund portfolio to invest in. Is this the time to take advantage of the market correction? To provide a guideline, Dalal Street Investment Journal has structured a portfolio of funds that will serve you well in the long run
The equity market is witnessing a sharp and unprecedented correction due to the coronavirus pandemic. The pace of correction is more than what we witnessed during the global financial crises of 2008. The pace of correction has been so sharp that the S & P BSE Sensex fell from its all-time high of 42,273.87 on January 20, 2020 to a low of 25,638.90 in a matter of just 48 days. During this period it fell by 38 per cent. You would be wondering how it impacted the mutual fund investors and what their response was. This fall was spread between three months and hence its reaction was not visible through the monthly numbers released by the industry body, Association of Mutual Funds in India (AMFI).
For example, in February 2020, the S & P BSE Sensex slid close to 1,500 points which is around 4 per cent. The monthly numbers released by AMFI recorded that mutual fund investors didn't pull out money. In fact, if we look at the monthly report of the AMFI, we can see that the assets under management (AUM) of open-ended equity mutual funds have reduced by only 4 per cent but the inflows have increased by almost 37 per cent on a sequential basis. Even investments through the popular investment route for retail investors, systematic investment plan (SIP), didn't witness a major decline.
The investment via SIP stood at ₹8,532 crore in January 2020 and ₹8,513 crore in February 2020, a decline of mere 0.22 per cent. Does it mean that Indian investors are now matured and have not pressed the panic button on their portfolio after they saw it turning red? This we will come to realise once the monthly data for the month of March 2020 is released. March 2020 is the month wherein the S & P BSE Sensex witnessed a loss close to 23 per cent. Nonetheless, going by the investment made by MFs in the equity market in the last one month, there is an indication that the outflow would be minimal.
Unique Opportunity It is believed that such crashes offer a great investment opportunity as quality stocks are available at a cheaper valuation. Therefore, many fund houses, especially those holding more in cash, might take a call to invest in such quality stocks. There are various studies carried out to seek market behaviour during and post the epidemic such as coronavirus.
These studies show that the markets do correct during such epidemics. But, it even rewards investors by compensating the losses caused by them. This can be seen in the table below: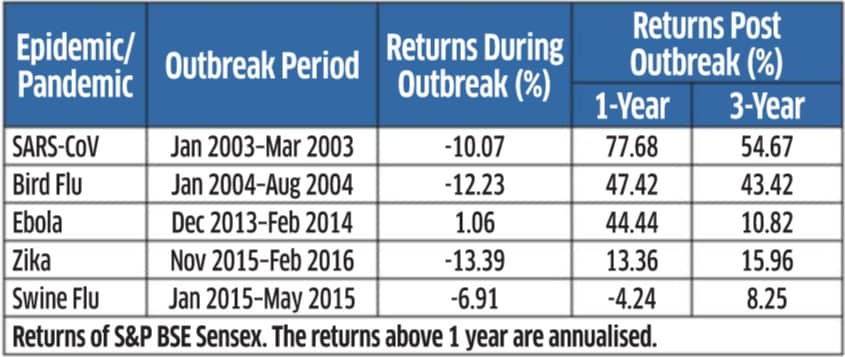 The above table shows how S & P BSE Sensex performed during the outbreak and in the one-year and three-year period post the outbreak. As can be seen, the major falls during SARS-CoV, bird flu and ebola epidemics were rewarded by superlative surge in the one-year and three-year periods. That said, it doesn't hold true for the rest of the two epidemics. Though the loss was covered, superlative return was not visible. No wonder these studies have made investors ask if it is the right time to get into equity. Surely, it is, but in a staggered manner. This means even though you invest now you might witness some corrections. This is provided there are no strong positive signs visible regarding the coronavirus pandemic.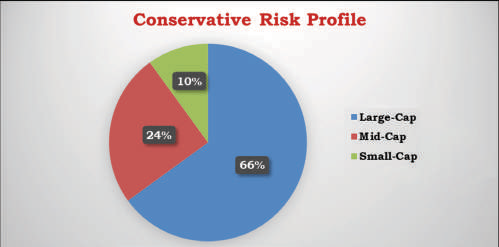 Therefore, investing in a staggered manner should be the right call. This may lead you to wonder that since there are hundreds of equity mutual funds to invest in, which would be the right ones to park your funds in? As a solution to this we have created a portfolio of equity mutual funds. However, one should remember that this portfolio is created with a perspective that investors would remain invested for at least five years to derive maximum benefit out this portfolio. This portfolio is purely for wealth creation and not to be allocated to any of your financial goals.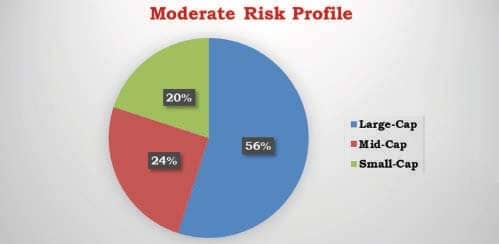 Model MF Portfolio
We have created a portfolio for investors with conservative, moderate and aggressive risk appetite. Therefore, it is recommended that before selecting your portfolio do assess your risk profile. Further, we have divided the portfolio between large-cap, mid-cap and small-cap funds. And to all these sub-asset classes we have allocated different weights. The allocated weight depends upon your risk profile.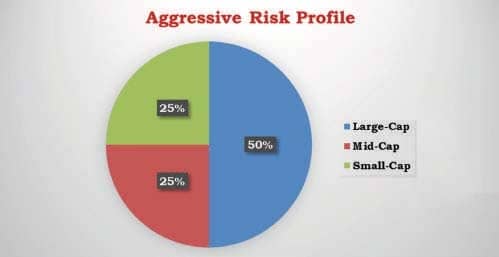 As you can see in the above graphs, irrespective of risk profile we have the portfolio tilted more towards large-cap funds. The rationale behind the same is that when the markets would start recovering it is large-cap that is likely to move up in the initial recovery phase. This will ensure that you encash the benefits from the rise in blue chips. Also, after one year you would need to re-balance your portfolio to restore the original asset allocation. This will help you to book profits from the large-cap funds and invest in mid-cap and small-cap funds.
Choosing the Right Funds
Which are the funds you should invest in? This is one of the paramount questions for all mutual fund investors. Therefore, below is a list of equity mutual funds that you need to consider investing in. Along with it we have also given weightage with which you need to invest in these funds. These proportions would differ depending on your risk profile.

You will notice in the above table that we have skipped the Kotak Small-Cap Fund for investors with conservative risk profile. The reason is that when we analysed the combination of funds as a portfolio, we found that it fails to reduce the risk of the overall portfolio, which is important for a conservative investor. Moreover, compared to other funds in the list, it is not able to control the downside risk in an efficient way. The above proportions are applicable for both lump sum and SIP investments.
In case of lump sum, it is recommended that you invest in a staggered manner. This means that don't invest all at once. Start investing 20 per cent every month. And if you are a veteran, then invest 20 per cent on every correction. However, remember that any amount you plan to invest, invest in the same proportion. This will ensure that you get better end results. Other investors can simply put their lump sum in a liquid fund with systematic transfer to the required funds. Following is the Portfolio
For Investors With Different Risk Profile
You can read up to 3 premium stories before you subscribe to Magzter GOLD
Log in, if you are already a subscriber
Get unlimited access to thousands of curated premium stories and 5,000+ magazines
READ THE ENTIRE ISSUE
April 13, 2020