Infrastructure Stocks To Cement Your Portfolio!
Dalal Street Investment Journal
|
September 14, 2020
Infrastructure as a sector will always be in the limelight in India. That's because there is huge scope for development and almost always infrastructure development is a priority for any government. Yogesh Supekar and Karan Bhojwani discuss why stocks in the infrastructure space should be part of your diversified portfolio even as the DSIJ Research Team recommends top picks in this sector for investments
Yogesh Supekar and Karan Bhojwani
Equity investment is all about portfolio management, which is nothing but investing in a diversified manner across various sectors. Choosing the right sectors to invest in is one of the core elements of overall portfolio management. While being stock-specific can yield good results in terms of portfolio returns, choosing the right sector to invest can help achieve portfolio goals. Says Partho Gosh, an investor who believes in maintaining a diversified portfolio: "Sector selection is extremely crucial. I invested a large chunk of my portfolio monies in the pharmaceutical sector, which underperformed over the last 3-5 years. It started catching up only in 2020. If I would have given higher weightage to private banks, my portfolio would have been performing much better."
Indeed, the sectoral allocation is crucial and can determine whether your portfolio goals are fulfilled or not. When it comes to sectoral allocation and maintaining a diversified portfolio, the infrastructure sector is always considered an evergreen option for investing. Infrastructure stocks have to be part of any model portfolio if it needs to tap the India growth story. It is a huge sector for a growing economy like India and opens up a lot of investment opportunities for investors in the stock market. This space includes oil and gas, automobile, telecom, construction, tyres, ports, cement and cement products and power. The table below highlights the weightages of sub-sectors within the infrastructure space in Nifty 50.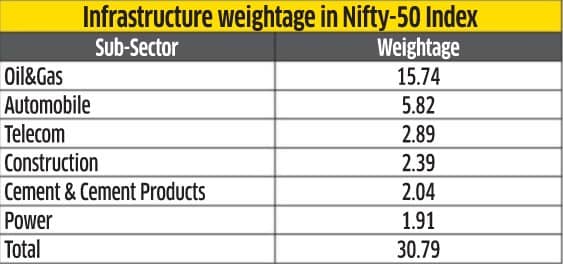 The irony of course is that even if the infrastructure space is huge and incremental investing opportunities surface every year from this sector, its stocks have not seen a secular bull run as in 2008. That said, infrastructure stocks have outperformed the Sensex in 2020 so far if we go by the Nifty Infrastructure Index performance on YTD basis. As on August 3, 2020, Nifty Infrastructure Index was down by 2.82 per cent while the Sensex was down by nearly 7 per cent.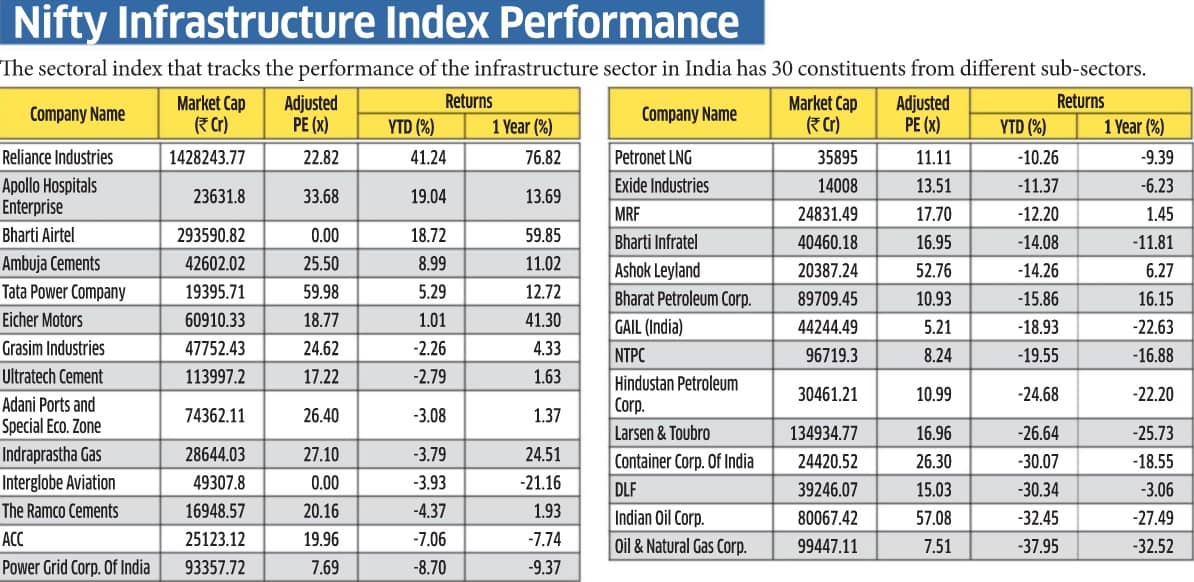 Infrastructure Focus
As of now, private investments in the infrastructure sector continue to be muted in the area of industrial CAPEX and building infrastructure. However, public sector spending has remained firm and was robust in the areas of core infrastructure development. This was because of the government's commitment to boost investment across multiple infrastructure sectors. The government has already announced a national infrastructure pipeline (NIP) of projects worth ₹100+ lakh crore up to 2025. Under NIP the focus areas will be energy, roads, railways, urban infrastructure and irrigation.
Initiatives such as NIP along with other 'pro-business' policy initiatives can be expected to lead to a rebound in domestic demand in the medium to long term. The infrastructure sector, being a key driver for the Indian economy, receives focused attention from both the central and state governments. But FY20 was a challenging year both on the economy front as well as for the infrastructure sector in India. The construction sector recorded a six-year low growth if 1.3 per cent while cement production saw a marginal decrease of 0.8 per cent in FY19-20 as compared to 13.3 per cent increase in FY18-19. Finished steel production was flat in FY20 even as crude steel production was down by 1.5 per cent in FY20.
The government's focused approach in this challenging environment continues to support the sector – affordable housing being just one example. Meanwhile, road construction activity (highways) slowed to 28 km a day during FY20 from 29.7 km a day in FY19. It is however expected that the activity will increase to 32 km a day in FY21 if we go by what the Ministry of Road Transport and Highways is aiming at. Under the aegis of NIP, roads, urban and housing, railways, power (renewable and conventional) and irrigation comprise up to 80 per cent of the total plan. Further, there is a discernable thrust on renewable energy under the 'Saubhagya' initiatives. As of March 31, 2020, over 26 million households have been provided with electricity connections under the scheme.

Overall, public sector spending on the infrastructure sector, including central and state governments and PSU capex, amounts to nearly ₹16 lakh crore for FY 2020-21. This translates into 7 per cent of the expected nominal GDP. The pandemic, as seen in the recent GDP numbers, will have a negative impact on economic growth and government tax collections which in turn will negatively affect government spending. It is expected that the government will borrow money from the markets to compensate for the loss of tax revenues. This figure could be as high as ₹9 lakh crore.
In the latest report submitted by the NIP task force on April 30, 2020, it is envisaged that the expenditure on infrastructure will double from about 5 per cent of nominal GDP to approximately 10 per cent over FY 2021 to FY 2023. The report, while highlighting the targets, also outlines the challenges faced in order to achieve the targets, such as:
Installing long-term financing vehicles.

Opening up of insurance and pension funding further.

Setting a mechanism for dispute resolution.

Attracting long-term foreign capital.

You can read up to 3 premium stories before you subscribe to Magzter GOLD

Log in, if you are already a subscriber

Get unlimited access to thousands of curated premium stories, newspapers and 5,000+ magazines
READ THE ENTIRE ISSUE
September 14, 2020