Gain The Most From Momentum Stocks
Dalal Street Investment Journal
|
July 20, 2020
The market is gaining momentum while the broader markets are participating in a healthy way. Geyatee Deshpande explains why it is a good idea to bet on momentum stocks while Vinayak Gangule recommends the momentum stocks you can bank on
Geyatee Deshpande, Vinayak Gangule
Momentum stocks are always in fashion be it a bull market phase or a recovery phase in the markets. Momentum stocks are popular because they have the potential to beat the benchmark index and the price rise is often swift in momentum stocks. Simply put, momentum stocks are those that have shown an increase in price over the previous 3-6 months. Momentum investing works on the philosophy that winners keep on winning and losers keep on losing at least in the near to mid-term.
The idea of buying based on price strength and selling based on price weakness is at the core of momentum investing. Apart from several momentum indicators that can be used to identify momentum stocks, one of the best ways to gauge the momentum in stocks and in the broader markets is to check the 52-week high levels across the market. Any stock touching its 52-week high is an indication of the underlying bullishness in the stock. The 52-week highs reflect the price strength that any momentum investor may be looking for.
Market Indicators
If we consider stocks that are hitting their 52-week highs in July, we find that almost 351 stocks on the BSE touched their respective 52-week highs that saw the Sensex gain 5 per cent in the first 10 days of July. In the pre-pandemic period or the month just before the lockdown i.e. February, almost 380 stocks touched their respective 52-week highs while January saw 438 stocks listed on the BSE hit their respective 52-week highs. The lockdown period of April saw 77 stocks, May saw 62 stocks and June saw 280 stocks touching their respective 52-week highs.
This goes to show participation is increasing as recovery is getting priced in and an increasing number of stocks are touching their respective 52-week highs. The broader market participation reflects the strength of the current rally and doubters in the current market rally and strength can relook at the broader market participation that suggests the health of the rally. Many would argue that penny stocks and low liquid stocks are also showing momentum but these stocks may not qualify as 'good investments' as the risks are considerably high while investing in such low liquid and penny stocks.
Investor can thus focus on BSE 500 index constituents and peruse those stocks that are showing relative price strength. By focusing on BSE 500 constituents, investors will be focusing on liquid scrips with relatively good fundamentals. As can be seen in the table alongside, as many as 31 stocks out of 500 stocks have touched their respective 52-week highs as on July 10. The momentum is picking up and more and more stocks are seen touching their respective 52-week highs. This is a healthy sign for investors.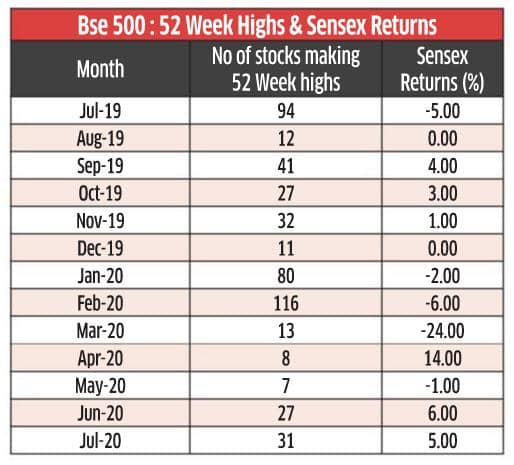 Momentum Strategy
You can read up to 3 premium stories before you subscribe to Magzter GOLD
Log in, if you are already a subscriber
Get unlimited access to thousands of curated premium stories, newspapers and 5,000+ magazines
READ THE ENTIRE ISSUE
July 20, 2020