Financial Independence, Retiring Early? Reassess Covid Impact On Portfolio.
Dalal Street Investment Journal
|
August 03 - 16, 2020
We're offering this story for free to read so that you can stay updated on the COVID-19 outbreak
Those who have put into place a strategy for 'financial independence, retiring early' (FIRE) may be worried about how the current pandemic will impact their portfolios and returns and those who want to get on to the bandwagon may be wondering how to go about it. The following articles provides an in-depth perspective and course of action
Ranbir Singh and Alia Shah in their early 40s and late 30s had always had a dream of exploring the world. Hence, way back in 2016 they decided to retire early and sold their homes in Mumbai to set offon a world tour. At that time the equity market was recovering from demonetisation and was on the verge of a major upswing. Their plan to retire early and travel was unfolding as per their script. Although there were some hiccups in 2018 and 2019, these were manageable and did not perturb them much about their decision. But the world shook up with the corona virus-driven pandemic that led to a sharp downturn in the equity markets, thereby wiping offalmost a quarter of their portfolio.
Singh and Shah are like many of the early adopters of 'financial independence, retire early' (FIRE) who have now got jittery and are questioning their decision about early retirement. It's because the ongoing crisis has turned out to be a challenging time for many FIRE adopters and we may see some of the devotees of this strategy going back to job hunting. The pandemic has impacted people and businesses around the world like nothing has ever done before. There's news everyday about layoffs and furloughs. India is no different. And the stock markets have reflected this unpredictable situation. In March 2020, S & P BSE Sensex tumbled to register a low of 25,639 from its all-time high of 42,274. This fall of 39 per cent was followed by a recovery of 46 per cent from the lows till date.
However, it is still 11 per cent away from reaching its previous all-time high of 42,274 from the current levels. It is not only the equity market that has affected investments. Many FIRE adopters who had parked their money in government saving schemes or fixed incomes are also witnessing a rude shock. To provide impetus to economic growth, the Reserve Bank of India (RBI) lowered the repo rate to its lowest since 2004. It has cut policy rates by around 115 basis points or 1.15 per cent in the last few months and is expected to continue with its accommodative instance. And as a result, the rates on small saving schemes too were slashed for the period of April to June. The interest rates on small saving schemes dropped on an average by over 1 per cent.
As can be seen from the above table, for almost all the popular small savings schemes, the interest rates have been drastically cut for the quarter ending June. Therefore, those who were expecting that their investment in fixed income would help them earn better and remain unscathed should get ready to earn a lot less compared to what they were used to. Both equity in the form of Sensex and fixed income in the form of small saving schemes got negatively affected by the pandemic. This will also have a similar impact on those who are on the verge of retirement or are retiring early with a FIRE strategy in place. With the portfolio of such investors decreasing in value, this article sheds more light on the pros and cons of FIRE and the impact of the pandemic.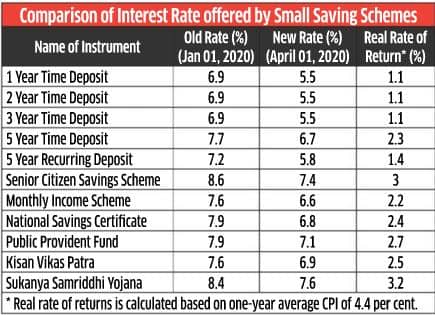 Financial Independence, Retire Early (FIRE)
This is a lifestyle movement where people seek financial independence and early retirement. It involves extreme savings and investments that allow investors to retire way earlier than traditional financial plans and retirement plans would allow. The followers of the FIRE movement save almost 70 per cent of their income and invest in such a way that it eventually enables them to quit their jobs decades prior to the conventional retirement age of 60. They live solely on small withdrawals from their portfolios. This model has become quite popular among the millennial generation since 2010. In order to save up to 70 per cent of their yearly income, FIRE followers often begin by staying for several years in the traditional workforce. And once their savings reach approximately 50 times their annual expenses, which for someone with moderate lifestyle works out to about Rs 2 crore, they may quit their day jobs or retire completely from any form of employment. However, the above-mentioned figure is not fixed and would change from person to person.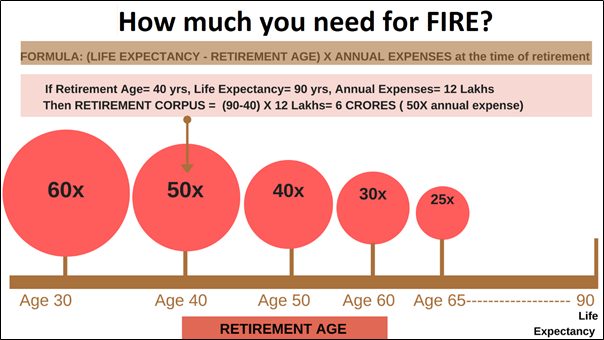 You can read up to 3 premium stories before you subscribe to Magzter GOLD
Log in, if you are already a subscriber
Get unlimited access to thousands of curated premium stories, newspapers and 5,000+ magazines
READ THE ENTIRE ISSUE
August 03 - 16, 2020