Choosing Wisely
Dalal Street Investment Journal|December 9-22,2019
While mutual fund score over government schemes in long term returns, latter cannot be completely ignored.
While saving physical cash is important especially in today's uncertain life, it has become important to invest, as it not only protects the purchasing power but also helps generate wealth. Demonetisation in 2016 has also triggered the investment habit or culture in India.
While equity investments are the best tool for creating wealth in the long-term, still very small portion (less than 3 per cent) of the Indian population invests in stock market directly. One of the reasons for such lower participation is high volatility in the stock market.
On the other hand, mutual funds are also gaining momentum with target of reaching AUM (Assets Under Management) of 100 lakh crores by 2025, says AMFI BCG report. Said that, the role of mutual funds is increasing as they are relatively safer means to invest than investing directly into stocks. But again, the share is still less than 5 per cent as most people usually prefer traditional life insurance policies and government schemes. They choose insurance policies as they are sure that at least they would receive something at maturity and they invest in government schemes as they are purely backed by the government which won't default on their investments.
So, where should you invest? You will get all the answers in this story. Before comparing government schemes with mutual funds, we would first understand them in brief.
Mutual funds
A mutual fund is basically a portfolio of securities, which is formed by pooling the money from various investors with a similar investment objective. There are various kinds of mutual funds to cater different investment needs, objectives, risk profiles and investment horizons. Hence, mutual fund is often considered to be an ideal way to grow wealth.
Government schemes
Government schemes are backed by the Government of India (GoI). They are risk free and hence generally offer lower returns compared to other riskier products. They come with long lock-in periods and are relatively less liquid.
There are various government schemes like PPF (Public Provident Fund), NPS (National Pension System), Sukanya Samriddhi Yojana and SCSS (Senior Citizen Savings Scheme). However, among them government schemes like Sukanya Samriddhi Yojana and Senior Citizen Saving Schemes do offer attractive interest rates but are less flexible and also comes with a cap on investment amount. Being said that, National Pension System is an exception to this.
Government schemes vs Mutual funds
As we know there are different government schemes available, it is important to understand them individually as they have different structures altogether. In this section, we will make you understand different types of government schemes and how they compare with mutual funds in terms of risk and return. To serve the purpose, we carried out a study wherein we have assumed that you invest Rs. 1,50,000 at the start of the year in previous year's best performing large-cap dedicated equity mutual fund. The similar amount is invested in the government schemes at the start of the year. You continue this investing process till 2019. To make returns comparable, we have accounted for long-term capital gains tax on large-cap MF.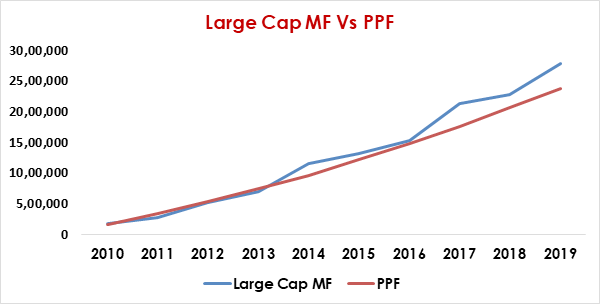 You can read up to 3 premium stories before you subscribe to Magzter GOLD
Log in, if you are already a subscriber
Get unlimited access to thousands of curated premium stories and 5,000+ magazines
READ THE ENTIRE ISSUE
December 9-22,2019