Cement Industry: A Bond Gone Weak
Dalal Street Investment Journal
|
July 20, 2020
One of the sectors worst affected by the virus pandemic and the ensuing lockdown in India has been cement. With infrastructure development and the housing industry screeching to a grinding halt, the cement industry has posted an 86 per cent year-on-year fall. Further, it is going to take quite some time for normalcy to return. Anthony Fernandes takes stock
Globally, the cement industry has immense forward and backward linkages with a nation's economy. For a developing and transitioning economy like India, the value proposition of the cement industry is even more significant given that it caters to the large infrastructure requirements of a growing and urbanizing country. Accounting for over 7 per cent of the global capacity, the Indian cement industry is the second-largest in the world, second only to neighbouring China. Apart from playing a binding and pivotal role in both the infrastructure development and socio-economic development of the country, the Indian cement industry is also a major revenue contributor.
It is the fourth-largest revenue contributor to the national exchequer and second-largest revenue contributor to the Indian Railways. It contributed nearly USD 7.14 billion per annum to the government through taxes and levies, and about USD 1.29 billion to the Indian Railways via fright revenue.
What also helps is that the Government of India has a strong focus on infrastructure development with the announcement of several schemes that cut across manufacturing, housing and education. At the heart of this planned infrastructure development is the cement industry and hence its value proposition for laying the foundations of a new India is truly unique.

Impact of the Pandemic
Given its close linkage with the real estate sector in the country, it should come as no surprise that stalled real estate projects and delayed infrastructure developments due to the outbreak and spread of the coronavirus have hit the industry hard. Cement is a primary construction material and has experienced a considerable dip in holistic demand ever since the national lockdown. Yet, seeing an 86 per cent year-on-year fall in the world's second-largest cement producer is significant. Cement production declined to 4.1 MT from 29.2 MT. Further data shows that as part of the Indian government's eight core industries, steel and cement production suffered the most. Coal, crude oil, natural gas, petroleum refinery products, fertilisers and electricity generation all fell by far less.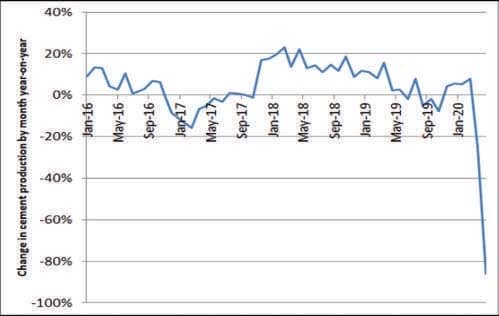 You can read up to 3 premium stories before you subscribe to Magzter GOLD
Log in, if you are already a subscriber
Get unlimited access to thousands of curated premium stories, newspapers and 5,000+ magazines
READ THE ENTIRE ISSUE
July 20, 2020