PAIR OF ACES
Construction Week
|
September 2020
Anupam Bansal and Rajesh Dongre, founding partners, ABRD, have been designing institutional projects that are complex in size and scale
Their passion for architecture and design is evi-dent. They have been working together for more than two decades, but even today a new project, better when it's highly challenging, continues to excite them. Anupam Bansal and Rajesh Dongre, founding partners, ABRD, are the keystone architects who have designed structures with remarkable efficacy that leave a lasting impression.
Interestingly, at a time when some architects have adopted cookie-cutter design, the team of ABRD ventured out with gusto into what was then unfamiliar territory. They ventured to compete for institutional projects. The long gestation period was not a deterrent. Nor was the fact that they would be dealing with numerous stakeholders that would infringe on their creativity. It was the challenge of executing a complex and multidisciplinary project beyond what they have done that stimulated them.
Besides, it is a friendship that goes back to their college days that helps them work together easily.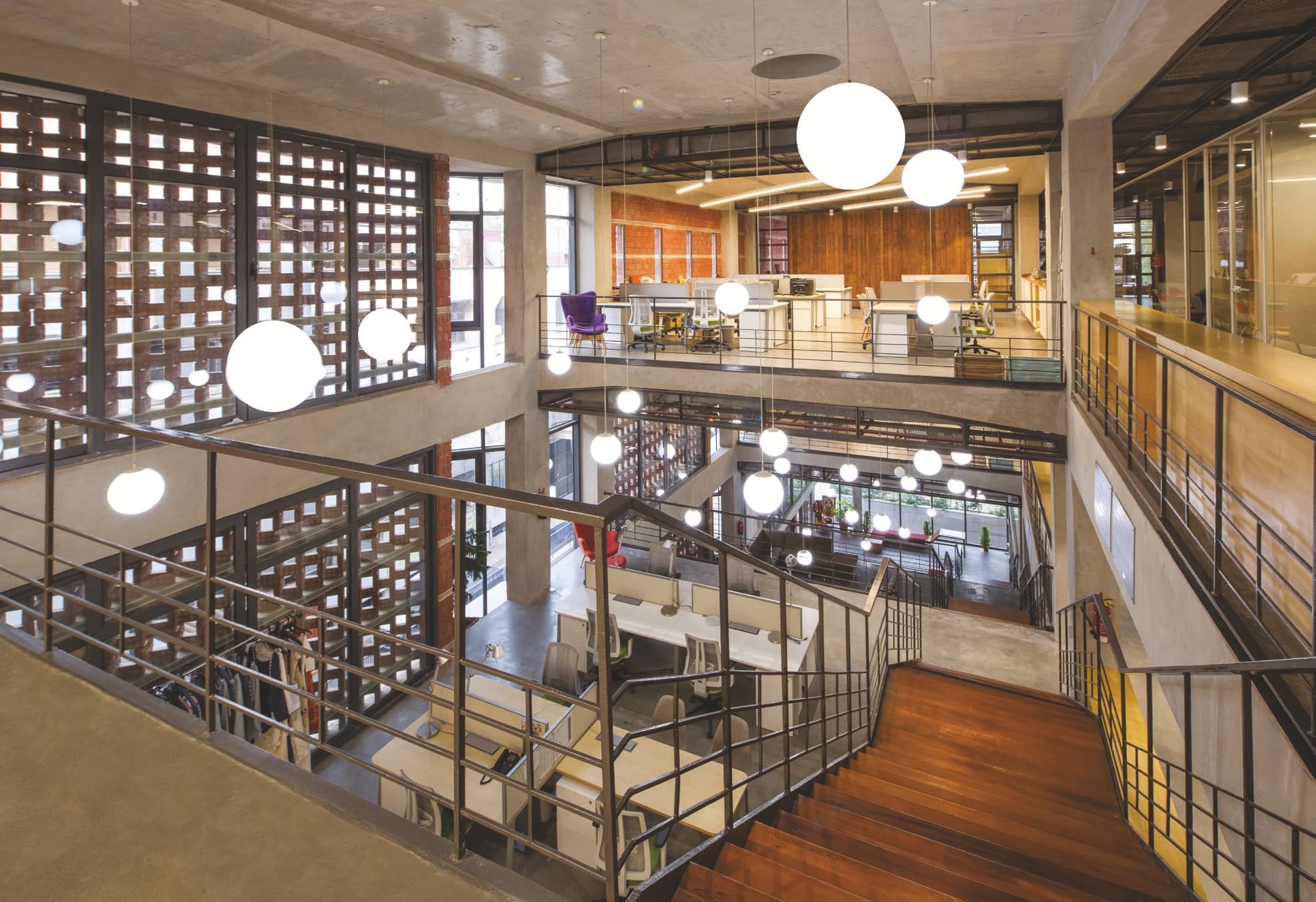 The double-height lounges provided on all floors along the staircase allows the Asmara Apparels team to connect.
NO SET FORMULA
The starting point in life is always the toughest. Proving one's mettle to the world is necessary so others can believe. Bansal says, "Though we did have some work experience behind us, when we started out on our own, we began taking on any projects that came our way. It was a one-step-at-a-time journey. In those days, competitions for projects were largely universal and it was an opportunity for a young firm like ours."
Competitions bring out the best in people. Associations with the right people too help. It was their association with French architect Stephane Paumier that helped them bag the prestigious Alliance Francaise project. Dongre says, "There was no looking back since then. Our next big institutional project was the National Centre for Biological Sciences (NCBS-TIFR), Bangalore. This was one project that necessitated some indepth research and travel to biotech laboratories in the USA. We studied The Salk Institute designed by Louis Kahn in San Diego and Clark Centre, Stan- ford University designed by Norman Foster in California and other labs in MIT. There was so much learning in this project and I believe it helped the practice to explore new horizons."
Over the years, the duo has seen to fruition several projects that have not only earned them a reputation but also accolades. The French Institute (Pondicherry), IN-STEM (Bangalore), Centre for Brahmaputra Studies (Guwahati), IIIT (Dharwad), Science City (Guwahati), IBSD (Manipur), are only some of landmark campuses that they have made proposals for.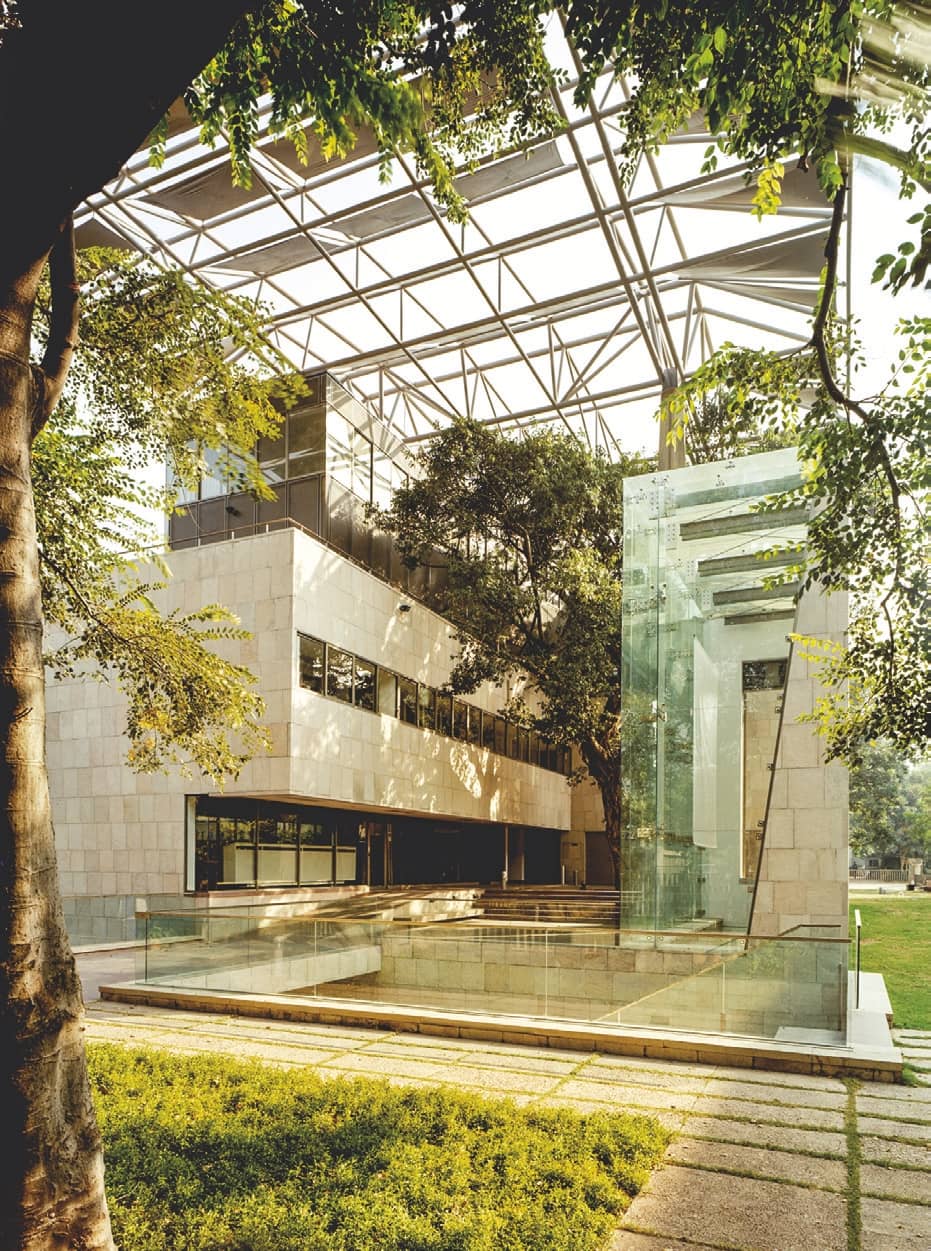 Alliance Francaise de Delhi superimposes high technology and craft to create an energy efficient building.
They are now nearing completion of the South Asian University (SAU) in New Delhi. When complete it will be one of the largest projects in their kitty. Bansal says, "The project is on a 100-acre site and we have teamed up with our college batchmates from Nepal to execute this. We bagged this project almost a decade ago amid stiff competition that had a jury comprising eminent architects like Charles Correa and Professor M. Shaheer. We were unanimously selected as the sole winner. SAU is an International University established by eight SAARC Nations; Afghanistan, Bangladesh, Bhutan, India, Maldives, Nepal, Pakistan and Sri Lanka."
You can read up to 3 premium stories before you subscribe to Magzter GOLD
Log in, if you are already a subscriber
Get unlimited access to thousands of curated premium stories, newspapers and 5,000+ magazines
READ THE ENTIRE ISSUE
September 2020