Coal Freight To Turn Costly As IMO2020 Set To Kick In
Coal Insights
|
December 2019
Global shipping industry impact likely to be $50-60 billion in 1st year
Come January 1, 2020, International Maritime Organization (IMO) requirement will reduce the sulphur content permitted in vessel fuel globally from 3.5 percent to 0.5 percent, except in Sulphur Dioxide emission control areas (SOx ECAs) where ships are required to use fuel with just 0.10 percent Sulphur.
A study commissioned by Regional Marine Pollution Emergency Response Centre for the Mediterranean Sea (REMPEC) showed that the designation of the Mediterranean Sea area, as a SOx ECA (the proposed Med ECA) would lower emissions by 78.7 percent for SOx and 23.7 percent for PM2.5.
In October 2016, the IMO confirmed a global limit for sulphur in fuel oil used on board ships of 0.50 percent m/m (mass by mass) to become effective on 1 January 2020.
"The new rule presents a unique challenge, as majority of ships are expected to choose new types of compliant fuel oils, so-called Very Low Sulphur Fuel Oil (VLSFO), or marine gas/diesel oil. Sufficient availability of such compliant fuels on the global market, which should be compatible with the existing engines, is essential. Therefore, preparation, well before 2020, is the key to success of IMO 2020," IMO Secretary-General Kitack Lim said while addressing a meeting on the new norms.
Furthermore, it has required shipowners to consider how and when to procure this fuel oil and to prepare their ships to receive, store and use this fuel oil on board.
"This is a significant logistical and technical challenge and indeed IMO has sought to support this process through the development of specific guidelines, including the development of a ship implementation plan," he said.
"The implementation of this regulation by the IMO will have far-reaching implications throughout the marine fuel supply chain, from refining, through distribution, bunkering, handling and storage on board the ship, through to final use in boilers or in marine diesel engines for propulsion," says a report by Joint Industry Project (JIP) established by the IMO to raise awareness of issues surrounding the new regulations.
The deadine is few weeks away and according to IMO "there can be no change in the 1 January 2020 implementation date, as it is too late now to amend the date and for any revised date to enter into force".
"The shipping industry has been working hard to ensure that we are ready for January 1, but we still have concerns over safety and the availability of compliant fuels in every port worldwide. This is a pressing issue. Shipowners rely on many other stakeholders in the marine fuel supply chain, particularly bunker suppliers and oil refiners, to ensure we are all able to fully comply with the new regulations. We need the supply side to fully contribute to a smooth changeover so that we do not have any incidents due to incompatible fuels and we can ensure safe operations for our seafarers," said Guy Platten, Secretary-General of the International Chamber of Shipping.
The background
The issue of controlling noxious gases from ships' exhausts was discussed in the lead-up to the adoption of the 1973 of the International Convention for the Prevention of Pollution from Ships, known as the MARPOL Convention.
While it was decided not to include air pollution at the time, the issue of airpollution from ships was raised at the Second International Conference on the Protection of the North Sea in November of 1987.
The conference issued a declaration in which the ministers of North Sea states agreed to initiate actions within appropriate bodies, such as the IMO, 'leading to improved quality standards of heavy fuels and to actively support this work aimed at reducing marine and atmospheric pollution.' At the next session of the IMO's Marine Environmental Protection Committee (MEPC), held in March 1989, various countries submitted papers referring to fuel oil quality and atmospheric pollution, and it was agreed that the prevention of air pollution from ships should constitute part of the MEPC's long-term work programme beginning 1990.
MARPOL Annex VI, which was introduced by means of the 1997 Protocol limits the main air pollutants contained in ships' exhaust gas, including sulphur oxides (SOx) and nitrogen oxides (NOx). MARPOL Annex VI also regulates the use of certain ozone depleting substances (ODS) and regulates shipboard incineration and the emissions of volatile organic compounds (VOCs) from tankers. A revised MARPOL Annex VI was adopted at the 58th session of the MEPC in 2008.
The 'what' and the 'why' of regulation
The main type of "bunker" oil for ships is heavy fuel oil, derived as a residue from crude oil distillation. Crude oil contains sulphur which, following combustion in the engine, ends up in ship emissions.
Sulphur oxides (SOx) are known to be harmful to human health, causing respiratory symptoms and lung disease. In the atmosphere, SOx can lead to acid rain, which can harm crops, forests and aquatic species, and contributes to the acidification of the oceans.
Limiting SOx emissions from ships will improve air quality and protect the environment.
IMO regulations to reduce Sulphur Oxides (SOx) emissions from ships first came into force in 2005, under Annex VI. Since then, the limits on SOx have been progressively tightened.
For ships operating outside designated emission control areas the current limit for sulphur content of ships' fuel oil is 3.50 percent m/m.
From January 1, 2020, the limit for Sulphur in fuel oil used on board ships operating outside designated emission control areas will be reduced to 0.50% m/m (mass by mass).
This will significantly reduce the amount of Sulphur oxides emanating from ships and should have major health and environmental benefits for the world, particularly for populations living close to ports and coasts.
There is an even stricter limit of 0.10 percent m/m already in effect in emission control areas (ECAS) which have been established by IMO.
This 0.10 percent m/m limit applies in the four established ECAS: the Baltic Sea area; the North Sea area; the North American area (covering designated coastal areas off the United States and Canada); and the United States Caribbean Sea area (around Puerto Rico and the United States Virgin Islands).
Countries bordering the Mediterranean Sea are currently considering the possibility of applying to designate the Mediterranean Sea or parts thereof as an ECA.
Fuel oil providers already supply fuel oil which meets the 0.10 percent m/m limit (such as marine distillate and ultralow Sulphur fuel oil blends) to ships which require this fuel to trade in the ECAs.
A study on the human health impacts of SOx emissions from ships, submitted to IMO's Marine Environment Protection Committee (MEPC) in 2016 by Finland, estimated that by not reducing the SOx limit for ships from 2020, the air pollution from ships would contribute to more than 570,000 additional premature deaths worldwide between 2020-2025.
How compliance would be monitored?
Monitoring, compliance and enforcement of the new limit are responsibilities of governments and national authorities of member states that are Parties to MARPOL Annex VI. Flag states (the state of registry of a ship) and port states have rights and responsibilities to enforce compliance. IMO has adopted 2019 Guidelines for port State control under MARPOL Annex VI Chapter 3.
IMO is working with member states as well as industry (including the shipping industry and the bunker supply and refining industry) to identify and mitigate transitional issues so that ships may meet the new requirement.
For example, developing guidance, developing standardised formats for reporting fuel oil non-availability if a ship cannot obtain compliant fuel oil and considering verification and control issues.
The MEPC has issued guidance on ship implementation planning, part of a set of guidelines being developed by IMO for consistent implementation of the MARPOL regulation coming into effect from 1 January 2020.
Guidance on best practice for fuel oil suppliers has also been issued. The Guidance is intended to assist fuel oil purchasers and users in assuring the quality of fuel oil delivered to and used on board ships, with respect to both compliance with the MARPOL requirements and the safe and efficient operation of the ship. The guidance pertains to aspects of the fuel oil purchase up to the loading of the purchased fuel oil on board.
In October 2018, IMO's Marine Environment Protection Committee (MEPC) adopted a MARPOL amendment to prohibit the carriage of non-compliant fuel oil for combustion purposes for propulsion or operation on board a ship - unless the ship has an exhaust gas cleaning system (scrubber) fitted.
Do small ships have to comply with the sulphur limit from 2020?
Yes, the MARPOL regulations apply to all ships. Only larger ships of 400 gross tonnage and above engaged in voyages to ports or offshore terminals under the jurisdiction of other Parties have to have an International Air Pollution Prevention Certificate, issued by the ship's flag State. But all sizes of ships will need to use fuel oil that meets the 0.50 percent limit from January 1, 2020.
Some smaller ships may already be using fuel oil that meets the limit, such as a marine distillate suitable for their engines. (Small ships operating in the already-designated emission control areas will be using fuel oil that meets the 0.10 percent limit in those emission control areas.)
Does the Sulphur limit apply only to ships on international voyages?
The sulphur oxides regulation (MARPOL Annex VI, regulation 14) applies to all ships, whether they are on international voyages, between two or more countries; or domestic voyages, solely within the waters of a Party to the MARPOL Annex.
What must ships do to meet the new IMO regulations?
The IMO MARPOL regulations limit the Sulphur content in fuel oil. So ships need to use fuel oil which is inherently low enough in Sulphur, in order to meet IMO requirements.
Refineries may blend fuel oil with a high (non-compliant) Sulphur content with fuel oil with a Sulphur content lower than the required level to achieve a compliant fuel oil. Additives may be added to enhance other properties, such as lubricity.
Some ships limit the air pollutants by installing exhaust gas cleaning systems, also known as "scrubbers". This is accepted by flag States as an alternative means to meet the sulphur limit requirement. These scrubbers are designed to remove sulphur oxides from the ship's engine and boiler exhaust gases. So a ship fitted with a scrubber can use heavy fuel oil, since the sulphur oxides emissions will be reduced to a level equivalent to the required fuel oil sulphur limit.
Ships can have engines which can use different fuels, which may contain low or zero sulphur. For example, liquefied natural gas, or biofuels.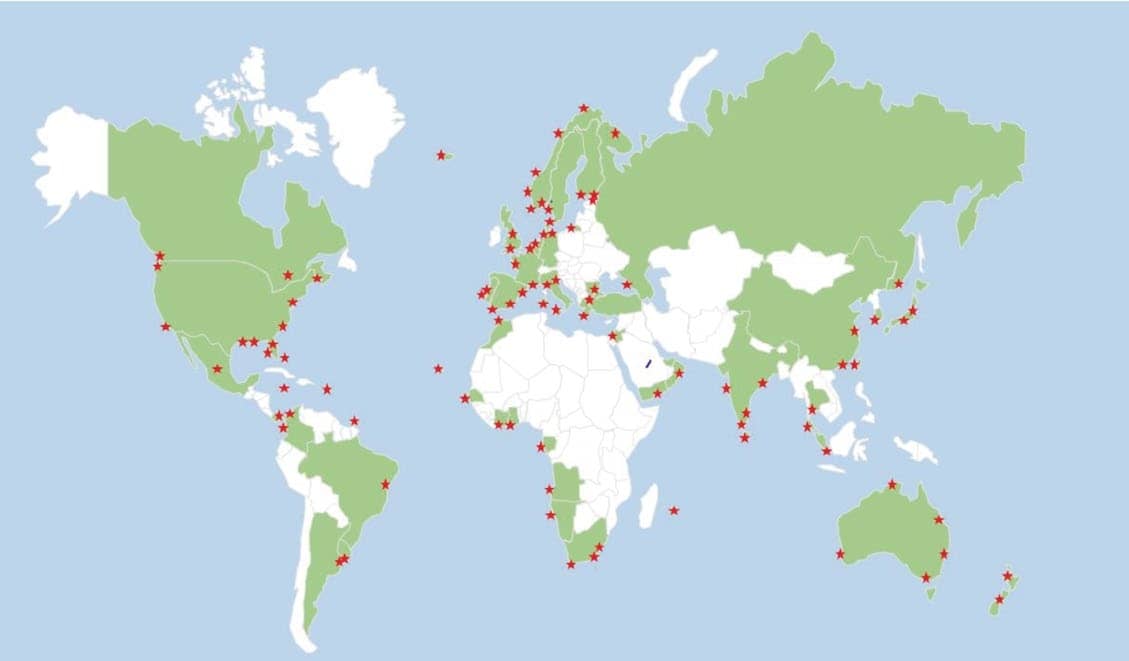 Are all types of scrubbers allowed under IMO rules?
Yes, so long as they achieve the same level of emissions reduction.
Regulation 4 of MARPOL Annex VI allows for Administrations (flag States) to approve "equivalents" - any "fitting, material, appliance or apparatus to be fitted in a ship or other procedures, alternative fuel oils, or compliance methods used as an alternative to that required" - that enables the same standards of emission control to be met.
For reduction of Sulphur oxide emissions, some flag states have accepted and approved scrubbers - otherwise known as "Exhaust Gas Cleaning Systems", as meeting the requirements for SOx reduction.
There is an important requirement in the same regulation on Equivalents, which says that in paragraph 4 "The Administration of a Party that allows the use of an equivalent … shall endeavour not to impair or damage its environment, human health, property, or resources, or those of other States".
You can read up to 3 premium stories before you subscribe to Magzter GOLD
Log in, if you are already a subscriber
Get unlimited access to thousands of curated premium stories, newspapers and 5,000+ magazines
READ THE ENTIRE ISSUE
December 2019