WORKING TOWARDS SMARTER CITIES
Businessworld
|
23 November 2019
Thought leaders and innovators of smart cities engage to explore better solutions
The BW Businessworld 7th Annual Smart Cities conclave held in Port Blair on 29 November. In an inaugural speech, Chetan B Sanghi, Chief Secretary, Andaman & Nicobar Administration stated, "Port Blair is producing 93 per cent electricity from diesel, and it is planning to produce green energy resources in next two years."
Sanghi pointed out the logical and smart systems that are being worked in Andaman and highlighted the compulsory introduction of electric vehicles, the launch of shipping services on green energy, and the conversion of the existing boats into electric vehicles.
Subrata Das, Sr. Director, Digital Transformation Office, SAP India, said, "We have come a long way in our smart cities mission. Several things have gone right and could have gone better, but we can always learn. We should look at development as how many jobs have been created and new streams uncovered."
Das informed, "If you look at the Smart Cities 2.0, there will be a lot of data being generated, but it has to transform in decision-making, asset management, and there is a need to look at environmental and financial sustainability." "Fiscal balance has to be attained when you have financial management structures, where IT systems can help implementing Blockchain Technology, which is secure," he added.
NSN Murty, Partner & Leader, Smart Cities, PwC India, said, we are getting the opportunity not just in funding but in administration as well. The smart cities mission might extend in its completion, but the tenders need to close by June 2020. He also spoke about the intent to do it as the most important part of the mission.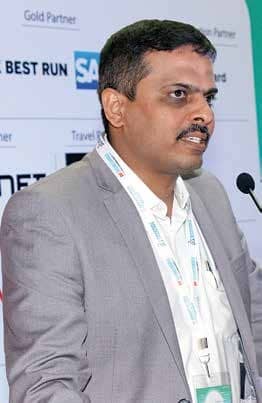 Everyone has a different perspective when it comes to smart city initiatives, and only when you collaborate with systems, they can be called smart systems. The role of data is going to be in how the systems have to be integrated with the transportation, mobility, and infrastructure that is connected to IoT and how the platform can actually support.
There are multiple infrastructure programmes that are working but the question is how we can give a platform where the data can be controlled from awarding a contract to the measurement book.
Deepak N G, Director, Innovative Business & Global Affairs, Dassault Systemes, stated, "We have been successful in implementing it in a couple of states, where we started last year, and we'll continue to do with many other states on this."
HP Enterprise signed up a multi-year contract with smart cities for building and making a fully-functional command control centre and integrating multiple solutions. Chandrashekhar G, Country Manager, Network & Mobility, HP Enterprise, said, "We have integrated 21 solutions as of now, and we are running it for approximately 5 years, or 7 years of operation."
Every city has different problems and to integrate a solution to every city is a challenge. The HP's objective is to sit with the municipal corporation to understand their problems. The data requirements for police and municipal corporation are different. In Thane, HP is working on the requirements and integrating their requirements into a single dashboard.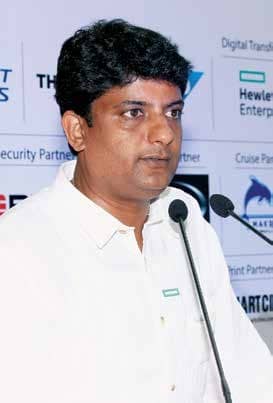 The development of smart cities means the use of infrastructure and facilities in a smarter way, which cannot develop without the help of the people. Moderating a panel at the conclave, Satyaprakash Patel, Commissioner, Aligarh Municipal Corporation, emphasised, "We have to understand the responsibilty during the process of development since more than 50 per cent of the population is in urban areas and there is immense pressure on the resources. We need to find out solutions to deal with these situations."
Andaman has tourism and fishing as its main business streams, and they have brought in urban forestry. The focus is now on a smart waste management, and it is to be noted that the management of a city relies on the connection between its ecology and citizens.
You can read up to 3 premium stories before you subscribe to Magzter GOLD
Log in, if you are already a subscriber
Get unlimited access to thousands of curated premium stories, newspapers and 5,000+ magazines
READ THE ENTIRE ISSUE
23 November 2019