Meet Top 6 'Serial Entrepreneurs'
Businessworld
|
October 05, 2015
Many find it difficult to take a risk and start their first business, but not serial entrepreneurs. They thrive on the risk and the high. Build, scale and sell, is their mantra.
There are more entrepreneurs in the country today than ever before. They owe the surge in their numbers predominantly to an influx of venture capitalists (VC) who are ever ready to dole out money in return for more. So there are not just a whole army of first generation entrepreneurs, but also a new breed of serial entrepreneurs. This latter lot is a great deal more ambitious and likes to build, sell and build again. A search on LinkedIn for 'People with serial entrepreneur skills' at the time of writing this piece threw 20,537 results.
So what has given rise to this new breed of entrepreneurs? A key reason is that companies strike success faster these days than they did in the past. Earlier, businesses took generations to flourish. Nowadays, companies can be built, scaled and sold in a matter of a few years. Besides, myriad exit options such as IPO, trade sale and merger and acquisition, among others, have made it easier for people to start a second or third company. BW Businessworld talked to a clutch of such entrepreneurs and discovered they had a great deal in common in terms of approach to business and life in general.
Hit And Run
Celebrated serial entrepreneur Krishnan Ganesh has founded and exited four firms through his entrepreneurship platform Growthstory.in, which has also promoted 12 other businesses such as Portea Medical, BigBasket, Avagmah, HomeLane and BlueStone, among others. He says serial entrepreneurship is about the mindset and the nature of people. Broadly dividing entrepreneurs in two categories, he says there are those who have a nursery — they sow seeds, watch them grow into plants and then sell them — and those who own orchards — they plant trees, nurture them for 20-30 years and reap fruits. A serial entrepreneur is like a nursery gardener. He sows and takes care of his plants, so he can sell them once they are stable. "Personally, I don't think I have the requisite skills to run a company for 30 years. I will get bored," he says.
Ganesh started his first venture — a computer hardware maintenance firm — in 1990. After it was successfully bought by IT services company iGate for Rs 30 crore, he started his second company, Customer Asset, in the BPO space. And by then he was hooked on to entrepreneurship. "It had become an addiction. Once you get used to the fix, the adrenaline rush, it just gets difficult to live without that excitement."
While still into his second business, he realised that serial entrepreneurship could be a business model too. "There is tremendous opportunity in India. The Indian middle class is hungry for brands; there is aspiration across tier-II and tier-III cities for quality products and services. Roti, kapdaa, makaan, healthcare and education are sectors where one can build Unicorns out of India. In fact, most of the ventures I am now a part of are in these five spaces," he says.
He sold his BPO business to India's largest private sector bank ICICI (now listed as FirstSource) and set up a data analytics firm Marketics in 2003 (acquired by NYSE listed WNS). Next, he built an online education company TutorVista in 2006 to provide tutoring services to American children (sold to the UK/US listed education firm Pearson).
Ganesh is now focusing on scaling ventures using technology. "I am a big fan of disrupting the status quo using technology, mobile and analytics. When you create newer business models that challenge the incumbent players, you have a disruptive advantage and a better chance at success," he says.
Krishnan Ganesh
1: IT & T (1990-1997)
2: Customer Asset (2000-2003)
3: Marketics (2003-2007)
4: TutorVista (2006-2011)
5: Portea Medical (2014-present)
6: BigBasket (2011-present)
7: Bluestone.com (2011-present)
8: Homelane (2014-present)
9: FreshMenu (2015)
10: CredR (2015)
11: AcadGild (2015)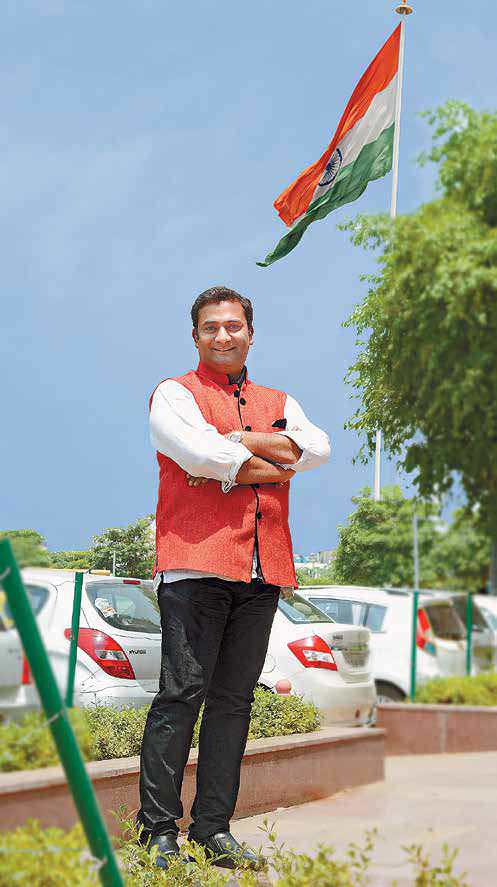 You can read up to 3 premium stories before you subscribe to Magzter GOLD
Log in, if you are already a subscriber
Get unlimited access to thousands of curated premium stories, newspapers and 5,000+ magazines
READ THE ENTIRE ISSUE
October 05, 2015