In Search Of The Africa Manifesto
Businessworld
|
February 2, 2019
Why India needs an integrated approach to up its investment numbers in Africa and why it must match the political outreach with a robust economic model for the continent.
Africa had six of the world's 10 fastest-growing economies in 2018, according to a World Bank report. Take a look at these numbers. The report pegs East African country Ethiopia's growth at 8.2 percent, West African nation Ghana's at continent leading 8.3 percent followed by Cote d'Ivoire's 7.2 percent, Djiboti's 7 percent, Senegal's 6.9 percent, and Tanzania's 6.8 percent. Another Central African country Rwanda, which overcame along political and ethnic crisis, grew at 8 percent during 2001-2015.
A report by the United Nations Conference on Trade and Development (Unctad) titled 'World Investment Report for 2018', Indian FDI in Africa in 2016-17 at $14 billion was even lower than it was in 2011-12 at $16 billion. In fact, with the exception of the 2015 figures, which jumped due to a single investment of $2.6 billion by ONGC Videsh (OVL) for a stake in the Rovuma gas field of Mozambique in 2014, Indian investment in Africa has been steadily decreasing year on year since 2014. In the larger scheme of things, where the global economy and investment footprints come into play, the decreasing investment figures are a cause of concern.
One of the issues has been that the current climate of investment in African countries itself — the country has seen FDI flows drop 21 percent in 2016-17 according to Unctad. Still, India is the only big investor in Africa to have reduced its investment. China, for example, increased investment from 2011-12, when its investment levels were identical to India's at $16 billion, to a massive $40 billion in 2016-17.
A similar slump is seen in India-Africa trade figures from 2013 to 2017 when export and import figures fell from $67.84 billion to $51.96 billion. The China-Africa bilateral trade, in comparison, has hovered around the $170-billion mark. Moreover, China's Belt & Road Initiative (BRI), the dragon country's gigantic infrastructure initiative in Europe, Asia, and Africa, is marching in full throttle in Africa since trade is an overarching aim for China's rising power.
On India's part, India's AsiaAfrica Growth Corridor (AAGC) initiated with partner country like Japan seemed to march along in the developmental growth of Africa. The concept started as the cornerstone of mutual and shared values based on sustainable trade and investment in Africa. However, it is pertinent to point out that the AAGC's pace has miles to go before it catches up with China. In fact, the initiative is still mired in words and drafts.
DECLINING TADE WITH INDIA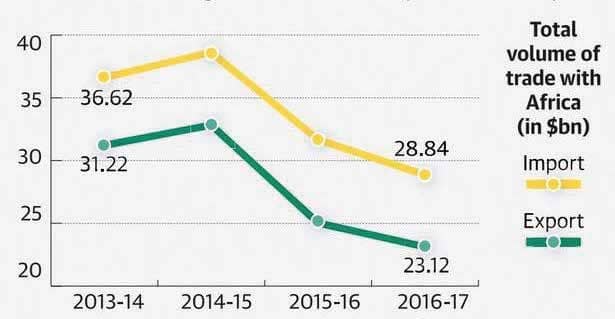 INDIA VERSUS CHINA IN AFRICA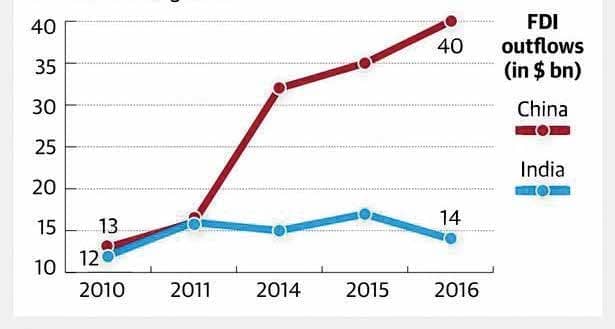 Ignorance Of The Past
Until recently, India's foreign policy for Africa was transient with one or two conferences that New Delhi would hold. Some economists tracking India's investments in Africa point out that in the inner sanctum of India's 'babudom', postings in Africa were frowned upon. Moreover, Indian leaders hardly traveled to African nations. Nevertheless, Africa got the boost driven by new government's outreach and not by the so-called 'ingenuity' of our foreign policy machinery. What culminated was a grand opera of a sort – New Delhi hosted delegates from most African nations at the third India-Africa Forum Summit in 2015. This renewed interest could also be attributed to the fact that Africa is at a critical juncture and India could play many roles in its growth story.
You can read up to 3 premium stories before you subscribe to Magzter GOLD
Log in, if you are already a subscriber
Get unlimited access to thousands of curated premium stories, newspapers and 5,000+ magazines
READ THE ENTIRE ISSUE
February 2, 2019