How Sony Is Re-Investing Itself In India
Businessworld
|
23 November 2019
Is Sony India reaching for the moon when it re-positions itself solely as a premium market player in India, which is its fourth-largest market globally?
Sunil Nayyar was the head of Sony's North America retail operations when he was asked to return to India to spearhead operations here. The excitement of coming back home was somewhat marred by the anxiety of confronting a market that was "cost-conscious". Two Sony brands that Nayyar cherished, namely Vaio laptops and Ericsson smartphones, had already been pulled out of the Indian market by Sony Corporation as part of its global restructuring exercise.
The new managing director of Sony India, which recently celebrated its silver jubilee, was determined though, that the multinational would not be playing the "volumes game" in this market. It would be a player in the premium range of electronic products. "In our country,people drive a Maruti, people drive Audi (and) people drive a BMW. And there's a reason to drive those cars. So, the driving pleasure is different in each brand. We talk of the same thing when it comes to our televisions and that's what I'm trying to do continuously in this market since I came back because I learned this from United States," says Nayyar, who is the first Indian to helm Sony India.
"For example, you go to any of the (electronics) stores (such as) Croma or anywhere, they will tell you why you should buy a Sony, although it's a 20/30/40 per cent premium (over other products).That's big money to pay − like people pay ten times more for a luxury car. So whether it is digital imaging, home theatre, a headphone or television, Sony is only talking about premium," says Nayyar, speaking exclusively with BW Businessworld. We notice Nayyar's festish for premium brands like a Tag Heuer and BMW.
At one point, the major growth drivers for Sony India were its high end Bravia televisions, the Vaio laptops and the Xperia hand phones, contributing to a whopping 70 per cent of its total revenue. After pulling out the smartphones and the laptops from the Indian market, Sony has over the last few years zeroed in on audio and digital imaging products.
India operations
The Indian arm of the Tokyo-based transnational now generates around 65 per cent of its revenue from the television segment, 15 per cent from audio, 10 per cent from camera and the remaining 10 per cent from other products. Sony Corporation expects its India operations to be its third largest in the world in the coming decade. Sony India already oversees its fourth largest market globally, which overtook its businesses in Brazil and Russia a few years back.
India now trails behind the US, China and Japan in that order in terms of global revenue. "India is currently the fourth largest contributor to global sales by value and remains a strategic and important market, given the favourable demographics and growing affluence of the middle class," says Nayyar. He points out that India is growing at a faster pace than any other part of the world.
"Although we say five to six percent (GDP growth) is not enough, the fact of the matter is we still have the highest growth. We believe it has the potential to be among the top three markets for Sony globally, given the Indian economy's potential to reach the $5 trillion dollar mark in the future," says Nayyar confidently.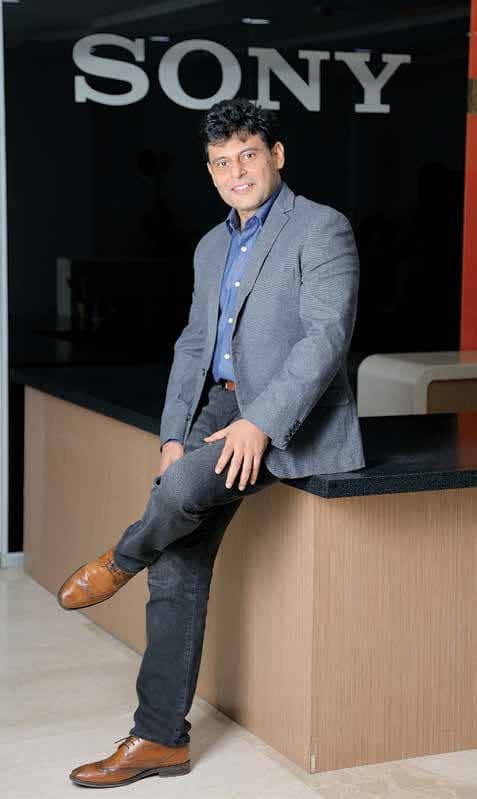 Sony aims to reach for the stars just when the market for consumer goods has turned dull in tandem with slowing economic growth. The Purchasing Manager's Index (PMI) for instance, is the lowest ever since May 2018. The PMI was 51.4 per cent in September, having slipped from 52.5 in July. The Purchasing Manager's Index maps new orders, inventory levels in the manufacturing sector, production, supplier deliveries and the employment environment. The index suggests positive demand for manufactured products when it is above 50.
Going by Registrar of Companies data, Sony India's revenue from operations dropped by 8.3 per cent to Rs 6,417.52 crore in FY 2018-19 from the previous year. Sony 's sales peaked to Rs 11,010 crore in 2014-15 but revenues have slid since FY16. Mohit Yadav, founder at Vera tech Intelligence says, "During 2015-19, Sony's CAGR has declined by 5.86 per cent and net profit has increased at 18.54 per cent." Yadav says Sony India was rapidly losing its market share to Chinese brands. "The company needs a strategy that revitalises growth by leveraging brand Sony to increase topline and market share," opines Yadav.
You can read up to 3 premium stories before you subscribe to Magzter GOLD
Log in, if you are already a subscriber
Get unlimited access to thousands of curated premium stories, newspapers and 5,000+ magazines
READ THE ENTIRE ISSUE
23 November 2019