HANOI'S RISE
Business Traveler
|
December 2019/January 2020
Vietnam's capital brims with a youthful, optimistic energy as the country 's economy surges ahead
When veteran Hanoi-based lawyer Tony Foster went to his office during the last week of February, he had to make his way past machine gun-toting Vietnamese and North Korean guards, armored cars, and snipers manning the rooftops. It was the week of the two-day summit between Donald Trump and Kim Jong Un that, despite not ending in a favorable outcome for the US President and North Korean supreme leader, drew the attention of the international community to Vietnam's capital.
"Our office is right next to where Kim was staying, so it was a hell of an inconvenience because we were told originally we were not going to be able to go to the office for three days – but we complained and got special passes," says Foster, a partner at Magic Circle firm Freshfields Bruckhaus Deringer.
The summit may have been a temporary inconvenience for those working in the area, but it has done wonders for Hanoi's standing on the global stage, showing that Vietnam and its capital city can be relevant in international politics and economics, according to Filippo Bortoletti, deputy manager of Dezan Shira & Associates' international business advisory in Hanoi. "Even if in that meeting nothing happened specifically, still the fact that they met in Hanoi is significant. It had a big impact, maybe not on Vietnamese people, but on how foreign people perceive Vietnam," he says.
But those already living and working in Hanoi, whether locals or foreigners, didn't need the summit to know that their city, where an incredible 39.8 percent of the population is below 24 years old, is on an exciting economic growth trajectory. First-time visitors to Hanoi cannot fail to notice the buzzing atmosphere of youthful optimism that pervades the city.
While Ho Chi Minh City (commonly called Saigon) is widely regarded as the business capital of Vietnam, Hanoi gives visitors more of a flavor of the "real" Vietnam and a more relaxed environment, while still offering tremendous business opportunities.
"When I first came here from Saigon, I'd been forewarned by a lot of my ex-colleagues that when you come to Hanoi it's not just another city in Vietnam; you will feel like you're in a different country," says Humayoon (Tom) Shaikhzadeh, general manager of the Oakwood Residence Hanoi.
"If you're looking for that high-paced, energetic lifestyle, then compared with Saigon it's wanting, but on the other hand if you want to engage more with Vietnamese culture, then of course this is the place to be."
Average gross regional domestic product (GRDP) growth between 2016 and 2018 was 7.36 percent, whilst GRDP per capita reached 116 million dong (more than $5,000) during that period. The unemployment rate was only 2.17 percent in the first quarter of this year.
This has been partly driven by enthusiastic investment from foreign companies, mostly from the Asia-Pacific region. "In Hanoi, there's a huge amount of Japanese and Korean manufacturing investment," says Foster of Freshfields. "Samsung, just as an example, has invested billions of dollars in smartphone factories. The Japanese have all sorts of manufacturing operations in Hanoi in the north. There's an industrial zone that goes through from Hanoi to Hai Phong and it's full of factories, often Asian owned," he notes.
"And if you take a flight – which I did actually last October in a seaplane – you fly fairly low and you see the extent of the investment. Even I was surprised."
Samsung is indeed a prime example of this. The Korean chaebol is in the process of building its R&D center in Hanoi which, once completed, will employ 3,000 people and become the largest of its kind in Southeast Asia, according to the Hanoi Times.
Also, in July, Samsung SDS became the largest shareholder of Vietnamese IT services company CMC Corporation. Samsung plans to utilize the Hanoi-based company as a base to develop software in Southeast Asia.
"The biggest employer at a private level in Vietnam is Samsung, and that's because they employ a lot of factory workers," says Hao Tran, co-founder and CEO of Vietcetera, a bilingual Vietnamese and English media company headquartered in Ho Chi Minh City, population 8.99 million.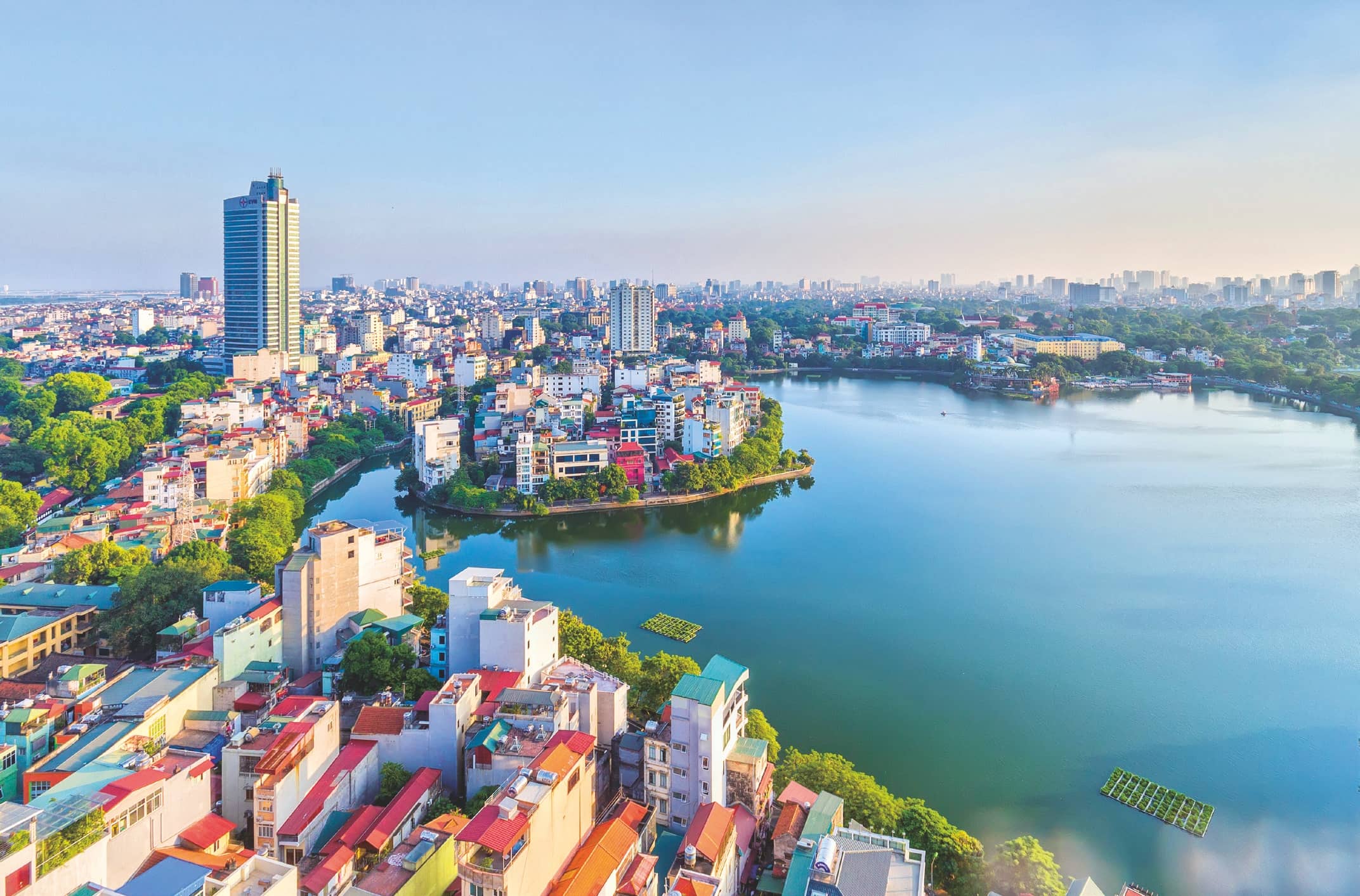 "The number one single export from Vietnam is smartphone parts – shipping them to Korea for assembly. Where people once worked mostly on the lower skilled manufacturing side, the trend now is for people making cars, smartphone parts and all that fancy stuff."
Much of that manufacturing is done in high-tech industrial parks. Hanoi aims to build 30 new industrial clusters by the end of 2019, according to the state-run Vietnam News Agency, and the city is now home to 70 industrial clusters covering 3,300 acres and having about 3,100 operational production facilities.
By 2020, there will be 138 industrial clusters with an area of more than 6,481 acres in the city, according to a report by Dezan Shira.
You can read up to 3 premium stories before you subscribe to Magzter GOLD
Log in, if you are already a subscriber
Get unlimited access to thousands of curated premium stories, newspapers and 5,000+ magazines
READ THE ENTIRE ISSUE
December 2019/January 2020