Sky is Limited
Business Today|July 12, 2020
Airlines have taken to the skies after two months. But their pain is far from over
There was a sense
of self-assurance and desperation in his voice. When
Business Today
spoke to one of IndiGo's pilots about his experience of flying during the Covid pandemic, he said much has changed in the aviation business since May 25, the day the Ministry of Civil Aviation (MoCA) allowed airlines to restart flights.
From the pilot's perspective, the airline is flying a lot less passengers, and taxiing and take-off time has been substantially reduced, he said, on condition of anonymity. In addition, he doesn't have to take a breathalyser test before every flight because of risk of spread of the virus. His savings have been hit as his salary has been slashed by 15 per cent but the 38-year-old pilot does not have any grudges. "I have operated just four flights since the reopening. The airline is doing its best to limit the risk of exposure. Load factors are low. But it's good that we are flying again after sitting idle for two months," he says, adding that his flight hours per month have gone down considerably – from 80 hours before to 15-20 hours now. He hopes that the salary cuts could be reversed if IndiGo could fly more. "A 15 per cent cut is manageable. It's a question of overhead expenses. I don't own a luxury car, nor am I paying EMI for a big apartment like some other pilots. For me, the salary cut has translated into lower savings," he says.
In March, just before the first lockdown, IndiGo had reduced staff salaries by 5-25 per cent across pay grades with senior management taking the steepest cut. This was followed by another cut in May (between 3 per cent and 12 per cent) in the form of leave without pay, ranging from one day to five days a month. Other airlines like SpiceJet, GoAir, Vistara and Air India have also slashed salaries.
Not just its staff, IndiGo's management also believes the only solution out of the crisis is to fly more. But with capacity restriction of 33 per cent, imposed by the government till August, and decision on international flying likely only in July, there's a limit to which airlines can fly.
Estimated Aviation Sector Losses in FY21
Airlines
₹17,000 crore
Airport operators
₹5,500 crore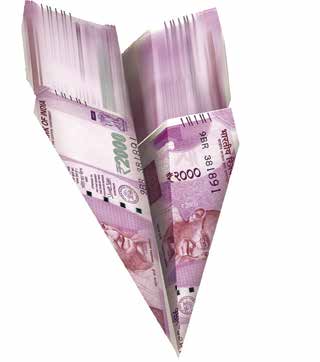 Funds Crunch
Expected Revenue Fall in FY21
44%
Additional Funding Required between FY21 and FY23
₹35,000 crore
Projected industry debt in FY22
₹46,500 crore
Estimates by ICRA
Traffic Tales
In a recent conversation with Business Today, IndiGo's CEO Ronojoy Dutta said contrary to popular belief that demand in the initial days would be high before dying down, his airline is witnessing a sustained upward demand trajectory. IndiGo started with about 220 flights a day in late May and went up to 350 in middle of June.
Dutta says he's hoping the government will allow 50 per cent capacity as underlying trends support that kind of number. "Once it gets to 50 per cent, will we say, go to 70 per cent? I don't know. We will decide then. But at this point, all arrows are pointing up, and we want to add capacity," he says.
However, analysts say it's only a matter of time before demand crashes. "The key drivers of demand are not going to pick up over the next threesix months," says Kinjal Shah, Vice President at ratings agency ICRA. ICRA says passenger traffic will remain under pressure till September with some recovery likely only after that. On a full-year basis, airline traffic is estimated to decline by 45-50 per cent.
"It's not a question of real demand. What we are seeing is scare demand," says Amit Sinha, Partner at Bain & Co.
Dutta, however, feels the bottom end of the market is likely to sustain traffic growth even if corporate demand is muted. "There are more virtual meetings, Zoom calls and all of that. So, people won't travel (for work meetings) because of the enabling facility of these technologies. In India, it is not easy to navigate if you want to go from point A to point B. So, it is a train versus plane issue. Remember, airline travel has become affordable," says Dutta.
You can read up to 3 premium stories before you subscribe to Magzter GOLD
Log in, if you are already a subscriber
Get unlimited access to thousands of curated premium stories and 5,000+ magazines
READ THE ENTIRE ISSUE
July 12, 2020