MYSTERY OF THE OYO ROOMS
Business Today
|
March 08, 2020
WHY THE FASTGROWING HOTEL CHAIN HAD TO SCALE DOWN
First, it laid off about 20 per cent of its 12,000-strong staff in India in end-2019, and cut down 5 per cent of the 12,000-strong workforce in China as part of a restructuring. In India, it pulled out operations from 200 of the 600 cities. Just as the world was coming to grips with the sudden scale-down at the fast-growing Oyo Hotels & Homes, more retrenchments were announced at the US operations.
Meanwhile, the anger and dissatisfaction among hotel partners continues to swell. Reports suggest that nearly 500 hotel partners, of about 20,000, have snapped ties with the company since April 2019, alleging hidden charges and lack of transparency (though Oyo claims its partner churn is less than 1 per cent). On top of that, earlier this year, the Income Tax Department arrived at its Gurgaon headquarters to inspect the books of accounts, which the company called a "regular TDS audit".
Since the beginning of 2019, a raft of bad news emerging from Oyo has raised a question mark over the company's astounding growth story. Last year, a major controversy erupted around Founder Ritesh Agarwal's decision to buy back shares at a whopping $10 billion-valuation from the money lent by three Japanese financial institutions that are reportedly close to its lead investor SoftBank. The share buyback doubled Oyo's valuation – and made investor SoftBank less miserable after the WeWork debacle – despite no major improvement in the underlying business.
Oyo's business model of capturing marketshare and building scale is hinged on enormous cash-burn – primarily funded by marquee investors such as SoftBank, Sequoia Capital, Lightspeed Venture Partners, and most recently, Airbnb. The hotel chain has been reporting net losses for several years in a row (see table Cracks in the Wall). Losses increased from $52 million in FY18 to $335 million in FY19, according to the company.
With the firm still to declare a deadline to profits, cost cuts became inevitable. The dramatic cut in staff strength in India and abroad point to a desperate effort to slash costs after an unsuccessful attempt at building a roadmap to profitability.
Has the unique hotel platform begun to falter after an unbridled run?
After all, these events undermine the Oyo story its founder Agarwal had envisaged. Agarwal told Business Today in a meeting last year that Oyo was on its way to becoming the largest hotel chain in the world by 2023 (by room inventory) led by three pillars: customers, employees, and the leadership team. But in a recent meeting with BT, Oyo's newly-appointed CEO (for India and South Asia), Rohit Kapoor, hinted that the ambition may be out of reach now: "Everybody has a right to change their plans". So, has Oyo given up on its grand plans?

Caught Speeding
There are indications that Oyo may be faltering. While there was always a question mark over its break-neck speed of adding hotels to the platform at the expense of service quality, the expansion over the past three years has hit a speed breaker, especially in India and China, its largest markets. Today, Oyo operates in over 800 cities in 80 countries – a huge ramp-up for a start-up that was set up only in 2013. Not just that, it has pivoted its model several times besides rapidly diversifying into areas such as co-living, co-working, vacation homes, tour packaging, cloud kitchen, weddings and cafes.
"They are in a space that nobody understands because never in the history of our industry has somebody grown so quickly. Theirs is a story that will unfold with time. But what one sees with interest is their audacity to be able to do this," says Manav Thadani, Co-founder of hotel consultancy Hotelivate.
As part of the company's recent restructuring, which invited a lot of undue attention, some of the businesses have been brought under a single leadership structure. For instance, its frontier businesses Oyo Townhouse, Collection O, Oyo Life and Oyo Home were separate verticals. These were combined in December 2019, and brought under the leadership of Ankit Gupta, a former senior partner at McKinsey, who joined Oyo in the same month. "I don't think we are exiting any business right now," says Kapoor, rubbishing reports of the company's likely exit from the weddings business, and reported merger of co-living business (Oyo Life) with the flagship hotels (Oyo Rooms) vertical.
Overpromise, Underdeliver
During the heydays of the tech giant Infosys under Cofounder N.R. Narayana Murthy, it was a favourite of the stock markets for a simple reason. Like other tech companies, Infosys would give guidance to investors, and in almost every quarter, the published results were better than the outlook given in the previous quarter. Infosys was playing with the psyche of the investors, and in turn, they rewarded it disproportionately.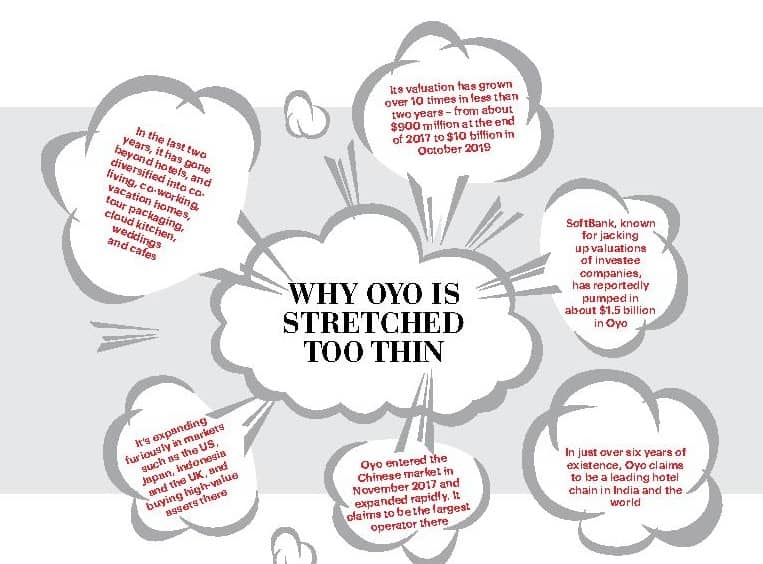 The story playing out at the aggregator turned-hotel-chain Oyo is quite the opposite. Over the past four-odd years, it has become the poster boy of the Indian startup scene, and has drawn a lot of attention. In October, its valuation touched $10 billion that made it the second-most valuable start-up in the country after Vijay Shekhar Sharma-controlled Paytm (valued at around $16 billion). In just over two years, Oyo's valuation has grown more than 10 times, and since September 2018, it has doubled.
Though Japanese investment firm SoftBank first invested around $100 million in Oyo in 2015, the big break came in September 2018 when it poured another $1 billion along with other investors. This put Oyo on the global stage – not just within the start-up and PE/VC community but also in actual presence.
Since then, Oyo has expanded furiously beyond India into markets like China, the US, Japan, Indonesia and the UK. In China, for instance, where it entered in November 2017, it became the largest single hotel brand last June. Between January and June 2019, its room count in China more than doubled to over 500,000. In the US, it crossed the 100-hotel milestone in September across 60 cities. "The US is fastest growing for Oyo. Every night I go to sleep, there's one Oyo hotel that opens in the US," Agarwal told an audience at the THINC Indonesia 2019 conference last September.
Oyo now boasts of being the world's leading chain of hotels and homes. Its combined portfolio, in late January, comprised more than 43,000 hotels with over 1 million rooms. In December, the number of hotels stood at 44,000, and a month before that, it was 35,000. Surprisingly, the number of rooms has stayed the same in all these months.
As per a valuation report filed with India's Ministry of Corporate Affairs (MCA) last year, Oyo reported that it would turn profitable by 2022 – a projection that has been rejected by nearly every industry analyst. "I think no such target has been set. Like any other business, we create an annual operating plan... The important change is not that we set a deadline – because that's artificial – but to make sure that through the restructuring exercise of the last two months, we have gone back to the basics and said which parts of business will make money structurally. Now it's a question of executing and getting the team along and executing to that outcome," says CEO Kapoor, adding that Oyo is already profitable in some businesses. For instance, says Kapoor, at business EBITDA (earnings before interest, tax, depreciation and amortisation) level, co-working and homes businesses are profitable. "In some other parts, it may happen in three to nine months. We are willing to make that investment," he adds.
A major focus area for the company needs to be customer experience. A disgruntled customer even started a website (oyo-ruinedmy-anniversary.com) to share his bad experience with Oyo. A common strain in complaints is poor quality of rooms and services, and that the rooms don't match what appears on the app.
"What has gone wrong for them is that they still haven't got their hands on quality control, which is why a large number of guests are complaining of service issues at their hotels," says Hotelivate's Thadani.
To get things in order, Oyo will need to make more changes. "Oyo's business strategy requires a shift from a singular focus on growth and scale to operational efficiencies, customer experience, workforce training and much improved asset management leading to improved yields. A company that claims to be the second-largest hotel player globally by number of rooms cannot use that as its calling card without stopping its cash burn and demonstrating its ability to be profitable," says Mandeep Lamba, President, HVS Anarock, the South Asia arm of global hospitality consulting firm HVS.
You can read up to 3 premium stories before you subscribe to Magzter GOLD
Log in, if you are already a subscriber
Get unlimited access to thousands of curated premium stories, newspapers and 5,000+ magazines
READ THE ENTIRE ISSUE
March 08, 2020