Jobless India
Business Today
|
December 15, 2019
AS THE ECONOMY GOES INTO A TAILSPIN, JOBS ACROSS INDUSTRIES ARE BECOMING A CASUALTY.
In the textile town of Bhiwandi, 35 kilometres from Mumbai, dingy, winding, swampy lanes lead to localities humming with noise from power looms.
Here, Riten Gada runs Arihant Weaving Mills, a dilapidated two-storied structure with wooden floors and staircases. Gada's father started the mill 50 years ago. The power loom business did well for the next several decades – the factory's 16 looms weaved 2.5 lakh metres of fabric a month, directly and indirectly employing 25 people per loom.
But with the economic slump, most of Gada's looms have fallen silent. Less than 10 workers attend to those that are still running. From weaving 2.5 lakh metres of fabric a month, the factory now barely manages 70,000 metres. More than a lakh metres, already woven, are stocked up in a godown, on the factory's second floor. Even in the midst of the festive season, there were hardly any orders from garment makers who earlier procured woven fabric from Kalbadevi in Mumbai, Surat and Ahmedabad. The payments cycle, for those who still procure Gada's fabrics, has stretched to 240 days from 30-90 days earlier. His troubles may have begun in December 2016 after the Government of India announced demonetisation of all ₹ 500 and ₹ 1,000 banknotes, but the slowdown has truly taken Arihant into its grip. Soon, Gada plans to exit the weaving business and try something new.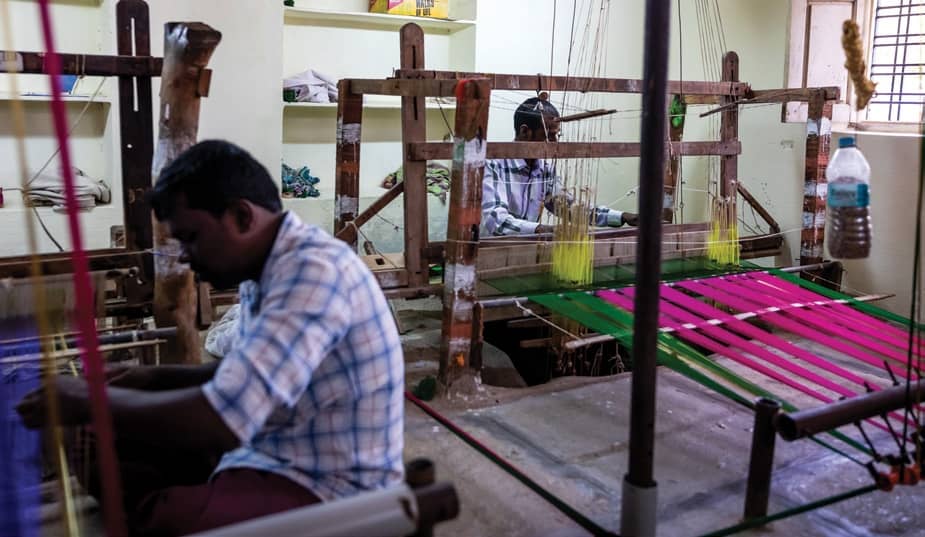 Gada's isn't an isolated case. Many power looms in Bhiwandi have seen a sharp erosion of business, leading to loss of employment.
Bhiwandi used to be one of India's largest power loom hubs with 10 lakh looms that employed an estimated 2.5 crore people till about three years ago. Each loom employs two people directly but indirect employment adds up to about 23 per loom – besides direct employment, the power loom business engaged dyeing units, printing units, spinners, traders, and garment sellers in Gujarat and Mumbai.
Half of these looms have shut down over the past three years, according to different industry associations. "Maybe five lakh looms are running, employing two-three lakh weavers directly now," says Puneet Khimasia, a leader of the Bhiwandi Weaving Association. "Most weavers are migrant workers, who go to their villages after Diwali. Many of them will not return as there is no work," he adds.
Hard times are here for workers not just in textiles but across most manufacturing industries. India's industrial production went into the negative territory (-4.3 per cent) for the first time in three years in September, the lowest in nearly eight years, as output slumped in manufacturing, mining and electricity sectors. Production cuts in the auto industry due to slump in demand have vaporised many contractual jobs. A prolonged downturn in the residential real estate sector has been bad news for industries such as steel and cement. On the services side, export-led industries such as information technology services are still hiring but the threat of automation and disruptions due to other exponential technologies such as Artificial Intelligence is beginning to threaten many white-collar roles.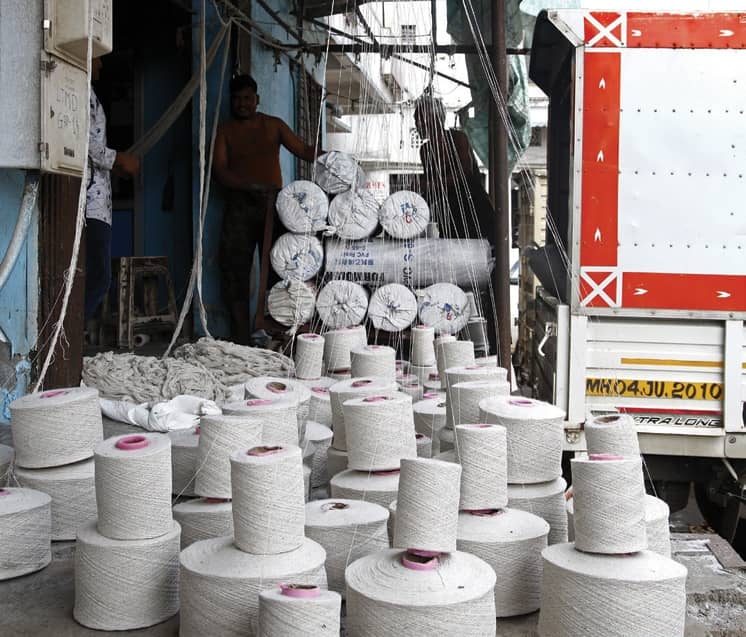 The Centre for Monitoring Indian Economy (CMIE), which maintains business and economic databases, conducts an unemployment survey with a sample size of 1,74,405 households. The survey indicates that in calendar year 2018, the number of people employed shrunk by nearly 10 million. In December 2017, about 406 million were employed; that number was 396 million by December 2018. India's unemployment rate in October 2019, at 8.45 per cent, was the highest since August 2016, when it had hit 9.59 per cent. Unemployment rates in states such as Tripura (27.2 per cent), Haryana (23.4 per cent) and Himachal Pradesh (16.7 per cent) are very high. India's largest state, Uttar Pradesh, has an unemployment rate of 10.1 per cent.
Rating agency CARE Ratings studied annual reports of 1,938 companies across sectors to estimate employment generation in India's corporate sector. Annual reports mostly disclose onroll employees and not those on contract.
The study found that aggregate headcount inched up at a CAGR of 3.3 per cent in the four years between 2014/15 and 2017/18. The GDP, however, grew at 7.5 per cent per annum. "Ideally, the rate of growth in employment should be linked with growth in GDP…employment growth has not been commensurate with GDP growth with a difference of 4.2 per cent in CAGR during this period," the agency stated. The core industries (mining, iron & steel, crude oil, construction materials) have witnessed negative growth in headcount, impacted by the slowdown in GDP as well as challenges on the NPA side for banks. Heavy investment industries such as capital goods and power also show shrinking employment. Other industries with a sharp downtrend in headcount include telecom (down 7.1 per cent CAGR), agri (down 4.9 per cent), and hospitality (down 3.6 per cent).
"Never seen this kind of mandi (slowdown)", Manesar, Haryana
Sales in the automobile industry have declined every month since December 2018. Manufacturers cumulatively produced 15 per cent less vehicles during April-October compared to last year. When cars, two-wheelers and truck makers make fewer vehicles, the pain is spread around the thousands of component makers that supply parts to these companies. Therefore, the estimated number of people who have lost jobs in this industry is staggering. Nearly 4,00,000 people across the country have lost their jobs since April, auto experts estimate. This includes about 2,32,000 people at vehicle dealerships that have either scaled down or downed shutters. In the past two years, about 300 dealerships have closed. Maruti has so far shed around 3,000 temporary workers while utility vehicle maker M&M has let go 1,500 temporary staff.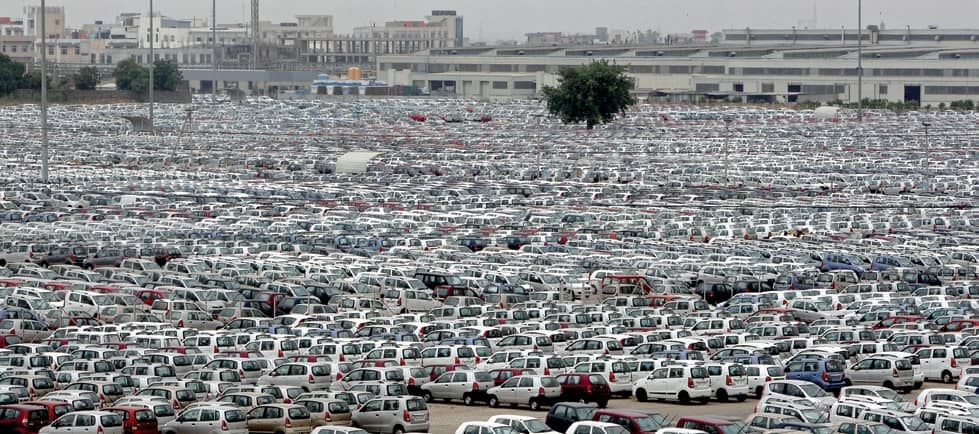 The mood in villages around the Gurgaon-Manesar industrial belt, one of the biggest automobile hubs in the country, is expectedly sombre. "I used to have a regular job with a salary of ₹12,000 at a forging unit in Sihi (a village) till June. I was retrenched in July and have not been able to find regular employment ever since," says Vipul Sutariya, 25, hunched next to a tea shop in one of the bylanes of Kasan village in Manesar. A native of Tejan village in Ambala district, he says he does not have an option to go back to his village as he will not find any work there either. "Many workers have gone back to their villages," says Ram Asrey, the 42-year-old tea shop owner. "I have never seen this kind of mandi (slowdown)." Asrey had himself migrated from Rohtak and set up the shop in 2010.
You can read up to 3 premium stories before you subscribe to Magzter GOLD
Log in, if you are already a subscriber
Get unlimited access to thousands of curated premium stories, newspapers and 5,000+ magazines
READ THE ENTIRE ISSUE
December 15, 2019