Is The B-School Campus Dead?
Business Today
|
November 01, 2020
B-Schools could face an existential crisis as economy slows and education moves online
A GROUP OF SECOND-YEAR MBA students from XLRI-Xavier School of Management, Jamshedpur, persuaded Prof L. Gurunathan, Associate Professor in Human Resource Management, to postpone his course on compensation to the next semester. They did not want to attend the course from their star professor online. But since B-Schools are not opening anytime soon, the elective will now be offered online much to the students' dismay. "We can't postpone it anymore," says Gurunathan.
B-Schools across India have been shut due to the pandemic since March. What is certain is that whenever they open, the campus as we knew it will no longer be the same. Says Ranjan Banerjee, Dean, SP Jain Institute of Management and Research (SPJIMR): "The fundamentals of the B-School will continue to be relevant but certain things will get executed differently."
The number of active B-Schools in India has been falling over the years — it has fallen 12 per cent from 3,450 in 2015/16 to 3,037 in 2019/20. The pandemic-led disruption, however, has had a brutal impact. During FY21, AICTE accepted 197 applications for closure of B-Schools against 59 in FY20. Placements, too, have been impacted. Across the 223 B-Schools common to the BT-MDRA listing in 2019 and 2020, placements fell from 86 per cent in 2019 to 81 per cent in 2020. Tuition fees in 2020 are 2.3 per cent lower compared to 2019 for the 223 schools.
That apart, fewer students are inclined towards MBA this year. Registrations for the Common Admission Test (CAT) have fallen 5.7 per cent from last year to 2.30 lakh in 2020, the lowest since 2015. They touched a record 2.44 lakh in 2019. There are other problems too. With B-schools taking the online-only route to finish their curriculum, students might not be willing to pay a bomb in course fees. They would rather opt for lesser-priced online programmes. However, students and faculty are not yet fully convinced about the value proposition of online courses. The argument is while online courses provide skills they don't offer perspective. "Harvard courses have been offered on Coursera for years now. So, is a Harvard grad equivalent to the one with an online degree?" asks Abbasali Gabula, Associate Director, External Relations, SPJIMR.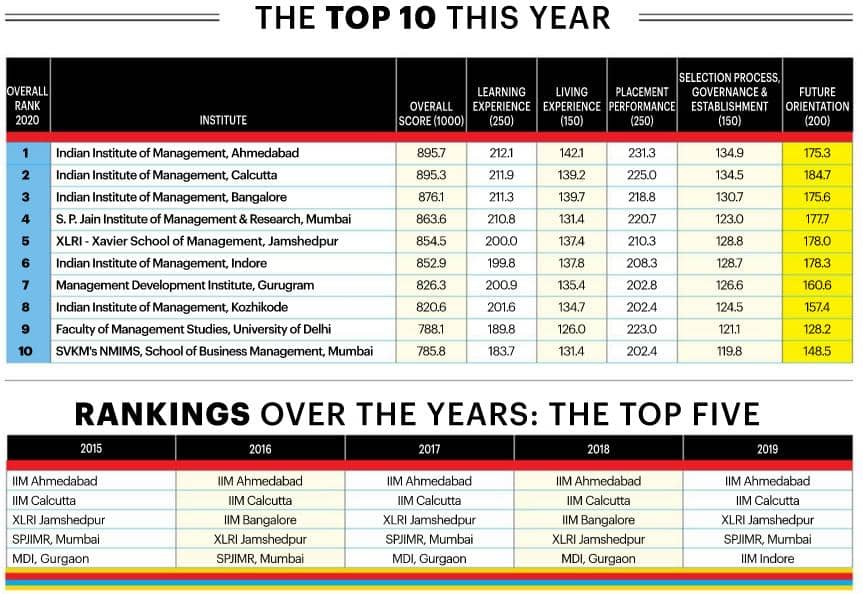 Mirroring The Outside World
Over the past few years there has been a mushrooming of B-Schools in India. Those that could not keep pace with quality are exiting. Those remaining are thinking like businesses to be agile, innovative and future-ready. "It is a volatile world and even before Covid we had started to think of what students need to do to live in an increasingly digital world," says Errol D'Souza, Director, IIM-A.
He shares the example of IIM-A's theatrical society IIMACTS that prepares five-six plays normally, but learnt creating online videos this year. "From writing, directing and acting in theatre plays on campus, they scripted and edited an online video from their homes," he says. Inspired by AIB's Honest series, the result was a 13-minute 'Honest Online Classes' video, a comical take on Zoom classrooms.
The team is now partnering with IIM-B and IIM-C's theatrical society to plan community events, says Anant Bordia, a second-year PGP student and IIMACTS's club coordinator. Such collaboration between theatrical societies of IIMs has never happened before, he adds. Bordia's team is now exploring how to pull off a Zoom play online.
You can read up to 3 premium stories before you subscribe to Magzter GOLD
Log in, if you are already a subscriber
Get unlimited access to thousands of curated premium stories, newspapers and 5,000+ magazines
READ THE ENTIRE ISSUE
November 01, 2020