Hunt For Magic Potion
Business Today|May 17, 2020
We're offering this story for free to read so that you can stay updated on the COVID-19 outbreak
Seven Indian firms are among those hunting for a vaccine to tame Covid-19. Here is how the projects are progressing
P.B. Jayakumar And E. Kumar Sharma
Despite the lockdown, Dr Amol D. Raut, CEO at Pune's Genetic Healing and Director at GeneOmbio Technologies, has not slept for days. That's also the case with his 50-odd colleagues, mainly scientists. Dr. Raut is using his nearly two decades of experience in infectious diseases, molecular diagnostics and human genome sequencing to study the structure and characteristics of the four-month-old SARS-CoV-2 virus gene. Soon, his team will launch a genetic study to develop diets suitable to Indians that can improve immunity against the disease. Another study with the 70-year-old Kaivalyadham Yoga Research Institute at Lonavala near Pune will map genes of a sample pool in Maharashtra to learn how Yoga can improve immunity against the coronavirus.
If Dr. Raut's studies to fight coronavirus are looking for allied solutions based on traditional knowledge, cutting-edge genome research is also on across the world to find drugs or vaccines or other possible ways to control coronavirus. MedGenome, a market leader in genetic diagnostic testing in India, has found out why some people are more susceptible to the SARS-CoV-2 virus. MedGenome, along with Chennai-based SciGenom Research Foundation (SGRF), analysed DNA sequence and variation data from over three lakh individuals across the world for its study. They found out variations in ACE2 protein as the reason for the spread of the pandemic. The job of ACE2 - an enzyme created by the ACE2 protein and seen on cell surface - is to maintain blood pressure in the body. The SARS-CoV-2 virus fools ACE2 and binds itself to it to enter human cells. "We have found variants that are predicted to bind to the virus less tightly and make individuals less susceptible," says Dr. Sekar Seshagiri, President, SGRF, and lead study author. He says the study can lead to a rationally engineered soluble ACE2 that can be quickly developed as a therapeutic against the deadly virus. "I think we have a potential drug solution that should work. It can be developed quickly with the right pharma or biotech partner," says Sam Santhosh, Chairman, MedGenome. The Centre for Cellular and Molecular Biology (CCMB), Hyderabad, the Institute of Genomic and Integrated Biology (IGIB), New Delhi, and Chandigarh-based Institute of Microbial Technology (IMTech) have taken up the task of large-scale genome sequencing of the Covid-19 virus to study its behaviour on the Indian population.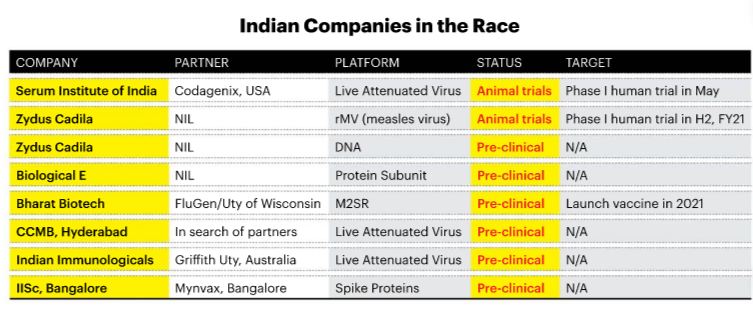 It is a desperate rush globally to find a cure for coronavirus. More than two lakh people have died of the disease but science is yet to develop a vaccine or proven drug. Thousands of research papers and results of brief studies have been out in the last three-four months. Based on data from Wuhan, experts say 79 per cent of the virus has the same genetic material as Severe Acute Respiratory Syndrome (SARS) and 50 per cent of the same material as Middle East Respiratory Syndrome (MERS). But a confirmed treatment is still not on the horizon. Only a frantic hunt is on.
The best solution is a vaccine. Another option is repurposing of old molecules against infections like fevers, leprosy or malaria as drugs for coronavirus. Many respiratory drugs are also being looked at. All known vector platforms are being used to develop new vaccines, be it dengue, influenza, HIV, SARS or Ebola, or a mix of many or new platforms.
At least seven out of 78-plus ongoing known vaccine projects are from India. From malaria drugs to BCG vaccines and innovated medical devices, almost all public and pure research private R&D laboratories are working on one or the other project to fight the virus.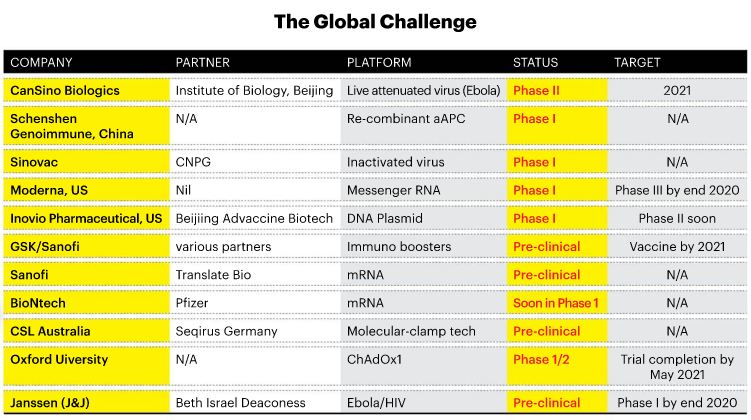 Indian Baby Steps
Adar Poonawalla, CEO of Pune-based Serum Institute of India, was among the first to initiate attempts to make a Covid-19 vaccine in India. Serum, the world's largest vaccine maker in volume terms, roped in US-based biotech Codagenix, which is developing a Covid-19 vaccine similar to the one for measles. "By 2021, we should have a vaccine from Serum. We will not patent it and will make it available to as many people as we can to manufacture it. Profits are not the focus at this point," he announced this week. Codagenix plans to move into human trials by September and recombinant BCG vaccine trials in April.
You can read up to 3 premium stories before you subscribe to Magzter GOLD
Log in, if you are already a subscriber
Get unlimited access to thousands of curated premium stories and 5,000+ magazines
READ THE ENTIRE ISSUE
May 17, 2020