Food in a Tinderbox
Business Today|June 14, 2020
The restaurant industry is close to irreparable damage. Can it be saved?
Gurugram-based restaurateur Zorawar Kalra, Founder and MD of Massive Restaurants, is surprised. In the five tranches of the economic stimulus package released by Finance Minister Nirmala Sitharaman, the ₹4-lakh crore restaurant industry didn't even find a mention. Kalra claims that the industry is the second-largest employment generator in the country after agriculture, and feels that it should have been given some stimulus. Yet, he remains hopeful, primarily because he thinks that the industry is important, and will not be ignored by the government.
"In London, where I am operating an outlet, the government has paid 80 per cent staff salaries. In Canada, the government and landowners are paying 75 per cent of real estate rentals. The government has addressed the concerns of the agriculture sector well, and as a result, I still believe that something is around the corner," he says.
The stimulus, whenever it is announced, would not have come a day too soon. Rahul Singh, Founder and CEO of seven-year-old alco-beverage chain, The Beer Café, has the numbers on his fingertips; how much he is losing every day and losses the industry will have to incur in the current financial year. Singh had learnt the business hard way, after failing in his indoor golf venture some years ago, where he realised the importance of the restaurant business. Singh says it's now back to square one for him.
Dineout, a dining out and online table reservation tech platform, says the F&B (food and beverage) industry contributes about 3 per cent to the GDP and employs more than 7.3 million people. With the coronavirus pandemic, nearly 30 per cent of those employed are at the risk of losing jobs; the monetary loss could be as high as ₹1 lakh crore.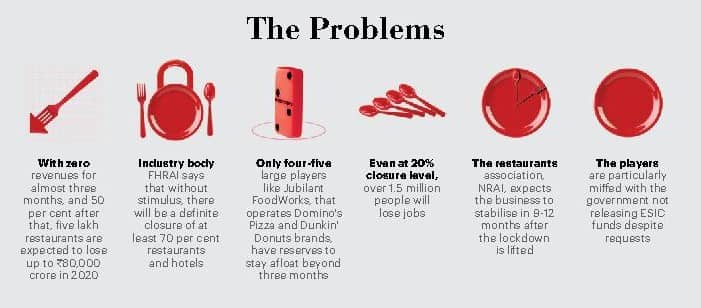 The Unfolding of a Crisis
Since the lockdown started, restaurants have been shut, barring cloud kitchens and some who are delivering food either themselves or through apps such as Zomato and Swiggy. Take Lite Bite Foods. Out of the 200 restaurants that it operates, just eight are functional (for deliveries), in addition to a central kitchen in Gurugram. Zomato has been hit, too; still the COO of its food delivery vertical, Mohit Sardana, urges customers to order food only when they absolutely need to. "Food delivery, in the middle of a pandemic, is an essential service, and not a leisure service," he says.
Revenues of Lite Bite Foods have fallen sharply, yet the chain has been paying full salaries to its 3,300-strong workforce. But time is running out. "We don't have money left. Restaurants are a long-gestation business where corporate-level profits are low," says Rohit Aggarwal, Director, Lite Bite Foods. As per some estimates, most restaurants in India have a cash buffer of 15 days, which they exhausted long ago.
While estimates vary, most industry players are expecting revenues to fall by 50-70 per cent year-on-year for six-nine months after they resume operations. Typically, restaurant chains operate at 5 per cent EBITDA (earnings before interest, taxes, depreciation and amortisation) margins, which are extremely low to weather a crisis of this magnitude. Big players like Jubilant FoodWorks (which operates Domino's Pizza, Dunkin' Donuts and some other brands), which had reserves and surplus of ₹1,192 crore as on March 2019, might survive. Others will likely report losses, shut shop or shrink their presence.
You can read up to 3 premium stories before you subscribe to Magzter GOLD
Log in, if you are already a subscriber
Get unlimited access to thousands of curated premium stories and 5,000+ magazines
READ THE ENTIRE ISSUE
June 14, 2020