A Lot of Bull
Business Today|July 12, 2020
Why the sharp recovery and sustained run in stock markets is built on weak fundamentals. Despite the fall, they are trading at double the valuation of the 2008 Lehman crash
Tight turns, steep slopes, sudden highs and inversions are characteristics of a roller coaster. Those have also been the hallmarks of the Indian stock markets for close to three months. From hitting a three-year low on March 23 with a 13 per cent fall to bouncing back just three days later, it has shown deep falls and sharp recoveries time and again.
But don't get fooled by that. There may be a storm brewing beneath the calm. After all, this sharp recovery is built on weak corporate and economic fundamentals and huge uncertainty in the immediate future.
With India's economy projected to shrink 6.8 per cent in FY21, according to SBI Ecowrap (it grew slowest in 11 years at 3.1 per cent in the March quarter), early bird corporate results showing sharply shrinking top lines and bottom lines, stock markets are set to lose the only basis on which they have been rallying — the hope of a 'V' shaped recovery.
The optimism is dimmed further by rising coronavirus cases in India and fear of a second wave in the US, the world's largest economy, which has led to a selloff in S&P 500, the global barometer for equity markets, as well.
Add to this the lockdown-triggered defaults feared in housing, credit card, personal and corporate loans, their impact on non-performing assets (NPAs) of banks and non-banking finance companies (NBFCs), and the stock market rally appears to be on a very, very weak wicket. "The economy is in shock. All indicators are showing that the situation is very bad. Fundamentals of the stock market story are very weak," says Dhananjay Sinha, Head of Research and Equity Strategist, Systematix Group.
Analysts say markets go through three-four stages when hit by an unknown factor such as coronavirus. "Covid-19 hit us in January from a China perspective. India started reacting to it the last. The first stage is extreme over-reaction as nobody knows what is happening. So, markets tumbled in March," says Amit Shah, Head of India Equity Research, BNP Paribas. But, the government lockdown prompted markets to get out of the first phase of irrationality. Then, the second leg — recovery — began. "We remained in lockdown. This helped control spread of the virus and indicated, from the market's perspective, that the worst is behind us," Shah adds. But that was not to be. In June, the market is at stage three when people are beginning to look at fundamentals after stability has returned and are closely monitoring the spread of Covid in India, besides a potential second wave globally, he says. "The longer Covid stays, the slower will be the FY22 earnings recovery. The market is already looking at FY22 for cues."
Sensex shed 3,935 points with a 13 per cent fall to 25,981 on March 23 with all its 30 stocks in the red. Just three days later, it bounced to 29,947 points. It had hit an all-time high of 42,063 on January 17. On May 18, it hit a low of 30,029 again, touched 34,370 on June 8, and on June 15, was at 33,605, up 29 per cent from March lows.
The Sensex rose nearly 5,000 points from May lows in less than three weeks. It fell nearly 5 per cent in five days up to June 15 due to worries over worsening fundamentals.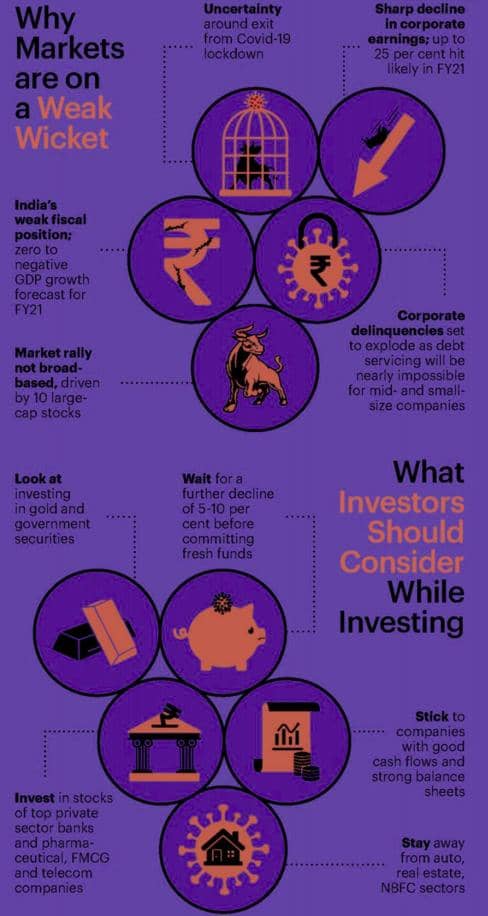 On Weak Wicket
Corporate earnings, a big factor driving stock markets, will take a bigger hit in the first quarter of FY21 after being severely impacted in Q4 of FY20. Since the lockdown was imposed on March 24, manufacturing plants have been shut, and consumption, barring of staples, is down. Auto sales were nil in April and down 87 per cent in May. The June quarter is expected to be a washout due to very low economic activity in the first quarter so far.
Last month, government announced an economic package worth ₹21 lakh crore to battle the slowdown, including the Reserve Bank of India's ₹8.01 lakh crore liquidity measures. The package included ₹3.70 lakh crore support for MSMEs, ₹90,000 crore for power distribution companies, ₹75,000 crore for NBFCs and ₹15,000 crore for the healthcare sector. This, too, failed to enthuse markets. The reason is simple. Economists and brokerages believe that out of this package, the government's fiscal commitment is less than ₹2 lakh crore, or a measly 1 per cent of GDP, one-tenth of the headline figure.
This means no boost to purchasing power of workers and consumers that can affect demand for all kinds of products from soaps and garments to mobile phones and cars. This is exactly what is happening. In Q4 of FY20, the combined net profit of 532 companies that had declared results till June 11 fell 39.5 per cent, against growth of over 59 per cent in Q4 of the previous year. Their revenue performance was the worst in 12 quarters (4.7 per cent fall). "We have cut banks and NBFCs' earnings forecast by 40 per cent, oil and gas companies' by 25 per cent and that of automobile players from 10 to 100 per cent. We see a 15-25 per cent earnings hit for FY21 (overall). The math is that when you roll it over, you see a hit of at least 10 per cent on FY22 earnings also," says Shah.
The worst-hit are consumer discretionary, NBFC and real estate sectors where highly leveraged companies are likely to face sharp cuts in earnings estimates. "Our analysis reinforces the point that markets have priced in a mild recession, but not a severe one, which could take the Nifty further lower, depending on the prevailing risk aversion," he adds.
In FMCG, Hindustan Unilever, the biggest player in the sector, reported its lowest revenue in nine quarters, while Reliance Industries, (RIL) India's largest private sector company, reported its steepest drop (of 39 per cent) in quarterly profit in at least a decade at Ì€ 6,348 crore as refining business took a hit due to collapse of crude oil prices. Its FY20 net profit was a flat ₹39,880 crore.
A fall in earnings will make Indian markets look even more overvalued. As it is, India's GDP produces considerably lower profits for India Inc. compared with other major economies. In CY2019, the combined net profit of listed companies in India was equivalent to 2.1 per cent of GDP as against 3.7 per cent in China, 2.3 per cent in Indonesia, nearly 5 per cent in Japan and 9.6 per cent in the UK. "Since future earnings scenario is not yet clear, we don't know how badly affected the numbers will be. The market is over-valued because it is still not the bottom yet," says Shankar Sharma, Co-Founder and Chief Global Strategist at First Global.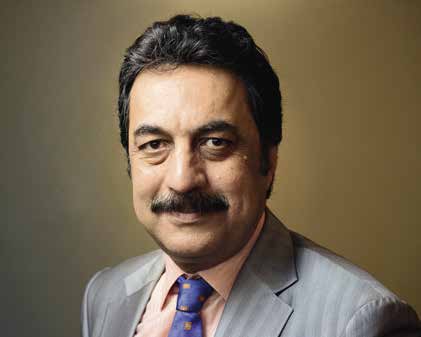 Shallow Rally
You can read up to 3 premium stories before you subscribe to Magzter GOLD
Log in, if you are already a subscriber
Get unlimited access to thousands of curated premium stories and 5,000+ magazines
READ THE ENTIRE ISSUE
July 12, 2020