'You Are Signing Up To Build Weapons'
Bloomberg Businessweek|October 07, 2019
Tech's most controversial startup, founded by A 27-year-old Gamer and backed by Trump's favorite billionaire, makes attack Drones
Jason Levin stood on a craggy hill on a Southern California ranch in late July and prepared to destroy a drone. First he grabbed the controls for an Up Air One, a remote control hobbyist model that retails for about $300, and steered it until it was hovering about 100 feet above the ground. Next he used a laptop to activate a system he'd spent the past several months building.
A second drone roughly the size of the Up Air quadcopter spun into action, buzzing like a mechanical wasp as it ascended to about 20 feet below its target. As it hovered, a crowd of Levin's colleagues gathered around. A prompt appeared on-screen asking for permission to attack. Levin tapped a button, and the second drone, dubbed the Interceptor, shot upward, striking the Up Air One at 100 mph. The two aircraft somersaulted skyward briefly, then they plummeted back to earth and landed with two satisfying thuds. Levin grinned and explained that he hadn't been controlling the Interceptor after telling it to attack—it finds targets and steers toward them on its own. If the first collision doesn't take its quarry down, the drone can circle back and strike a second and third time, all by itself. "It's a good feeling as an engineer," he said. "You've put in the work, and it knows what to do. It's like sending your kid off to college."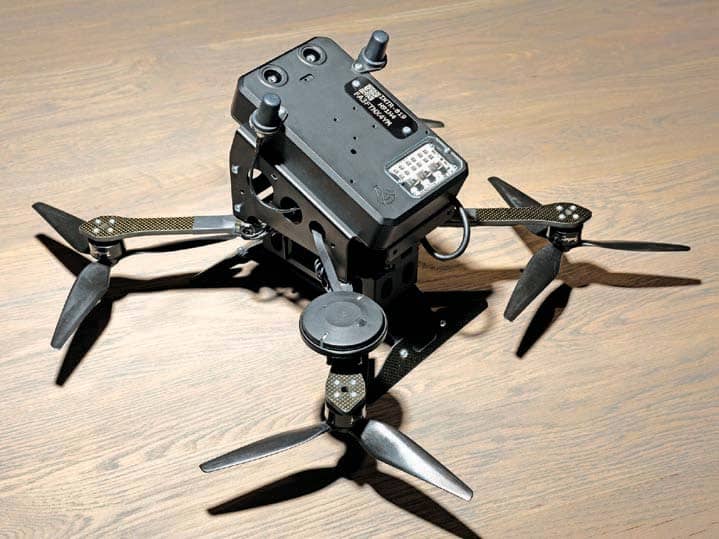 The Pentagon has spent years searching for reliable ways to combat consumer drones that have been repurposed as reconnaissance craft or bombers. Anduril Industries Inc., the 2-year-old startup in Irvine, Calif., where Levin is one of about 130 employees, began shipping Interceptors to military clients in the U.S. and the U.K. earlier this year; it's sent dozens so far and has hundreds more in production. The company says its most recent contract is to deploy Interceptors overseas to conflict zones, though it declines to provide details. This summer it raised $120 million from Founders Fund, General Catalyst, Andreessen Horowitz (in which Bloomberg LP, which owns Bloomberg Businessweek, is an investor), and other venture capital firms. Investors valued the company at about $1 billion, four times its last funding round in 2018.
Anduril already had contracts to build surveillance systems on military bases and along the Mexican border, using towers and drones packed with cameras and other sensors. Its software then processes the field data, alerting officers and soldiers to possible disturbances. But the company wants to move beyond simply identifying threats using computers. The Interceptor, which Anduril hasn't previously discussed publicly, is its first computer-operated weapon.
Silicon Valley has a long history of supplying the Pentagon, but the two have drifted apart over the past 50 years. Today the Department of Defense relies mostly on a few traditional suppliers such as Boeing, Lockheed Martin, and Northrop Grumman. It's had little use for startups. Commercial tech companies haven't been particularly enthusiastic about government work, either, and the antipathy has increased since the election of Donald Trump.
Last year a group of Google employees resigned in protest of the company's work on Project Maven, a program to use artificial intelligence software to analyze drone imagery. Google's parent, Alphabet Inc., then announced it would stop working on the project, embarrassing and angering U.S. officials in the process. Workers at Amazon.com, Microsoft, Palantir, and other companies have also demanded that their employers cancel contracts with military, law enforcement, and federal agencies that are enacting Trump's border and immigration policies.
The protesters have argued that technologists shouldn't build products without regard for the way they're used. In mid- September, Seth Vargo, a former employee of Chef Software Inc., a Seattle company, deleted publicly available code he'd written for its systems after finding out Chef worked with U.S. Immigration and Customs Enforcement. "When I learned that my code was being used for purposes that I perceive as evil, I had to act," he says. A week later, Chef said it would stop working with the agency.
Anduril presents itself as immune to such angst. Its founder, Palmer Luckey, is one of Silicon Valley's most famous Trump partisans. The 27-year-old has gleefully trolled the Valley's liberals since he left Facebook Inc. in 2017 under controversial circumstances. Founders Fund, one of Anduril's first big investors, was started by another Trump stalwart, Peter Thiel. Trae Stephens, Anduril's chairman, is also a Founders Fund partner and took part in Trump's transition team. The company recently began working on Maven, the project Google dropped.
Executives at the company say they're less interested in serving any particular The president than in fulfilling the Pentagon's enduring need for reliable technology. Some companies, Stephens says, have complicated things for themselves by concealing or downplaying their defense work, leaving employees who are uncomfortable with such projects to feel, justifiably, that they've been lied to. "They said, 'We didn't sign up to develop weapons,' " Stephens says. "That's literally the opposite of Anduril. We will tell candidates when they walk in the door, 'You are signing up to build weapons.' "
You can read upto 3 premium stories before you subscribe to Magzter GOLD
Log-in, if you are already a subscriber
Get unlimited access to thousands of curated premium stories and 5,000+ magazines
READ THE ENTIRE ISSUE
October 07, 2019