Yahoo's $8 Billion Black Hole
Bloomberg Businessweek
|
May 2 - May 8, 2016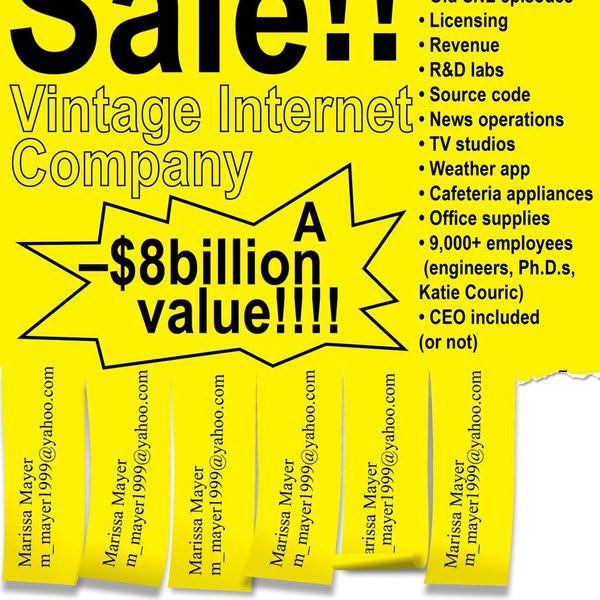 The headquarters of Yahoo! in Sunnyvale, California, encompasses roughly 1 million square feet of waterfront office space, with floor-to-ceiling windows and views of San Francisco Bay. Yahoo owns the campus, as well as a 50-acre plot of land in Santa Clara that was once seen as a possible location for an expanded headquarters but which now contains a parking lot for the San Francisco 49ers. About 3,500 employees and contractors, many of them engineers with advanced computer science degrees, come to work in Sunnyvale; an additional 6,000 report to offices in Singapore, London, and two dozen or so other cities around the world. There's a research lab in Israel staffed by Ph.D.s and a media team that includes former Today show anchor Katie Couric. Yahoo owns thousands of patents, the broadcast rights to the entire Saturday Night Live back catalog, and an e-mail service with 250 million users. Jerry and David 's Guide to the World Wide Web, as Yahoo's founders first called their creation when they launched it 22 years ago, reaches more than 1 billion users each month and took in almost $5 billion in revenue in 2015.
You might think all of these assets would add up to something, but you'd be wrong. Yahoo, when looked at in a certain way, is worth approximately -$8 billion.
The minus sign on the previous page isn't a typo. Think of Yahoo as a traditional enterprise
(with all the assets just mentioned) stuck on top of a small safe deposit box. Inside that box: a huge pile of cash, plus stock certificates of two Asian tech companies. Yahoo owns about 15 percent of Internet giant Alibaba, a stake that would trade on the open market for roughly $29 billion. It also has a 36 percent holding (worth about $9 billion) in Yahoo! Japan, a publicly traded company based in Tokyo that long ago abandoned Yahoo's search technology for Google's. If you add up the cash and the stocks, you'll notice that the value of the contents of the box totals $43 billion. That's $8 billion more than the market capitalization of Yahoo, $35 billion, which includes the company and the stuff in that imaginary box. The implication: Everything you think of as Yahoo—apps, websites, employees, computers, buildings—has a negative value.
A more charitable analysis, where one imagines Yahoo selling its stock and paying the full corporate tax rate, yields a depressing result: Its operating business might be worth $6 billion.
This discrepancy, or the "significantly negative value" of Yahoo's operating business, as the hedge fund Starboard Value put it in an exasperated letter in November, is also a withering assessment of Marissa Mayer, Yahoo's chief executive officer, who until recently was one of Silicon Valley's brightest stars.
"It's hard to get someone of this caliber," the venture capitalist Marc Andreessen said when Mayer's hiring was announced in 2012. Andreessen celebrated the move as a bold departure from what had been a series of ineffectual CEOs—Mayer was the sixth in five years—who'd allowed Yahoo to fall behind Google and Facebook. Investors were charmed, as were the media, which found in Mayer, 40, something severely lacking in most techies: glamour. Mayer, "an unusually stylish geek," as Vogue described her in 2013, was the rare Silicon Valley figure who could credibly attend both an all-night hackathon and a Met Gala after-party.
Mayer's plan for Yahoo was straightforward, if hard to do: Develop products and revamp old ones to transform the mid-1990s-vintage company into a startup capable of exponential growth. It was an audacious idea, but Mayer seemed qualified to pull it off. A graduate of Stanford's Symbolic Systems Program, she was employee No. 20 at Google and the product manager responsible for the design of the search bar. Partly thanks to her eye for simplicity, Google became not just a searchable index of Web pages but, for many users, a synonym for the Internet itself. Mayer helped sideline Yahoo; now she was going to help save it.
Given another three years—the amount of time Mayer recently suggested she would need to complete a turnaround—it's possible her high-risk strategy could bear fruit. But it seems less and less likely she'll be able to hang on anywhere near that long.
In December, SpringOwl Asset Management, a small activist hedge fund, published a 99-page litany of Yahoo's missteps, including—by its calculation—$2.8 billion spent on failed acquisitions, $450 million on free food, $9 million on new phones, and $7 million on a Great Gatsby-themed holiday party. "I don't think she has any management skills," says Eric Jackson, managing director of SpringOwl.
Mayer vigorously defended her turnaround in a February call with investors, during which the company also reported its largest-ever quarterly loss. She contended that Jackson's figures for the food and holiday party were "exaggerated by more than a factor of three," while characterizing Yahoo's flat revenue as a sort of achievement. "Yahoo today is a far stronger, more modern company than the one I joined three and a half years ago," she said, announcing layoffs of 15 percent of her staff and drastic costcutting measures.
These moves haven't mollified investors. In March, Starboard Value, which once got the board of Darden Restaurants replaced by, among other things, criticizing Olive Garden for failing to salt its pasta water, announced that it would attempt to unseat Mayer and Yahoo's entire board—if the company didn't sell itself first. (On April 27, Yahoo announced a compromise with Starboard, giving the hedge fund four board seats.) Yahoo is now in the midst of what it terms a "strategic review," a nice way of saying "for sale." Preliminary bids were due on April 18. According to someone who's seen them, the bids for Yahoo's core business range from $4 billion to $8 billion—which, true, would be a big step up from –$8 billion. Among the candidates are Verizon and YP Holdings, better known as the publisher of the Yellow Pages.
Mayer's position is so weak that when a Bloomberg Businessweek reporter and an editor visited the company's offices in New York to press the case for an interview, a security guard asked, unprompted, whether Mayer would keep her job. When the question was put back to him, he shook his head, grimaced, and tugged at his collar. "Those hedge fund guys," he said, "they really don't like her."
Mayer, who declined multiple requests for comment, has said she hopes to stay at the company. But two people familiar with the thinking at Verizon, the leading candidate, say that's not the plan.
The most commonly discussed charge against Mayer, which was distilled in an unauthorized biography by Business Insider reporter Nicholas Carlson, Marissa Mayer and the Fight to Save Yahoo!, is that she's guilty of micromanagement. In the book, Mayer is depicted as agonizing over such details as colors and fonts and is described as "robotic, stuck up, and absurd in her obsession with detail."
You can read up to 3 premium stories before you subscribe to Magzter GOLD
Log in, if you are already a subscriber
Get unlimited access to thousands of curated premium stories, newspapers and 5,000+ magazines
READ THE ENTIRE ISSUE
May 2 - May 8, 2016