Wide-Open Lonely Spaces
Bloomberg Businessweek|August 19, 2019
In all of eastern Montana, the state with America's highest suicide rate, there's exactly one practitioner. Rural America has a mental health care crisis
1 The mental health unit inside the Glendive Medical Center is dark, and when Jaime Shanks declares that a light switch surely must be around here somewhere, a faint echo chases the words down an empty hall.
"Here it is," she says. The lobby flickers into clear view. "As you can see, everything is state-of-the-art, and it's just a gorgeous facility." She approaches a window and motions to the greenery beyond. "And isn't this beautiful? A little courtyard you can look out on." She admires it for a moment. "They didn't want an atmosphere that felt too institutionalized. The colors all around, if you notice, are very warm."
Behind a nurses' station, a dry-erase board says that today is March 30. It's actually late June. For three months the unit has been dormant, lights out. Shutdowns are hardly unusual; sometimes they last years. Since its grand opening in 2002, this unit— the only place in eastern Montana where a person with a mental health emergency can be admitted for inpatient care—has languished in a state of desertion more often than not.
The problem isn't a lack of demand; Montana is cursed with the highest suicide rate in the nation, and it's higher in this predominantly rural part of the state than in any other region. During the rare times when the unit is up and running, the supply of incoming patients is predictably, and sometimes frantically, consistent. The problem here is staffing. Administrators can't find anyone to run the place.
Last fall, after years of fruitless recruiting drives and ad placements, the center finally snagged a recently graduated psychiatrist to oversee the unit. This spring, not long after the local newspaper celebrated her arrival, she quit. "I think maybe it was just a little too much for someone without experience to take on, and I don't blame her," says Shanks, who as marketing director is part of the recruitment team. "There's such a huge need out here, and I can see the burnout in mental health providers that comes out of that."
In much of America, and especially in places like Glendive, mental health care is a profession defined by severe imbalances. Overall demand for psychiatric services has never been higher, yet the number of providers has been falling since the 1960s. Psychiatrists are generally paid less than other medical doctors, they're reimbursed by insurance companies at lower rates for many of the same services, and they absorb more mental stress than practitioners in most specialties. There's been a slight uptick in psychiatric residencies in the past five years, but more psychiatrists are leaving the profession than entering it, and about 60% are over the age of 55, according to the Association of American Medical Colleges.
This is coming to a head at a terrible time. Suicide rates across all demographics in the U.S. are rising dramatically. Since 1999 the overall national rate has jumped 33%, and the spike has been especially sharp in rural counties—52% compared to about 15% in urban areas. Rural Americans are twice as likely as their urban counterparts to kill themselves, and many of the stresses they face are getting more intense. In the past year, farm incomes have dropped, and debt levels have risen at rates not seen since the farm crisis of the 1980s. Even so, today about two-thirds of all rural counties in America lack a psychiatrist, and nearly half lack a psychotherapist.
A woman who's as intimately familiar with these dynamics as anyone in the U.S. lives a half-block from Glendive's abandoned psych unit. Her name is Dr. Joan "Mutt" Dickson, and she was the unit's founding director. After four years on the job, she hit her limit. Every single night, she says, she'd get at least two calls from emergency rooms or law enforcement agencies scattered across the region's 17 counties, and she'd be expected to help them handle and harbor a troubled citizen who seemed truly suicidal.
"I'm tired now," she told the Billings Gazette when she resigned in 2006.
After taking almost a year off to drive across the U.S. and clear her head, she returned to Glendive and opened a dual-specialty private practice—she's a general family practitioner and a psychiatrist. She also works 20 hours a week as the regional psychiatrist for the Veterans Administration, and she serves—for a salary of $1 a year—as the medical director for the Eastern Montana Community Mental Health Center, a network of clinics.
"If you look at a map of the United States," she says, "I am the only psychiatrist between Bismarck, North Dakota, and Billings, Montana." That's 400-plus miles. It's like having one psychiatrist between New York City and Akron, Ohio.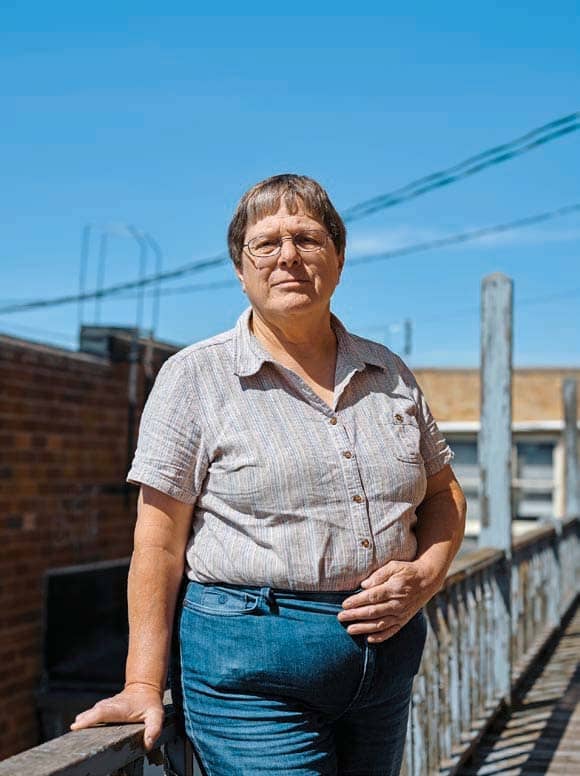 2 GLENDIVE IS IN A STRING OF old railroad towns that cling to the banks of the Yellowstone River. The Burlington Northern still comes through daily, rattling past wheat fields and layered clay hills as it hauls coal from Wyoming to North Dakota. Just outside of Glendive, these hills undergo dramatic contortions, erupting into fossil-studded buttes, natural bridges, and gumbo pedestals. These are the badlands.
Most small towns here conform to a template: a hardware store, a Stockman Bank branch, a thrift shop, a casino (a bar with slot machines), and a local history museum of some sort. Glendive, with 5,000 residents, is bigger than most and commensurately curated: It has two full-time museums, the Frontier Gateway Museum, built around a collection of dinosaur fossils found nearby, and the Glendive Dinosaur & Fossil Museum, which presents paleontology within a Biblical, creationist perspective.
Follow Glendive's main street past the museums, and you'll come to Dickson's office in the center of town. Her five-room suite shares the second floor of a 19th century building with a stationery store, a tattoo parlor, and the office of a public defender. The plush carpet softens the footfalls of Jemma, a 6-year-old black lab mix. Dickson doesn't work with a nurse, an assistant, or a secretary. It's just her and the dog.
Dickson, who's 60, walks through the office with a short and choppy stride. Her hair is cropped and simply styled, and her uniform is likely to consist of a T-shirt, jeans, and dusty New Balance sneakers. If anyone calls her "Dr. Dickson," the words never fail to clank in her ear. She much prefers people to call her Mutt, and almost everyone does. It's a nickname with familial roots: Growing up, she was as short as her older brother was tall, so as kids they were always Mutt and Jeff, like the two mismatched friends from the old comic strip.
She recently picked up a microwave for $5 at an estate sale. Earlier, she'd picked up a TV for just a little more. Sometimes she keeps such finds, but more often she gives them away to friends. Two days ago, at another estate sale, she paid $5 for a giant mess of agate, a type of quartz that's found in local river bottoms—two 5-gallon buckets, one coffee can, and a couple plastic bags full of rocks. She donated the lot to her friend Skinny, who wears a Make America Great Again hat and who likes polishing and cutting stone. Several times during her career, in lieu of payment for her medical and psychiatric services, Dickson has accepted turkeys and pies. Colleagues affectionately speak of her idiosyncrasies as if they're a feature of the local landscape, as particular to the region as the peculiar rock formations outside of town.
"I think some people can't figure me out," she says. "But I'm just not one of those people who's motivated by money."
To narrow down exactly what did motivate her, she underwent years of far-flung self-exploration. She grew up in Scobey, a town of 1,000 about 20 miles from the Canadian border. She was salutatorian of her high school class, which in those days meant an automatic free ride to a public university in Montana—and that threw her career path off- kilter before it even began. "I really wanted to go to Wahpeton, North Dakota, to become a plumber," she says. Instead she dutifully attended Montana State University at Bozeman for two years, until they made her declare a major. She promptly dropped out and went to work in New Mexico for a summer as a framer-finisher carpenter. Next came a stint driving trucks for a road construction outfit in Minnesota, where she took her first paramedic class.
You can read up to 3 premium stories before you subscribe to Magzter GOLD
Log in, if you are already a subscriber
Get unlimited access to thousands of curated premium stories and 5,000+ magazines
READ THE ENTIRE ISSUE
August 19, 2019