Warby Parker Wants To Be The Warby Parker Of Contact Lenses
Bloomberg Businessweek|November 25, 2019
The pioneering online retailer is expanding into an $11 billion market. It's "bigger than, like, selling mattresses"
Austin Carr And Kiley Roache
ONE MORNING IN SEPTEMBER, DAVE Gilboa stood on a staircase at Warby Parker's library-like headquarters in New York to tell employees about the eyewear retailer's future. There had been some modest milestones to celebrate, including a new collection of frames handcrafted in Italy and a store opening at the King of Prussia shopping mall outside Philadelphia. But the big reveal was on Gilboa's face. Or rather, it was on his eyeballs.
On Nov. 19 the company unveiled Scout, a line of daily contact lenses. It's the first time Warby Parker, whose $95 tortoiseshell frames are ubiquitous in coworking spaces and third-wave coffee shops, has expanded beyond eyeglasses since Gilboa and co-Chief Executive Officer Neil Blumenthal started the company almost a decade ago. At $440 for a year's supply, the lenses will be slightly cheaper than many daily contacts but will be sold with what Warby says will be a much-improved ordering process.
Gilboa's speech was one of several events Warby held this fall to get its 2,000-plus employees appropriately excited for a product that seems impossible to get excited about. "This feels orders of magnitude larger than everything we've done," Gilboa told Bloomberg Businessweek after the meeting.
If anyone could make contact lenses cool, Warby Parker could. The company is often credited with creating the "direct-to-consumer" craze, a fancy term for product makers that eschew wholesalers and sell their stuff on the internet. Investors have pumped enormous sums into millennial-friendly businesses marketed as "the Warby Parker of X." Allbirds, Casper Sleep, Dollar Shave Club, and Glossier—the Warby Parkers of sneakers, mattresses, razor blades, and makeup, respectively—each achieved valuations of $1 billion. Those are the most successful clones, anyway. There are also Warby Parkers of vitamins (Care/of ), short shorts (Chubbies), dog toys (BarkBox), and untucked button-downs (Untuckit).
Then there are the other direct-to-consumer eyewear businesses: the Warbys of Warby, to take the snowclone to the point of absurdity. These include Ambr Eyewear, Coastal, GlassesUSA, and Zenni Optical. Many offer similar frames at even cheaper prices. Sucharita Kodali, an analyst at Forrester Research Inc., says this means Warby will have to transform itself into something more than a cool eyewear brand before its cool wears off. "Whether or not Warby turns into a hugely transformational business remains to be seen," she says.
Can contact lenses, a commodity product poked onto your corneas, be the key to this transformation? Contacts require serious regulatory oversight; the U.S. Food and Drug Administration classifies them in the same medical device tier as hearing aids and pregnancy kits. Selling contacts, says Sally Dillehay, an optometrist who's worked in vision research for three decades, is much more involved than selling "tube socks"—referring perhaps to Bombas, the Warby Parker of tube socks. "We're talking about a piece of plastic that sits on your eye, right? Your most important sense," she says. Gilboa and Blumenthal say they bring the same care and safety precautions to contacts that they have to prescription eyeglasses.
But there's also the obvious marketing challenge. A really nice pair of contact lenses inspires none of the feels that a pair of trendy spectacles or wayfarer shades can. If Gilboa and Blumenthal can actually create a fashion brand for contacts, it will be an audacious marketing feat, on the scale of the invention of "certified pre-owned" used cars and the duck that quacks about supplemental insurance. "They're vastly different," Blumenthal acknowledges, comparing Warby's core business with its new one. "Contacts are designed to be invisible."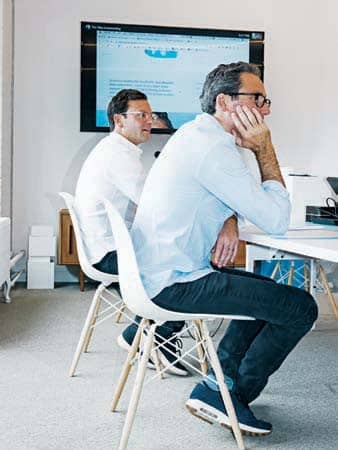 You can read upto 3 premium stories before you subscribe to Magzter GOLD
Log-in, if you are already a subscriber
Get unlimited access to thousands of curated premium stories and 5,000+ magazines
READ THE ENTIRE ISSUE
November 25, 2019