Vaccine Nationalism
Bloomberg Businessweek
|
August 17 - 24, 2020
The world's governments are vying to secure doses before their peers can. It's already getting ugly
In a valley south of Rome where tourists rarely tread, the scene playing out on a recent morning was reminiscent of the climax of Star Wars, with the rebel pilots preparing for battle. Just past the vineyards, inside a sprawling modern pharmaceutical complex, clutches of young women and men marched down corridors in steel-toed boots, mint-green jumpsuits, and surgical masks. One group of cadets watched a training video. Another took turns assembling and disassembling equipment. Behind glass walls, droid like robots rolled around performing automated tasks.
This Italian version of a rebel base is an outpost of an American company, Catalent Inc. The Death Star is Covid-19, which devastated this country in early spring. Catalent has a contract to fill tiny glass vials with as many as 450 million doses of the Oxford University-AstraZeneca Plc vaccine, which in late May became the first coronavirus candidate to enter large-scale human trials. The stakes, perils, and opportunities could hardly be higher for Italy: going from the West's first victim to, potentially, having within its borders almost a quarter of Earth's supply of a vaccine.
If the mission succeeds, the precious hoard will start piling up next month in a refrigerated warehouse at the Catalent plant. By early November, Italian regulators should be in a position to release the first doses to the international market, according to Mario Gargiulo, global head of biologics operations for Catalent, which is based in Somerset, N.J.
"The nation that was hardest hit—to be part of the solution—is a great story," Gargiulo says as he shows off the plant, located in the ancient town of Anagni. "The people here feel a strong responsibility. It will be the first, or one of the first, on the market. This is a race."
The competition has spurred a phenomenon known as vaccine nationalism—the jockeying of governments to secure doses of promising candidates for their citizens. The means of doing that are numerous, and the field of combat is vast: There are more than 160 efforts underway, with 26 in clinical evaluation as of July 31, according to the World Health Organization. Front-runners in final, Phase III trials include the Oxford vaccine; another from Moderna Inc., based in Cambridge, Mass.; and a third from Germany's BioNTech SE, which has partnered with Pfizer Inc. All of these have investments from or purchase agreements with the U.S. government and at least one other nation. China, Russia, and (starting this month) Italy are also among those with vaccine candidates being tested on humans.
With bragging rights and economies at stake, not everyone is playing nice. China and Russia have tried to hack various Western vaccine efforts, according to the intelligence services of the U.S. and its allies. Some nations and pharmaceutical companies are planning for the possibility that vaccines or their components might be blocked from crossing borders. The contest may also be putting medical safety at risk. It normally takes years to develop a vaccine, and the compressed timelines raise concerns about leaders' ambitions bending the judgment of regulators. Russia announced on Aug. 1 that it will start mass inoculations in October with a vaccine that hasn't yet finished clinical trials.
In the U.S. there are concerns, including those raised by members of Congress at a July hearing with pharmaceutical executives, that President Trump could pressure the Food and Drug Administration to cut corners as the November election nears.
Trump has embraced the competition with his Operation Warp Speed, which is spending as much as $10 billion in the hope of having some 300 million doses of a winner available for Americans. As the deep- pocketed spoiler, Trump is placing bets on almost every major Western vaccine effort. "We will achieve a victory over the virus by unleashing America's scientific genius, which is what it is," Trump said during a July 27 visit to a biotech facility in North Carolina.
AstraZeneca has committed to creating autonomous supply chains for the Oxford shot on four continents—a frank acknowledgment that it isn't counting on a normal flow of goods. "Because of some of the politics, there's a risk of people ordering but not letting the vaccine across country borders," says Mene Pangalos, the company's head of research and development for biopharmaceuticals. "We've been looking at that pretty carefully and wondering what will happen if that moment comes. So we're being very careful about trying to create independent supply chains that will enable full access to the vaccine around the world." AstraZeneca is setting up production of its 2 billion initial doses in Europe, Brazil, India, Russia, and the U.S. India alone will account for half those doses, which are being made with an understanding reached with Prime Minister Narendra Modi's government that about 500 million will stay in the country.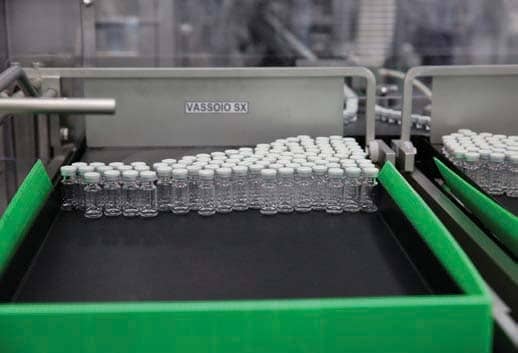 Nations tend to flatter themselves in terms of how central they are to the action. Some Italian newspapers refer to the Oxford shot as the "Anglo-Italian vaccine" because of the support roles Italian companies have played in readying it for distribution. For months, Advent Srl, based in Pomezia, a 45-minute drive south of Rome, has been cranking out the doses AstraZeneca has been using for clinical trials in Brazil, South Africa, and the U.K. The production deal with Catalent was political gold for the government of Prime Minister Giuseppe Conte. It helped to abate the legal and political pressure that had been building around his administration's handling of the crisis, which has killed 35,000 Italians.
When he announced the deal in June, Conte was able to crow, "Italy, which was the first in Europe to get to know this virus closely, today has been recognized to be among the first countries to give an adequate response." Hopes for a vaccine replaced probes of the pandemic response on the nation's front pages. The moment provided a lesson in the power that even marginal victories in vaccine nationalism have right now. The moonshot race may determine not just who lives and dies, but which economies, and governments, rise and fall.
You can read up to 3 premium stories before you subscribe to Magzter GOLD
Log in, if you are already a subscriber
Get unlimited access to thousands of curated premium stories, newspapers and 5,000+ magazines
READ THE ENTIRE ISSUE
August 17 - 24, 2020