This Company Is Winning the Hoverboard Race
Bloomberg Businessweek
|
November 23 - November 29 2015
The makers of this $1,499 scooter want your commute to be totally rad.
Matt Waxman and Maxx Yellin careen into New York's Madison Square Park one gray weekday afternoon riding two-wheeled scooters that look like Roombas for your feet. Before they can even roll to a stop, Hugo Melo, a 21-year-old freelance developer and "aspiring founder," as he describes himself, points at their feet and asks, "What is that?"
"You want to try it out?" Waxman offers. Melo climbs up and perches uneasily while Waxman and Yellin support him on either side. He never quite gets going on his own, but he looks like he's having a great time. "This is way better than walking!" Melo says. "I definitely want one."
Yellin and Waxman get this all the time. The two are coowners of PhunkeeDuck, makers of the $1,499 … thing. A two-wheeled self-balancing scooter would be the most accurate way to refer to it. But most people have gone with "hoverboard" because of its resemblance to Michael J. Fox's preferred mode of conveyance in Back to the Future: Part II. (BuzzFeed suggests "nerdmover.") No matter who makes them, all hoverboards look pretty much the same: Recall a Segway, then subtract the awkward handlebars, shrink the wheels, and split the platform in two. Tilt both feet forward, and the whole board moves forward. Tilt only one, and it turns.
In May, model and Keeping Up With the Kardashians co-star Kendall Jenner posted a video of herself zipping around the house on a hoverboard. Skrillex used one in live performances. Cleveland Cavaliers player J.R. Smith rode one onto the court before a game. In late summer, rapper Wiz Khalifa was handcuffed at LAX for refusing to dismount his. By August, demand for hoverboards in the U.S. had increased by a multiple of 30, according to DHGate, a Chinese wholesaler. The London police recently outlawed them on public property—instantly ensuring their appeal.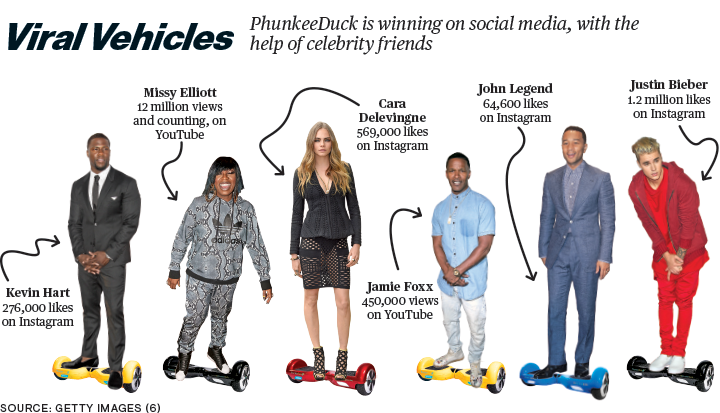 You can read up to 3 premium stories before you subscribe to Magzter GOLD
Log in, if you are already a subscriber
Get unlimited access to thousands of curated premium stories, newspapers and 5,000+ magazines
READ THE ENTIRE ISSUE
November 23 - November 29 2015