The Pizza Schemer
Bloomberg BusinessweekJuly 06 - 13, 2020
Ishmael Osekre, the man behind the "Fyre Festival of Pizza," has a history of alleged Facebook-fueled fraud
The problems with the New York City Pizza Festival began with the pizza. Slices were cut into comically miniature triangles, nowhere close to what Ishmael Osekre, the organizer, had promised. In Facebook ads he'd hyped stuff-your-face quantities of thin crust, served outdoors on a late- summer weekend in Brooklyn's Bushwick neighborhood. He'd set prices high, charging as much as $69 per person for VIP access, and recruited more than 1,100 ticket buyers for the pizza fest, as well as a simultaneous event, the New York City Burger Festival, which promised "mountains of french fries, oceans of ketchup, and waterfalls of beer."
Ticket holder Timothy Seitz arrived at the venue with his wife and found a mostly empty lot where hundreds of hipsters were SMH-ing in a line along a barbed-wire fence, waiting to grab a slice. As state investigators would later allege, Osekre had obtained only eight pies and a few boxes of sliders. Witnesses confirm that there was little, if any, beer, and that the pizza was gross, if still technically pizza. "Like what you'd serve elementary schoolers," Seitz says. He wondered aloud, "Did we just get scammed?"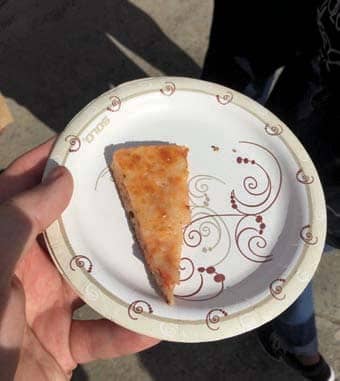 Osekre tried to calm the hangry crowd, telling attendees he'd ordered more pies. Too few arrived. Well into the afternoon, ticket holders, waiting and baking in the heat, demanded refunds, but Osekre was noncommittal. Then, suddenly, he disappeared. He'd taken in $63,680, according to state investigators.
In the following days, complaints and ridicule for the Hobbit-size slices raged on social media. Internet sleuths soon discovered that Osekre had apparently promoted the same food festivals the prior year—without any location or ticket sales information— before postponing them. They guessed it had all been part of a scheme allowing him to bolster the events' Facebook following and legitimacy.
"Osekre had me check out his Facebook page, and remarkably, there were like 30,000 people interested in going," says Jeremy Asgari, whom Osekre contracted to supply party furniture, only to stiff him on a $3,000 bill. "The guy is a genius marketer."
Media outlets around the world dubbed the September 2017 event the Fyre Festival of Pizza, a nod to the fraudulent music extravaganza in the Bahamas four months earlier. In the years that followed, there were civil charges brought by New York State Attorney General Letitia James, who accuses Osekre of having performed Facebook-fueled grifts repeatedly, "causing hardship to virtually everyone who is unlucky enough to become involved." The hardship included the bad pizza but also potentially hundreds of thousands of dollars in damages to victims, across a series of alleged scams. Osekre denies any wrongdoing, beyond occasionally falling short of customer expectations. The case is ongoing. Through a spokesperson, James declined to comment.
The week that the pizza festival blew up online, a former classmate emailed me a news article, asking whether I remembered Osekre from college. "Holy shit!" I replied minutes later. I did recognize his name. It occurred to me that I might have been involved in one of his earliest schemes.
A few months ago I started exploring this history—digging through old emails and court documents, spending hours talking to Osekre (pronounced o-SEK-rey), and interviewing former collaborators. He was keen to help, but when he called me the first time in midMay, he said he had no recollection of our overlapping time at Columbia in the late Aughts—even after I reminded him that we'd planned an event together.
The big story on campus in the mid2000s was Vampire Weekend, who were blowing up on MySpace. The group's overnight success inspired me, and I got more involved in a student-run "record label," believing I could sign the band's frontman, Ezra Koenig. Osekre got inspired, too. He's a creative type and a social butterfly who ran for student body president one year and was constantly performing concerts and spoken-word readings. He hosted a college radio show and, after teaching himself guitar, formed his own band, Osekre and the Lucky Bastards.
We shared similar interests but entered Columbia from drastically different places. I was a legacy—my older brother had graduated a year earlier— whereas Osekre says he could barely afford the flight from Ghana. He says he landed during a January blizzard wearing a spring jacket with $30 in his pocket and paid his tuition with the help of wealthy friends he met after arriving, including Judith Aidoo, a Ghanaian-American Harvard Law School grad who runs Caswell Capital Partners Ltd., an investment firm. "He was riding a bicycle with a guitar on his back, because he didn't have enough money for the subway," says Aidoo, who stands by Osekre despite the allegations. "He's not a thief in my estimation, even though he owes me $10,000 right now," she says. (Osekre says it's less than $5,000.)
In 2007, I was oblivious to his financial hardships, as were many of his college friends. "I was under the impression he came from money because he never seemed to be employed, and I never saw him hurting," says Diane WahZuercher, now a conceptual artist and podcaster. "Maybe it was a fake-it- until you-make-it thing."
What stood out to Zuercher was that Osekre was "always trying to do big, overly ambitious things and biting off more than he could chew," a hard truth our record label learned that December. We were planning an end-of-the-semester concert when we got word from a hooked-up classmate who said he could book the Roots ("a huge act, internationally known," as I woodenly explained in an email to university officials asking permission to hold the event). The classmate was Osekre. We joined forces.
As the concert got closer, he said the Roots weren't going to play music but, rather, would be presented as "motivational speakers." Then it was only Questlove, the band's drummer; then that promise was downgraded to an affiliated act, vocalist Martin Luther McCoy, but that still seemed very cool.
I had forgotten about this until the pizza festival, but the outcome of our event was similar. Osekre was a fireball, wheeling and dealing with agents over contracts and riders. But college administrators were skeptical. Why would the Roots, who'd played Giants Stadium, want to perform in a stageless classroom that could fit only 150? How much would the band cost? In early December, Osekre emailed that he needed $5,000 to hire McCoy, plus an opening act, the spoken-word performer Black Ice. He swore he had the money covered through an assortment of student council sponsorships, so we went for it.
No money materialized. "No need to panic," he wrote, not long before the soundcheck, telling us he'd recently persuaded campus clubs to pay $13,000 for another major artist. (When I ask about the debacle in June, nearly 13 years after the concert, Osekre gives almost the same explanation verbatim, down to the $13,000 figure.) He could square things away once he finished his French test and "a demo" for a movie he'd produced that "was just bought by BET." He said he'd happily cut the check himself if it came to it.
You can read up to 3 premium stories before you subscribe to Magzter GOLD
Log in, if you are already a subscriber
Get unlimited access to thousands of curated premium stories, newspapers and 5,000+ magazines
READ THE ENTIRE ISSUE
July 06 - 13, 2020