The New Workers Of The World
Bloomberg Businessweek|July 15, 2019
A yearlong project to capture the voices of workers facing unprecedented global change.
What an astonishing, disquieting time to be a working person. In much of the world, young people from poor families are easily outearning their parents. Yet the pressures of globalization and automation have also left many manual and service workers struggling to secure safe, supportive conditions and to feel that their toil has lasting value. "This period is like the Industrial Revolution, it's like Dickens's London, for the amount of convulsion and change, and we only recently have begun to think about it that way," says Mark Muro, a senior fellow at the Brookings Institution.
Often we hear about the change in terms of math— the looming subtraction of jobs from the workforce, the multiples by which the richest among us have acquired more wealth than the most impoverished. Or we might hear about communities left struggling by technological transformations or offshored jobs. Harder, in this globalized era, is to get a sense of how change affects individuals themselves.
Inspired by Studs Terkel, Svetlana Alexievich, Liao Yiwu, and other writers, I recently spent six months traveling across five continents hearing the stories of working-class people from the millennial generation, particularly those in occupations that didn't exist a generation ago. Some of them I met thanks to old- fashioned providence. One afternoon, wandering through Accra's Agbogbloshie market, I happened upon Desmond Ahenkora, who resells used computers sent from Europe and the U.S. Other subjects came through formal channels. In Suqian, China, I met Shi Jie, a call-center manager at the online retailer JD, through the company's public- relations department. In many cases, local journalists sought out interviewees in advance and came along to the meetings to translate and provide cultural context and guidance.
I conducted interviews in Ghana, South Africa, and the U.S. in English, and did the rest with the help of interpreters. For the latter, translators also transcribed my audio recordings of the interviews into English. In editing the accounts, we cut many of the false starts and digressions that mark natural conversation, as well as my own questions and interjections. Although we aimed to preserve interviewees' exact language, we sometimes edited for clarity, including moving material so information could be presented in a logical order. In a few cases we inserted clarifications or elaborations offered after the formal interviews.
All the stories are distinct, but they also reflect common experiences of the great convulsion Muro describes. Decent jobs are flowing to big cities, with millions of workers leaving their ancestral towns in anxious pursuit, often slipping past national borders to do so. The internet is exposing people not only to opportunities that were once out of reach, but also to the unsettling knowledge that other people have many more. And the stories confirm that to be working class is, by and large, an insecure state. Superiors view labor as replaceable. Speaking publicly about one's job can invite reprisal from an employer—or a government.
These 10 people felt they had stories worth telling, despite their often vulnerable positions. To read expanded versions of the interviews, visit bloomberg.com/ features/2019-workers-of-the-world.
With Anne Cassuto in Barcelona, Aung Naing Soe in Yangon, Kimon de Greef in Cape Town, Jorge Caraballo Cordovez in Rionegro, Yuki Yamauchi in Kyoto, Francis Kokutse in Accra, Trang Bui in Ho Chi Minh City, Mohammad Khalefeh in Hamburg, and Maggie Li in Suqian Reporting for these interviews was supported by the McGraw Center for Business Journalism at the Newmark Graduate School of Journalism at the City University of New York.
SIDEWALK VENDOR Lamine Bathily 29 Spain Barcelona
In school, they show Europe as a paradise where everything is great. The media in Senegal, they never show people sleeping on the street. Being the oldest brother of the family, there is a responsibility to care for the future of your siblings. I could see there were pateras leaving. I thought, And why not me?
I was working for my dad selling shoes, saving money, for a year. After a year, I went to the south of Senegal, and I decided to take a patera. I told my dad I was leaving to visit my grandmother for a month, so he wouldn't worry.
Oof. It was an experience I would never do again. It's very dangerous. You're in a small boat in the ocean with large waves, and sometimes there are big boats coming. The last day we had no more food, no more water, and no gasoline. We were in Spanish waters. At 5 p.m. we noticed a helicopter in the sky, and we all started screaming for help.
I was 17, so the police let me go into the center for minors. This was in 2007. I asked to be transferred to Barcelona. I began to meet other Senegalese, and we began to talk more. They invited me into their homes. I met them on the streets, before or after school. I wanted to make money like manteros were making money. They told me I could live with them, so I went. They were older, about 24, 25, 30. First off, they asked me what I wanted to sell. I was pretty small, I couldn't carry that much. They told me I could take sunglasses. I bought nearly 50 my first time. My friends came together to help me, and they loaned me money for the glasses, on top of letting me live with them for three months without paying anything.
I imagined it would be different here. I dreamed of doing more with my life than just selling. But then I arrived. The language was hard, and it was very difficult to communicate with the people. The culture is very difficult, also, because the culture is like this: What's mine is mine, what's yours is yours.
I come from a culture where we share everything. My brothers and my friends can wear my clothes, and nothing happens. Here it's not like that. In the street, you see how people look at you, how they avoid being around you. I see it as racism, because if you don't want to sit next to me, if you see me on the street and the first thing you do is grab your bag, that hurts me, because that's not what I was thinking of doing.
I left the sunglasses and began to sell watches. That's when I started getting into trouble with the police. They stopped me many times for them. One time they told me, "We'll let you go without trouble, but we'll take all of your watches."
After a while, a year or two later, I started to feel like the leader. Other people were leaving, and many new people came. I started teaching all the new people, and I became their leader. In 2015 one of our colleagues died. The police told me the man jumped offa balcony. I didn't know him personally, but he was a mantero for a long time, and we don't believe that he jumped. We decided to organize and use our voices.
It's like this—if I don't explain my story to you, you won't be interested in me. We made multiple speeches in different areas, explaining why there are manteros in the streets. No one wants to be exploited.
Sometimes I don't sell. I give classes against racism. Last year we went to Madrid and Bilbao, to the universities, giving speeches in classes, because a white professor can't explain racism since he hasn't lived it. One who has endured racism can speak about it.
As a street vendor, you have to change your livelihood. At 40, no one likes to be chased by the police. With the moves I'm making—with all this I can survive.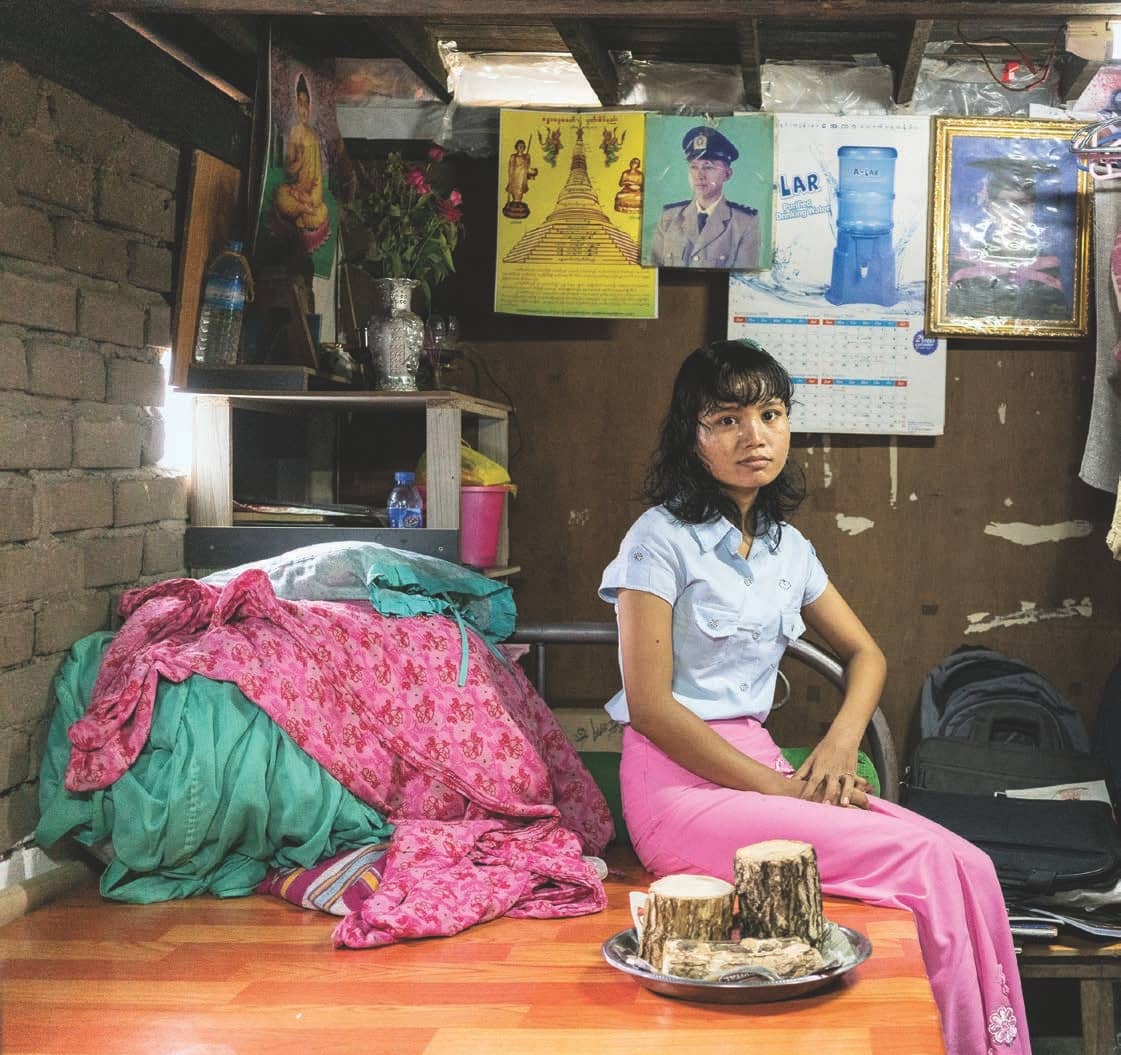 SEAMSTRESS Phoo Myat Zin Maung 25 Myanmar Yangon
I was born in a small village on Haing Gyi Island, in the Irrawaddy Delta region. We visited Yangon just before Cyclone Nargis happened. Then we realized it had happened, and we never left Yangon. Some relatives passed away during Cyclone Nargis. Some of my friends I haven't seen since. Their villages were wiped out.
Most of my clothes were sewn by my mom. She mostly uses the color red. When I was in grade 9, my mom and dad were divorced. He was working as a fisherman. He passed away when I was 16 years old. My mom covered the expenses until I finished high school together with one of my sisters. But it was really hard for both of us to have a university education. My sister is smarter than me, and she got higher grades, so she is studying at university now.
When we joined this job, we had to present our ID. I borrowed an ID card from someone else because I wasn't 18. I joined as a helper, then I learned how to pedal the motors, then I joined the sewing department. It was an easy job to learn. It's just an automatic machine. We don't need to know a lot as garment factory workers.
In the beginning, I just thought about getting paid. But gradually, I didn't really like it. We have no freedom, we can't leave whenever we want. We're not allowed to take days off. And we have very long working hours.
Some factories won't hire laborers who are older than 30 years old. They'll use our energy when we're young, but not anymore once we're aged. It's like we have a dead life. It's not OK. Now I know only this job, and I can't really change the job. I don't have self-confidence.
All the clothes I've made are to export to foreign countries—I'm not sure where, exactly, but the factory is owned by a Chinese owner. I also don't know the brand, as they put the brand labels on somewhere else. I have no idea what kind of person will be wearing the clothes I've sewn.
We're sewing pants. The target is 100 per hour. I think it's a lot. There are 70 people in our group. And there are different points—attaching pockets, zipping, buttons. While making these pants, I have to fill a lot of gaps. If someone can't finish a hip or anchor point, then I have to fill in. Some people, they don't go to drink water or to the toilet.
Our team gets 200 kyats or 300 kyats per pants after this target. We have to share this bonus. Seamstresses get less. Supervisors get twice as much, and three times for Chinese technicians. I just tolerate whatever they do. I see them more than I see my family. We would kill each other if we had hate in our minds.
I have one elder sister and one younger sister. We're living at a hostel nearby, all together. My elder sister is studying at university, and the younger one is at her middle school. My mom is a tailor.
My mom couldn't work a lot after she got in a motorbike accident. It got more difficult. But now we're used to it. My sister is also sewing more. It is not like we're fine, but we're OK. We can afford to eat and live. We need 400,000 kyats per month. This is without emergency health costs. My sister gets, like, 150,000 kyats. We're forced to work overtime, so I get around 220,000 kyats a month.
I like traveling, and I want to explore new places. I want to be a tour guide. What I'm sure of is that I won't be working at the factory in the next five years. Even in Myanmar, there are many places I haven't been. If I travel, I don't like just visiting or being a tourist. I like to understand local cultures as well. I want to know details about the place. If I have a chance, I would like to visit Rome.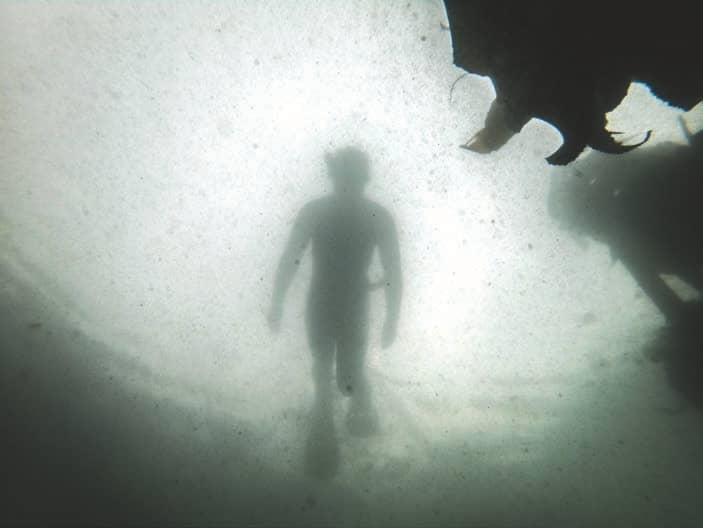 ABALONE POACHER Anonymous 35 Cape Town South Africa
When I grew up I see people catching crayfish here with the canoes. I decide, well, I'm also going to try. You know, a door of a fridge—it's floatable. On our knees, with our hands in the water— that's where I started. I was 12, 13 years old. I'd sell it here, to the foreigners. Thirty rand each. I still can remember, the first 30 rand I got, I went to my mommy: "Here, mommy, buy you a packet of cigarettes." She's happy now. I can go again.
I started to see divers. I remember a lot of big guys diving. Me and my friend were standing and watching it. And I just became a diver. My other friend gave me a suit, everything. Fifteen years old. Afterwards I heard about abalone. I didn't know what it was. Just—it's pricey.
So I started diving abalone. The first time I go down with the cylinder— shuh, sheeh, shuh—I never wanted to come up! I never wanted to come up! It's beautiful down there. Weight belt, a one-piece Coral wetsuit, booties and flippers, gloves and goggles, mask, got your tank, cylinder, and you got your breathing pipes, and you got your BC. And a piece of stainless-steel metal. You put it in a fire, make it red-hot. When it's hot, take a hammer and flatten. Just put rubber on it and a piece of rope, and there's the tool you use. As years go by,
life is getting more expensive. Today's world is very expensive. That's why we poach, to make a living. Every day we can get bread. Other people think we stealing. It's the sea! God gave us the sea!
Down there my mind is nothing, just: Where's the abalone, where's the abalone, where's the abalone? If you see one, you must always look around; the family is there. You need to study their breeding grounds, the feeding grounds. I know him by now. I know him. You just take a good look: Oh, it's you.
It's worth getting caught for. Every guy in this place, in Hout Bay, it's in his veins to be a diver. You can see who is divers and who isn't divers here. Still-young boys driving two, three cars already. He's got his two houses already built. I don't save. I don't save anything. I got my child to support, mom and my dad. I've got a buying sickness in me, I dunno! If I got money, I buy anything. I'm a money spender. Music systems, shoes, jewelry, anything. Then I get f---ed up, then I party. But that's the last thing. First my baby, my mom. Then me.
You will never stop us poaching, never, ever, ever, see. In our minds, their concerns, 'cause this is our place, that is our bread and butter. Talk about extinct and shit, f--- that. Still lot of abalone there.
They send people that never ever seen a sea before, never ever seen an ocean before, to tell us been living and breathing of this ocean we not allowed to catch this. Who are you? What do you know about these fish, huh? It's something you can't explain, man, you must explore it yourself. That's it, you must go down there and see for yourself. What surprised me? How alive it looks down there. Alive.
MARIJUANA GROWER Fanny Tobón Tobón 37 Colombia Rionegro
I grew up on my grandfather's farm. It was a beautiful childhood. I learned to ride horses, to milk the cows. My dad taught us that there's no job women can't do, and that our own mind is power, and we can achieve a lot of things.
You can read up to 3 premium stories before you subscribe to Magzter GOLD
Log in, if you are already a subscriber
Get unlimited access to thousands of curated premium stories and 5,000+ magazines
READ THE ENTIRE ISSUE
July 15, 2019