The Man Who Is Betting You Lose
Bloomberg Businessweek
|
November 2 - November 8, 2015
Behind million-dollar giveaways and field-goal jackpots is Bob Hamman, who underwrites the unlikely. He is betting you lose.
Bryan Gruley, photographs by Ben Sklar
Hamman bought a few truckloads of furniture this year that he didn't want or need. "It cost me about $1.5 million," he says with a sheepish grin. "I try to forget those details."
Hamman was on the hook for all those ottomans and recliners because Ohio State upset Oregon in January's NCAA football championship. His company, SCA Promotions, underwrote a contest staged by an Ohio furniture chain promising free goods if the Buckeyes won. Hamman bet they wouldn't.
It was a rare loss for him. For three decades, he's been figuring the odds of these kinds of things: that Serena Williams would win a Grand Slam; that an average Joe would sink a halfcourt basketball shot; that Lance Armstrong would win a bunch of Tour de France races (without doping).
A droll 77-year-old with a lumbering gait and a head of unruly white hair, Hamman is a sort of cross between a bookie, insurance executive, and math professor, without actually being any of them. Dustin Hoffman portrays him in The Program, a movie about the Armstrong scandal.
When a car dealer offers a free Camaro to the local fan who kicks a 35-yard field goal at a college football game, it takes out a short-term insurance policy to cover its potential losses. SCA Promotions is one of those unofficial insurers, weighing the chance the unlikely will happen and charging a fee to reimburse Tri-County Chevrolet if it does. Companies such as SCA are like auto insurers that collect premiums against the chance a safe driver will have a costly collision, except there's no tragedy and the potential payoffs for the contestant are enormous: In 2014, Quicken Loans and Warren Buffett offered a $1 billion jackpot if someone picked a perfect March Madness bracket.
SCA charged sponsors of Williams $90,000 to insure against her collecting a $500,000 bonus from them for completing a calendar-year Grand Slam. Hamman took that on after Williams had already won this year's first two Slam events. Based on Las Vegas betting lines and Williams's potential for injury, Hamman pegged her Slam odds at about 14-in-100.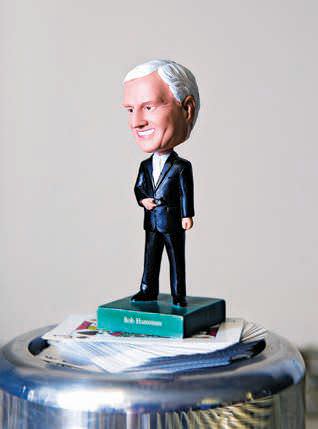 As Williams won Wimbledon and cruised through the early rounds of the U.S. Open, "I didn't pay much attention," Hamman says. But when he heard she was struggling with underdog Roberta Vinci in a semifinal, he flipped on his office TV to cheer for the eventual upset. "Absolutely, I always root for my economic interests," he says.
Hamman concedes he has to lose now and then, or "who needs us?" The trick to his business is in calculating as accurately as possible the probability of something happening. The odds set a basis for his fee, usually 2 percent to 10 percent of the prize total.
You can read up to 3 premium stories before you subscribe to Magzter GOLD
Log in, if you are already a subscriber
Get unlimited access to thousands of curated premium stories, newspapers and 5,000+ magazines
READ THE ENTIRE ISSUE
November 2 - November 8, 2015